Homemade ice cream is always incredibly delicious. Delicate cream, fresh berries, fruits, spicy mint, a little chocolate or nuts — your favorite delicacy can be so different. 5 recipes for homemade ice cream incredibly delicious.
For children, prepare ice cream on a stick, and for adults, add a fragrant liqueur to the dessert. Of course, it's best to make this treat in an ice cream maker, but even without it you will succeed.
#1.Pistachio ice cream
I want to treat you to one of my favorite desserts – pistachio ice cream! You will certainly enjoy its wonderful taste!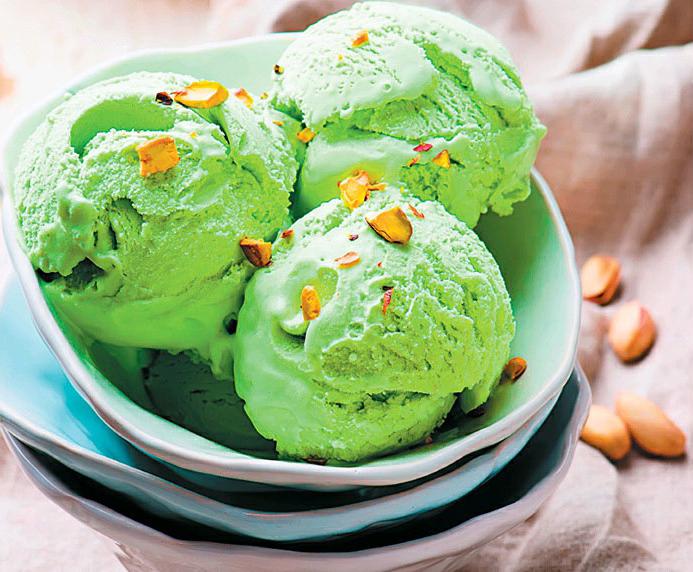 Ingredients for 6 servings:
Peeled, unsalted pistachios 7.0oz
Cream 20% 2 cups
Sugar 3.53oz
Egg 1 piece
Mint 2 teaspoons
The nutritional value of a serving is 449k Cal
Instruction:
Cooking time 3 hours
Pistachios (which can be salted) are cleaned from the shell. Chop a handful of nuts and leave for decoration. Grind the remaining pistachios in a coffee grinder to a flour state. Beat the egg with sugar until smooth.
Warm up a glass of cream a little and gradually pour, without ceasing to beat, into the egg mass. In a separate bowl, whisk the cream into a thick foam. Then combine with the egg-milk mixture, add the pistachios crushed in flour, and mix everything thoroughly.
Then pour the resulting mixture into the container of the ice cream maker and cook for another 40 minutes until the ice cream thickens. But you can, of course, pour the mixture into containers and then put it in the freezer for 3-4 hours. Spread the finished ice cream on the creams, decorate with chopped nuts, and mint leaves, and enjoy!
#2.Ice cream with black currant and lemon zest.
5 recipes for homemade ice cream incredibly delicious.
Delicious, bright, and invigorating popsicles will be appreciated by both adults and children. This popsicle combines everything: a  filling of black currant berries, a piquant note of citrus, and a delicate lemon glaze. There will be no indifference, everyone will ask for supplements.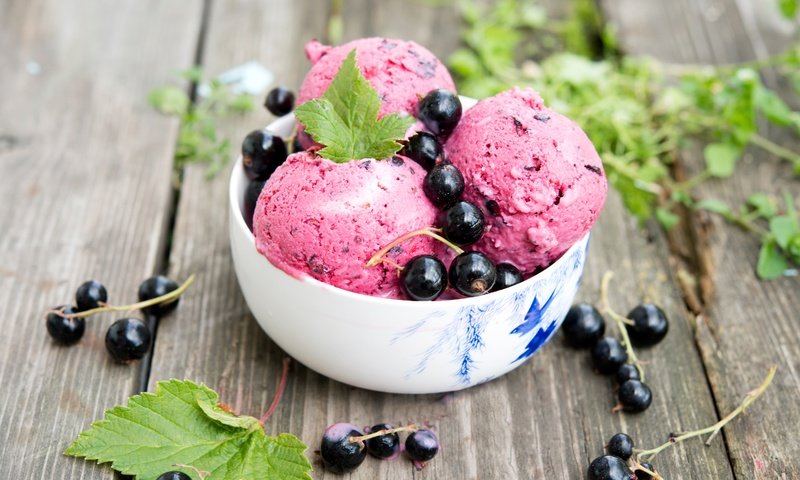 Ingredients for 5 servings:
For popsicles:
black currant 5.29oz
Egg yolks 6 pieces
Sugar 3.53oz
Cream 33-35% 1 cup
Milk 1 cup
Cognac 1 teaspoon
Lemon zest 1 teaspoon
Vanillin 1 teaspoon
Water 2 tablespoons
Nutritional value of a serving of 420k Cal
Instruction:
Cooking time 40 minutes
Pour black currant berries into a small saucepan, add sugar, pour in water and a teaspoon of cognac, mix, and put on fire. Bring the current to a boil, cook for 5-7 minutes on low heat, and stir. After the time has elapsed, remove from the heat and let the current cool.
Pour cream and milk into a saucepan, put it on low heat, and heat it without bringing it to a boil. In a large bowl, put the yolks, vanilla, and 3.53oz sugar. Beat with a mixer until the mass increases in volume and turns white.
Then pour hot milk with cream into the yolk mixture in a thin stream, stirring with a whisk. Pour the mixture back into the pan and heat over low heat, stirring constantly until the cream begins to thicken.
Do not bring the cream to a boil. The finished cream is thick and does not slide off the spoon. Remove the pan from the heat and cool. You can put a saucepan in a cup of water — so the cream will cool down faster. Add the lemon zest, and mix.
Add the black currant to the cooled cream and mix. Pour into popsicle molds and put in the freezer for 4-5 hours. I froze the rest of the mashed potatoes in a plastic container.
After the time has elapsed, we take the ice cream out of the molds, dip it in lemon glaze, pour dark chocolate on top, and put it in the freezer before serving. Decorate with mint leaves and serve on the table. Bon Appetit!
#3. Passion fruit and pineapple ice cream
. 5 recipes for homemade ice cream incredibly delicious.
Do you like ice cream? And if it is homemade, and even from juicy tropical fruits? Not every housewife decides to cook ice cream, as it seems impossible. But today all doubts aside, we will cook ice cream. Passion fruit is an oblong fruit, the peel of which is dark purple, yellow, and green. Yellow passion fruit is considered tastier than purple, although the latter has more sugar.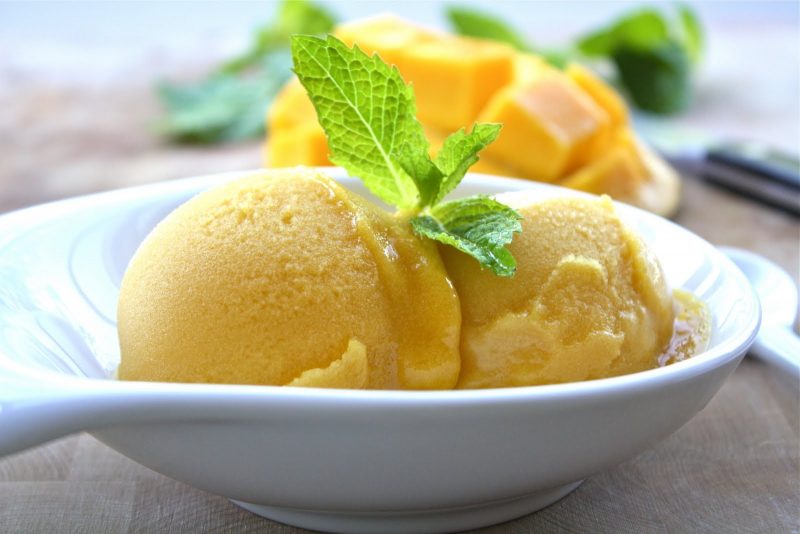 Ingredients for 2 servings:
Mango 1 pc
Passion fruit 2 pcs
Canned pineapples 3.53oz
Lemon juice 2 tablespoons
Sugar 2 tablespoons
Cream 33-35% 5.29oz
The nutritional value of a serving is 527 Kcal
Instruction:
Cooking time 3 hours
To make ice cream, take passion fruit and canned pineapples. Cut the mango pulp into cubes without damaging the skin. Turn the skin inside out and cut off the cubes of pulp from it.
Cut the passion fruit in half and scrape out all the pulp. Carefully wipe the passion fruit pulp through a fine sieve and collect all the juice drops. Do not put seeds in ice cream.
In a bowl, combine mango puree, passion fruit juice, and lemon juice. Pour half the cream into a saucepan, add sugar, and, stirring, heat without bringing it to a boil. Heat the cream until the sugar dissolves and remove it from the heat. Cool the syrup.
Pour the cooled cream syrup into the cooled fruit puree, whisk well, and gently whisk in the remaining cream, pre-whipping them to peaks.
Cut the canned pineapples into small cubes. Send the sliced pineapples to the fruit mass and mix gently.
Transfer the future ice cream into a container with a tightly closed lid and send it to the freezer. If you do not have an ice cream maker, then you need to take out the ice cream every 30 minutes for the first 3 hours and mix it with a whisk. This must be done so that it acquires a delicate structure without ice crystals.
After 10-12 hours, the ice cream will stabilize. Before serving it, you need to warm it up a little. Remove the ice cream container from the freezer and leave it on the table to warm up for 15 minutes.
Serve the ice cream topped with pineapple slices, a few drops of balsamic sauce, or just like that. The ice cream turns out to be moderately sweet, with a delicate creamy structure, a bright taste of tropical fruits, and pineapple pieces inside the ice cream make its taste more interesting. Bon Appetit!
#4. Creamy ice cream with melon flavor
This creamy ice cream is prepared elementary — no ice cream maker is required, no need to beat the frozen mixture periodically. Dessert without eggs and dyes consists of only 3 ingredients. Delicate and fragrant.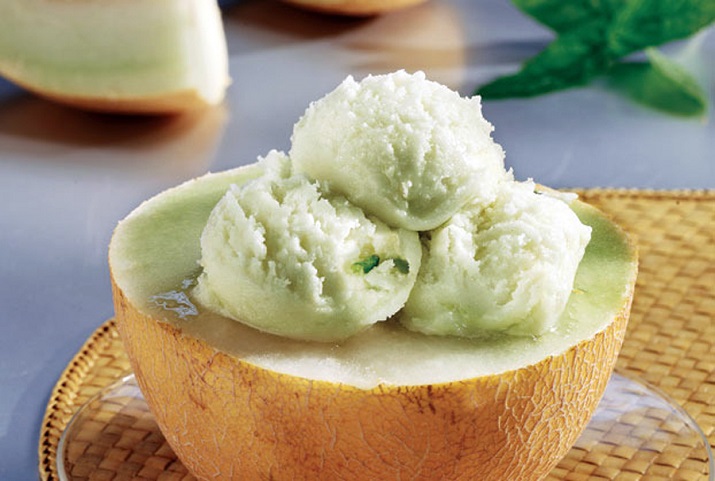 Ingredients for 5 servings:
Melon 8.82oz
Cream confectionery 8.82oz
Condensed milk 3.53oz
The nutritional value of a serving is 209 kCal
Instruction:
Cooking time 30 minutes
Peel the melon, cut it into small pieces, and grind it to a puree using a blender. Beat the well-cooled pastry cream, then, continuing to beat, add condensed milk in small portions. Combine whipped cream with fruit puree, and mix gently.
Transfer the mass to an iron mold. Cover with foil and put in the freezer for 6-8 hours. Put the finished ice cream on the creams and serve. Bon Appetit!
#5. Coconut ice cream with blackberries
. 5 recipes for homemade ice cream incredibly delicious.
Coconut ice cream with blackberries is a light dessert with a delicate sourness, a layer of berries, and berry express jam. The taste of blackberries is interestingly combined with coconut, ice cream differs from the usual milk or cream, the taste of coconut is felt, and berries do not dominate.
For the lean version, you can replace the usual cream with coconut. Have a nice day!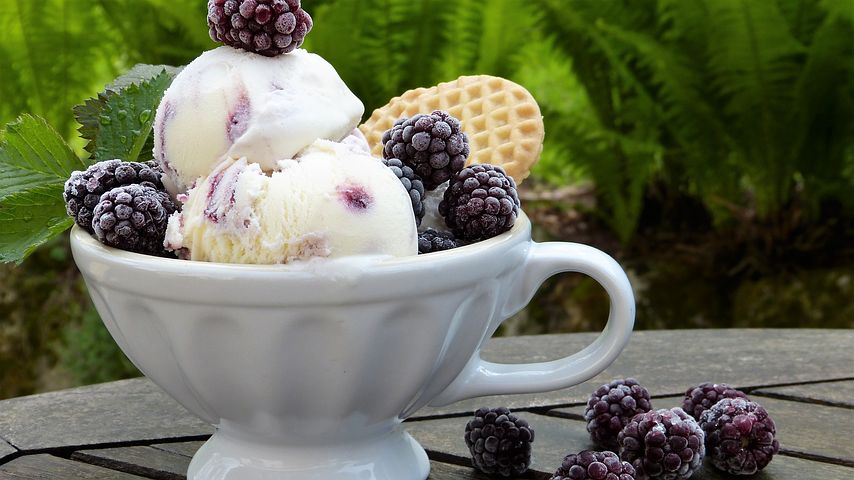 Ingredients for 4 servings:
Coconut milk 2 cups
Cream 33-35% 3 tablespoons
Blackberry 10.58
Brown sugar 2 tablespoons
Lime 1 pc
The nutritional value of a serving is 273k Cal
Instruction:
Cooking time 4 hours
We will prepare the products. A jar of coconut milk, cream, berries, lime, and brown sugar. We separate 1-2 blackberry berries per mold. Combine the sugar and the remaining blackberries, and heat for three minutes.
Berries let the juice. It turns out a quick jam. Grind with a blender. Coconut milk is whipped, usually, the milk is divided into cream and water, but in a couple of movements of the whisk, it becomes homogeneous. Add cream, for the lean version — coconut cream.
Lightly whisk with a whisk. Squeeze out half a lime. Put the third part of the blackberries into the milk, and mix.
Let it freeze a little, 30 minutes, and pour the blackberries. You can add all the blackberries to the milk, then the ice cream will be a richer color and freeze immediately, not in layers. Freeze for 3-3.5 hours.
This ice cream is obtained with a layer of berries and coconut milk. Ice cream with lime sourness, with sweet and sour blackberries. Before serving, let it thaw a little. Bon Appetit!