Most often, this berry is used exclusively to decorate desserts, because it creates a spectacular contrast. But with blackberries, you can cook a lot of simple and delicious sweet dishes. 5 delicious recipes with blackberries.
1.Refreshing smoothie
Smoothies are good to drink as a healthy snack instead of tea with a bun. To make the drink even more healthy, add one handful of fresh spinach to it.
We offer a recipe with almond milk, but any other vegetable or natural yogurt without additives will do.
Blue-black, large, juicy berries contain a large amount of vitamins, micro- and macroelements, organic acids. It is impossible not to say about the visual component – even a small handful of blackberries will give any dish a beautiful rich purple color.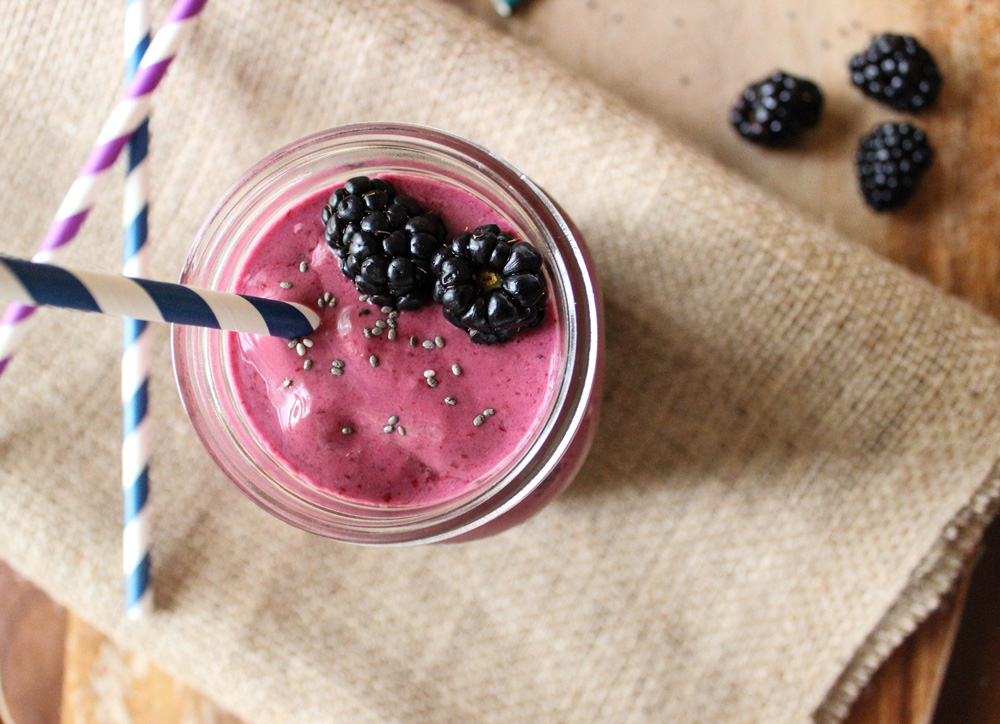 Ingredients:
Almond milk 1 cup
Blackberries 7.0 oz
Bananas 2 pcs.
Topping:
Blackberry to taste
Mint 2 sprig
Instruction:
Cooking time 20 minutes
Peel the banana, cut it into pieces and put it in the freezer for 20 minutes. Wash the blackberries and put them in a blender bowl.
Add bananas, pour in almond milk. Grind with a blender until smooth. Serve garnished with blackberries and mint leaves.
2.Quick chocolate cupcake in a mug
. 5 delicious recipes with blackberries.
A great dessert that can be prepared in 10 minutes! To make a chocolate cupcake with blackberries, you do not need an oven, you can bake it in a regular microwave oven. Ingredients are listed per serving.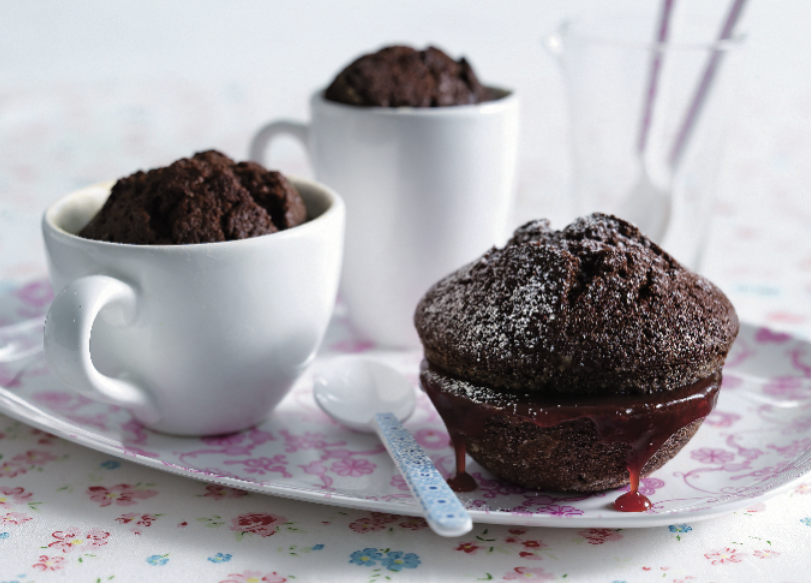 Ingredients:
Blackberries 3 tablespoons
Chicken eggs 1 pc.
Wheat flour 4 tablespoons
Cocoa powder 3 tablespoons
Sugar 3 tablespoons
Butter 3 tablespoons
Milk 4 tablespoons
Baking powder 1/2 teaspoon
Dark chocolate 1 tablespoon
Additionally:
Butter for greasing
Blackberries for decoration
Instruction:
Cooking time 15 minutes
In a bowl, mix flour, cocoa powder, baking powder and sugar.
Add the egg. Pour in the milk and melted butter. Mix it up. The dough should be smooth and not very thick. If necessary, add more milk.
Finely chop the chocolate with a knife and add to the dough.
Wash the blackberries, dry them and cut them into 2-3 pieces. Add the berries to the dough, mix.
Lubricate the inner walls and bottom of the mug with butter.
Lay out the dough so that it occupies half or two-thirds of the mug. The cupcake will rise, so you need to leave room. Put it in the microwave and cook for about 3 minutes. Serve with fresh berries! Fragrant cupcakes in the oven.
3.Fragrant cupcakes in the oven
Classic cupcakes with blackberries are also prepared quickly, but they will require an oven and a special baking dish. The dough can be made in 15 minutes, and the baking process itself takes about half an hour. A good recipe to treat yourself to homemade cakes on a weekday.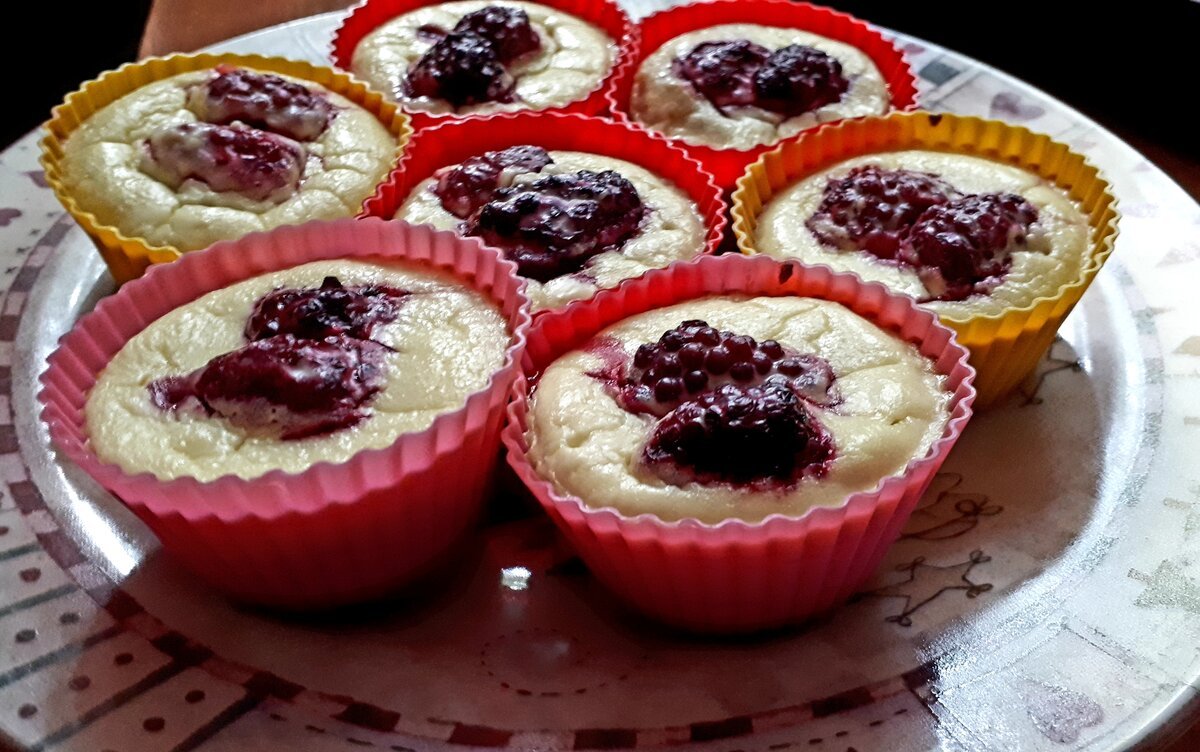 Ingredients:
Butter 4.41 oz
Sugar 3.53 oz
Chicken eggs 3 pcs.
Wheat flour 10.58 oz
Baking powder 1 teaspoon
Milk 6 tablespoons
Dark chocolate 1 tablespoon
Blackberries 2 tablespoons
Instruction:
Cooking time 45 minutes
Combine butter at room temperature with sugar. Stir until smooth.
Enter the eggs one by one and mix. Add the sifted flour and baking powder. Pour in the milk, mix again. Wash the blackberries, dry them and cut them into 2-3 pieces. Add the berries to the dough.
Spread the dough into molds. Bake in a preheated 356F oven for 30-35 minutes.
4.Salad with avocado, blackberries and microgreens
. 5 delicious recipes with blackberries.
Microgreens are something that will diversify any salad and add maximum benefit to it. Compared with grown-up vegetables, microgreens are ten times higher than them in terms of vitamins and trace elements, and also contain a lot of vegetable protein, chlorophyll, mineral compounds and essential oils.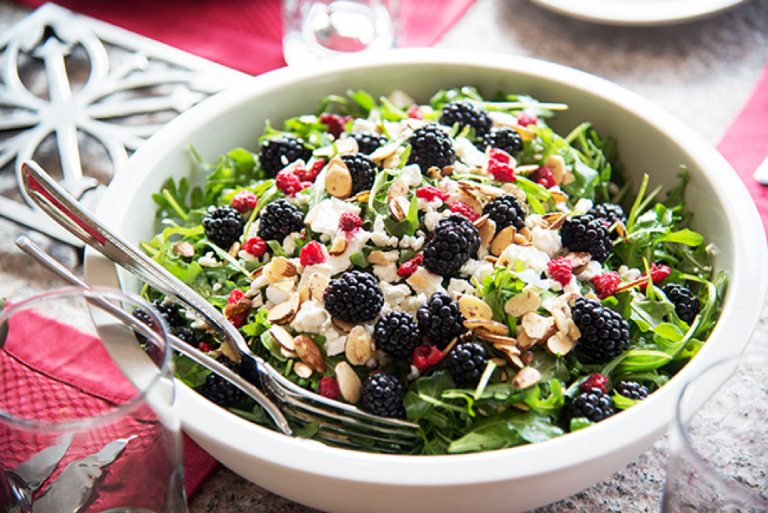 You can buy these miracle sprouts of salads and vegetables in the supermarket, or you can grow them on your windowsill. A few days, and micro-greens of watercress, arugula, radish, peas, beets will be on your table.
Choose only ripe avocado for cooking. Slice it and immediately sprinkle with lemon juice so that it does not darken.
Ingredients:
For 2 servings
Freelis 5.29 oz
Avocado 1 pc.
Blackberry 5.29 oz
Microgreen beet sprouts 2 tablespoons
Microgreen pea sprouts 2 tablespoons
Lemon juice 1 tablespoon
Chia seeds 1 teaspoon
Pumpkin seeds 1 tablespoon
Pine nuts 1 tablespoon
Instruction:
Cooking time 10 minutes
Cut or tear the frillis with your hands, put it on the bottom of the salad bowl. Cut the avocado into cubes, add to a salad bowl and sprinkle with lemon juice. Add blackberries to the salad. Add the seeds and nuts. Put a micro-green on top. Delicious and healthy salad is ready!
5.Elegant trifle
. 5 delicious recipes with blackberries.
A beautiful layered trifle with blackberries can be prepared even faster if there is blackberry jam at hand.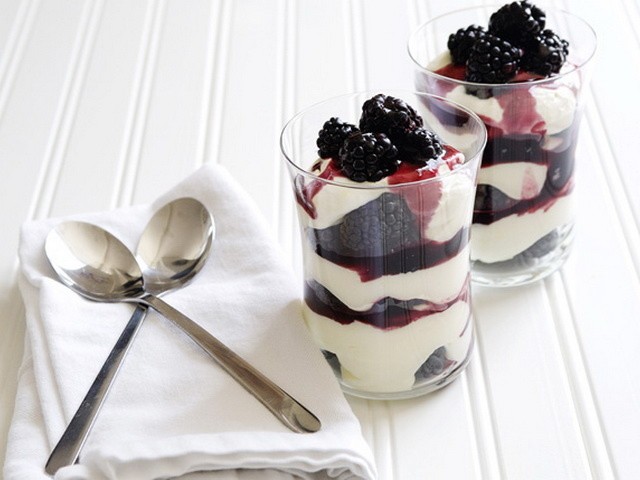 Ingredients:
Cookies 2.82 oz
Cream 33-35 % 1/2 cup
Cream cheese 5.29 oz
Powdered sugar 2 tablespoons
Corn starch 1 tablespoon
Cold water 1 tablespoon
For berry sauce:
Blackberries 4.23 oz
Sugar 2 tablespoons
Topping:
Blackberries  to taste
Mint 3 sprigs
Instruction:
Cooking time 35 minutes
First prepare the berry sauce. Put the washed blackberries in a saucepan, add sugar. Cook over low heat, stirring, until the berries soften. Punch the resulting mass with a blender until smooth.
Dilute the corn starch in water. Slowly pour it into the berry mass, mix and bring to a boil. The sauce is ready. Put it in the refrigerator for 30 minutes.
Beat the cooled cream with cream cheese and powdered sugar to steep peaks. Just don't overdo it, the cream should be soft.
Chop the cookies into crumbs.
Collect the trifle. Put the crumbs in the first layer, then cream cream, berry sauce. If the mold allows, repeat the layers, and decorate the top with fresh berries and a mint leaves. Bon Appetit!