Chokeberry is rightfully considered a unique product and a remedy for many diseases. Healthy superfood: recipes with chokeberry.
What is useful for chokeberry:
It contains the largest amount of antioxidants compared to almost all other plants. For example, it has 10 times more antioxidants than blueberries.
It is not surprising that this miracle berry has proven itself as the best tool in the fight for youth.
"Lesser known fruit species such as black chokeberry, Aronia melanocarpa, are coming into the focus of researchers and also the public, particularly due to their great antioxidative activity. They represent a very valuable fruit with a high level of polyphenolic compounds, especially anthocyanins (cyanidin-3-galactoside and cyanidin-3-arabinoside) and procyanidins ((−)-epicatechin units). The content of polyphenols and their exact composition are quite variable and dependent on the particular cultivar, level of fruit ripeness, the growing locality and climatic conditions. Although the bioavailability of polyphenols is poor, their biotransformation can cause the metabolic activation of health benefits.
Taking into account all of the facts, by the selection of optimal cultivars and growing conditions, polyphenols of A. melanocarpa represent a good choice for health-promoting activities including immunomodulatory, antibacterial, hepatoprotective, gastroprotective, cardioprotective, antidiabetic, anti-inflammatory and anticancer benefits."(1)
How do I recommend using it?
Add to porridges, smoothies and even salads! (frozen will do in the off-season)
Drink 2 tablespoons of chokeberry juice in the morning before or after a meal (prepare yourself in season, or buy in the store).
1.Recipe for a smoothie with chokeberry.
Healthy superfood: recipes with chokeberry.
Quite an interesting cocktail of autumn berries is a vitamin smoothie made from mountain ash. Such a fragrant drink with a beautiful, rich color is a great energy boost for the whole day!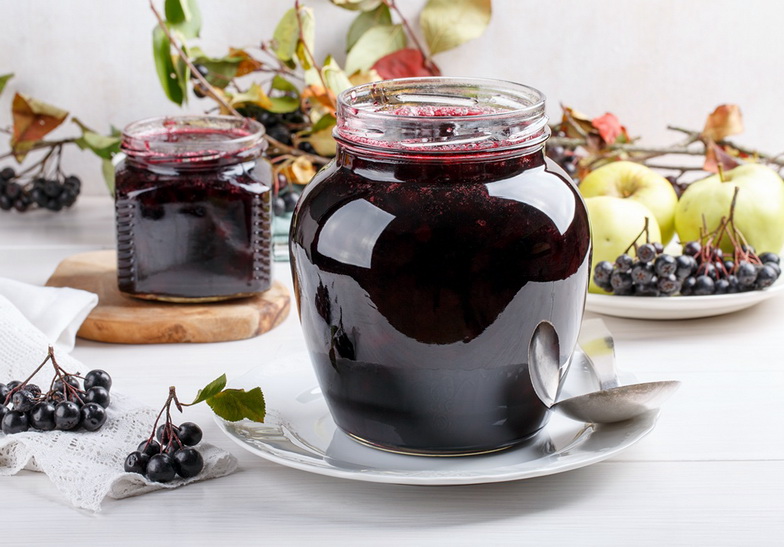 At 34.92oz smoothies you will need:
Ingredients:
Chokeberry 3.53oz
Banana 1 piece
Kale cabbage 4 tablespoons
Parsley (preferably stems)
Ginger root 1 teaspoon
Turmeric root (do not put dry in powder — spoil the taste) 1/2 teaspoon
Oatmeal or soy milk 1 cup
Water 1 cup
Chia seeds 2 tablespoons
Vegetable protein (I like the taste and properties of pumpkin seed protein) 1 tablespoon
Instruction:
Cooking time 15 minutes
Mix all the ingredients in a blender until smooth. You should get about 35.0oz of drink or more – it depends on how much liquid you pour.
What to do with smoothies?
Ideally, drink everything before lunch. So you will get a smoothie for breakfast and for a morning snack. That is, it will not be an addition to breakfast, but the breakfast itself. It is better to put protein in a smoothie, and it will become a full breakfast, because we need protein for vivacity and proper functioning of the hormonal system. Including for the production of serotonin during the day and melatonin at night.
You can leave half in the refrigerator until the next day.
What else can you cook with chokeberry?
For example, you can put it in porridge, add it to any fruit juice or sprinkle it with vegetable salad.
2.Red cabbage with beetroot and chokeberry
. Healthy superfood: recipes with chokeberry.
Sweet and sour cabbage will be an excellent side dish for an everyday dinner, you can also serve it to a festive table.
Red cabbage has much more vitamin C than white cabbage, besides it is rich in zinc and selenium!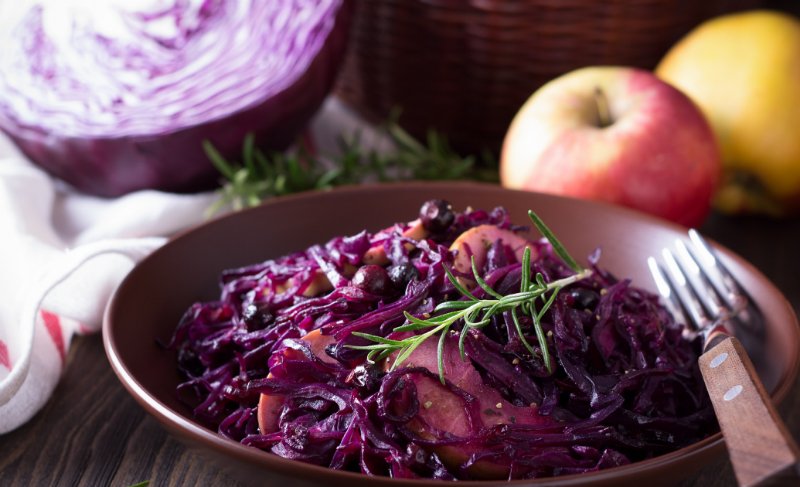 Ingredients:
Recipe for: 4 persons
Red cabbage 12.35 oz
Beetroot 1 piece
Chokeberry 3.53 oz
Sugar 1 tablespoon
Salt 1/2 teaspoon
Apple cider vinegar 1 tablespoon
Olive oil 2 tablespoons
The nutritional value of a serving is 193 k cal
Instruction:
Cooking time 1 hour
Heat olive oil in a thick-walled frying pan. Chop the red cabbage with a knife and add it to the butter. Peel the beets and grate them on a fine grater. Wash the chokeberry (if frozen, get it in advance.) Add to the cabbage. Simmer, stirring, for 10 minutes.
Prepare sugar, salt and vinegar. Season the cabbage, stir and simmer for 1 hour. Such a bright and delicious side dish can be served with meat and poultry, or you can eat it as an independent dish.
3.Chokeberry sauce
We offer to prepare a sauce for meat, poultry or fish. The chokeberry sauce turns out to be a little tart, but very fragrant, and perfectly emphasizes the taste of meat dishes.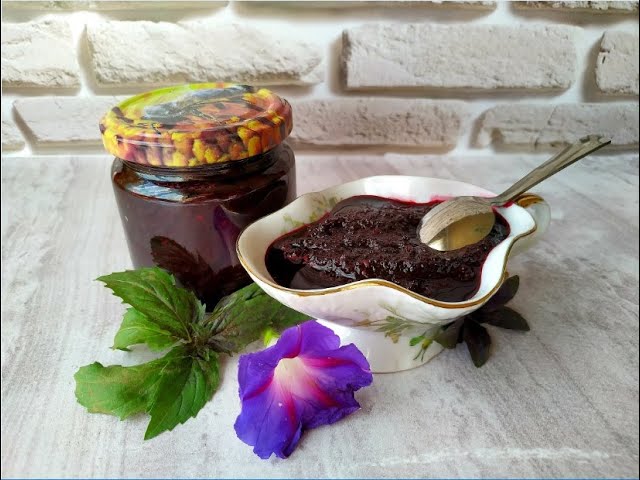 Ingredients:
Chokeberry (without twigs) 24.69 oz
Garlic 1/2 tablespoon
Fresh basil 1 bunch
Ground cinnamon 1 teaspoon
Ground black pepper 1/2 teaspoon
Sugar 3 tablespoons
Salt 1 tablespoon
Lemon juice 3 tablespoons
1/2 cup water
Instruction:
Cooking time 35 minutes
We sort the chokeberry from the twigs, wash it out and send it to a saucepan (we use a saucepan, which is not a pity, since the rowan gives an intense blue color). Add a small amount of water and send it to the fire. Boil for about 15 minutes.
Garlic cloves are cleaned, cut into plates and added to a saucepan with berries. Add basil leaves without twigs.
Grind everything to the consistency of sauce. It is better not to use an immersion blender, but a closed one, such as a chopper.
We return the resulting mass to the pan. Add salt, sugar, ground black pepper and cinnamon. Mix it up.
Bring the mass to a boil, let it boil for 1-2 minutes and pour in lemon juice. Stir and remove from heat.
The sauce from the chokeberry is packaged in dry sterilized jars, twisted with prepared lids. Bon Appetit!
(1) Fruits of Black Chokeberry Aronia melanocarpa in the Prevention of Chronic Diseases. Tunde Jurikova,1 Jiri Mlcek,2,* Sona Skrovankova,2 Daniela Sumczynski,2 Jiri Sochor,3 Irena Hlavacova,2 Lukas Snopek,2 and Jana Orsavova4 https://www.ncbi.nlm.nih.gov/pmc/articles/PMC6152740/