A vitamin salad with the right combination of ingredients and dressing can become not just a snack, but also a full-fledged dish for lunch or dinner. 5 healthy delicious and vitamin salads.
Any vegetables and green salads should be washed and dried before being added to the dish. Excess moisture not only repels sauces and dressings but can also worsen the taste. If you mix fresh vegetables and herbs with warm ingredients on one plate. For example, boiled potatoes, fried bacon, meat, or fish, then you need to serve such a dish immediately — fresh ingredients lose both taste and appearance from the temperature. To mix green salad, choose a bowl whose volume is at least twice the volume of the salad itself. The less the greens and vegetable pulp are pressed, the fresher they will remain.
(1) – "Most of us know that eating fruits and vegetables is good for our health. But a new study from the National Institutes of Health says it may even help us live longer.
The study found that eating an average of five servings of fruits and vegetables a day is linked to a reduced risk of death from heart and respiratory diseases. Eating more fruit is also associated with a lower risk of cancer.
For adults, the recommended daily amount is 1.5 to 2 cups of fruit and 2 to 3 cups of vegetables."
#1.Brussels sprouts salad with apple and nuts
Try a salad with fried cabbage, apples, hazelnuts, basil, and mint. The dish turns out very tasty! Brussels sprouts can be grated on a coarse grater.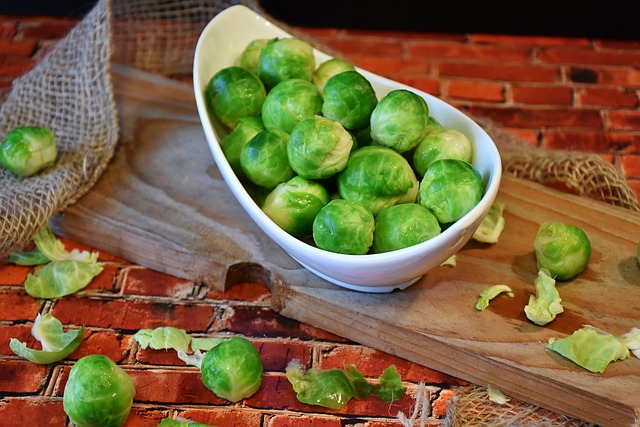 Ingredients in 2 portions:
Brussels sprouts 10 pcs.
Apples 1 pc.
Hazelnuts 3 tablespoons
Lemons ½ pcs.
Crushed mint 1 tablespoon
Basil 1 teaspoon
Olive oil 2 tablespoons
Nut butter 2 tablespoons
Apple cider vinegar 1 tablespoon
Mustard 1 teaspoon
Freshly ground black pepper to taste
Sea salt to taste
Instruction:
Cooking time 15 minutes
Cut the Brussels sprouts into 4 pieces. Heat the olive oil in a frying pan, put the cabbage, add salt and fry until golden brown. Apple, removing the core, cut into thin slices. Squeeze the juice out of half a lemon and lightly sprinkle the sliced apple. Put the cabbage in a deep bowl, add mustard, pour apple cider vinegar, nut butter, remaining lemon juice, salt, and pepper, and mix everything. Dry the hazelnuts in a frying pan where the cabbage was fried, then grind them lightly in a mortar. Finely chop the mint, and tear the basil with your hands. Add apple, mint, and basil to the cabbage and mix everything together. Put the salad on a plate and sprinkle it with hazelnuts.
#2. Salad with chicken, avocado, and orange
. 5 healthy delicious and vitamin salads.
The usual salad with chicken can be made more original if you add exciting ingredients to it. For example, fennel, string beans, and orange. And for dressing, mix olive oil, apple cider vinegar, and mustard. Beans can be taken frozen. If you like oranges, add orange zest to the salad.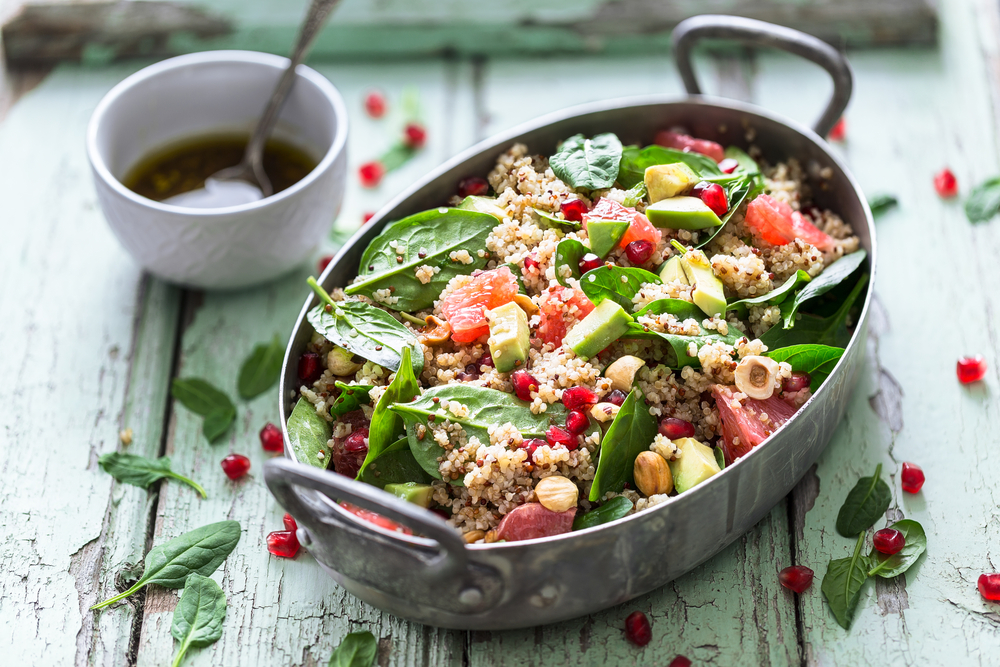 Ingredients in 2 portions:
Chicken breasts 1 pc.
Oranges 1 pc.
Avocado 1 pc.
Green string beans 3.53oz
Fennel ½ bunch
Salad mix 3 tablespoons
Sea salt to taste
For refueling
Olive oil 3 tablespoons
Apple cider vinegar 1 tablespoon
Mustard with grains 1 tablespoon
Instruction:
Cooking time 25 minutes
Boil the chicken breast and cut it into small pieces. Pour boiling water over the beans and boil, add salt at the end. Put the finished beans in very cold water for a short time, then dry them with a paper towel. Cut the fennel into thin slices, cut off the top green leaves and save. Peel the orange, and then remove the membranes, cutting out the pulp and preserving the juice that has been released.
Peel the avocado, remove the stone and cut it into thin slices. Put the fennel and cut leaves in a salad bowl, and add orange pulp with juice, avocado, chicken, beans, and salad mix. Prepare the dressing by mixing olive oil, mustard, brandy, and vinegar. Pour the dressing over the salad, if necessary, add salt.
#3.Tomato salad with cheese olives and herbs
This salad will appeal to all fans of delicious dishes. It contains ingredients that make it memorable: juicy tomatoes, walnuts, cheese, surely hops, coriander, and fresh cilantro!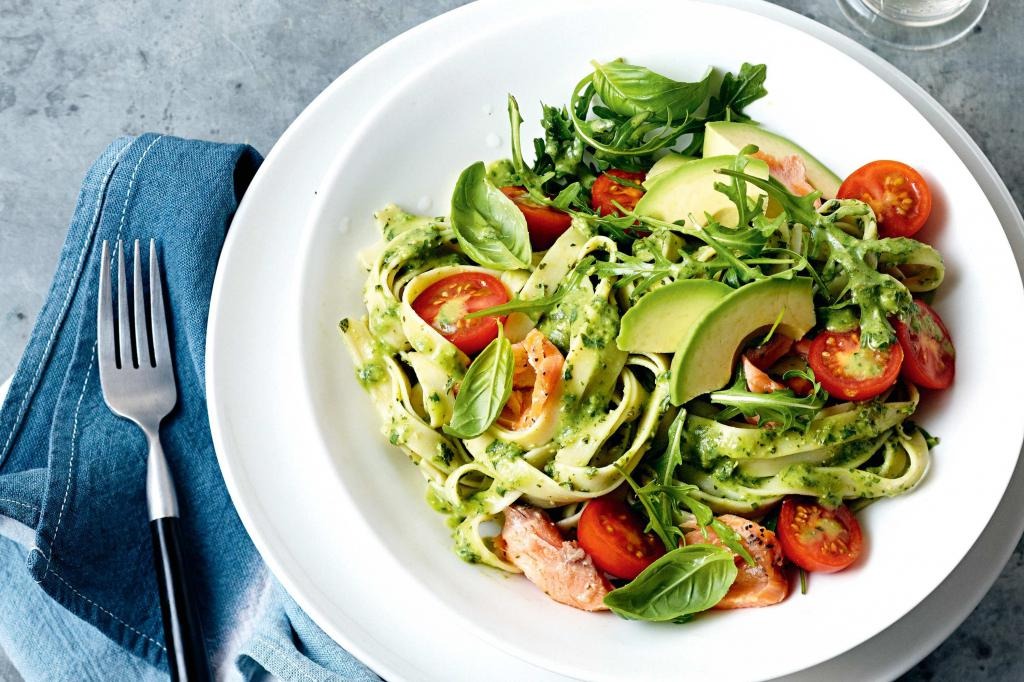 Ingredients in 3 portions:
Red tomatoes 1 pc.
Yellow tomatoes 1 pc.
Suluguni 5.29oz
Fresh cucumbers 2 pcs.
Pitted olives 2 tablespoons
Pitted olives 2 tablespoons
Walnuts 3 tablespoons
Red basil 5 sprigs
Tarragon to taste
Parsley 3 sprigs
Dill 3 sprigs
Cilantro 4 pcs.
Aromatic vegetable oil 2 tablespoons
Salt to taste
Instruction:
Cooking time 25 minutes
Cut tomatoes into slices. Peel cucumbers and cut them into circles. Cut the cheese into small pieces. Grind walnuts and Svan salt in a mortar, then add coriander, surely hop and mix everything. Put basil, tarragon, parsley, dill, and cilantro leaves in a salad bowl, put tomatoes, olives, olives, cucumbers, and salon top, cheese pour vegetable oil over everything, and sprinkle with walnuts and spices.
#4. Salad with salmon, baked beetroot, and quail eggs
. 5 healthy delicious and vitamin salads.
Instead of salmon, you can take mackerel or trout. It is better not to cook beets, but to bake them in the oven. Mayonnaise is not required here, but it will be more magnificent with it, and if you add sour cream, you will get an elegant and delicious dressing.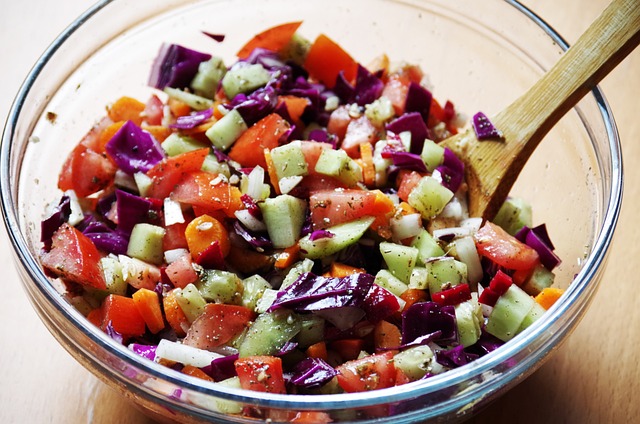 Ingredients in 4 portions:
Lettuce 7.0oz
Cold smoked salmon 5.29oz
Quail eggs 6 pcs.
Beetroot 1 pc.
Radish 4 pcs.
Greens of young peas 6 twigs
For refueling:
Lemons ½ pcs
Extra Virgin Olive oil 4 tablespoons
Sour cream 1 tablespoon
Homemade mayonnaise 3 teaspoons
Mustard with grains 1 teaspoon
Sea salt to taste
Instruction:
Cooking time 20 minutes
Preheat the oven to 356F. Bake the beets in a preheated oven until cooked, then peel and cut into small slices. Radish cut into thin circles. Cut the salmon into slices. Boil quail eggs, peel, and cut in half. To prepare the dressing: squeeze 2 tablespoons of lemon juice into a bowl, add olive oil, mustard, homemade mayonnaise, and sour cream, add salt and mix everything. Put salad leaves, chopped radishes, beets, eggs, and salmon in a dish. Pour the dressing over everything and garnish with green young peas.
#5. Salad with baked sweet potatoes, pumpkin, and carrots
. 5 healthy delicious and vitamin salads.
Any baked vegetables are combined with lettuce leaves so that you can add sweet pepper, celery root, zucchini, and eggplant. Instead of tarragon, it's a good idea to sprinkle such a salad with mint, cilantro, or basil — it will also be interesting!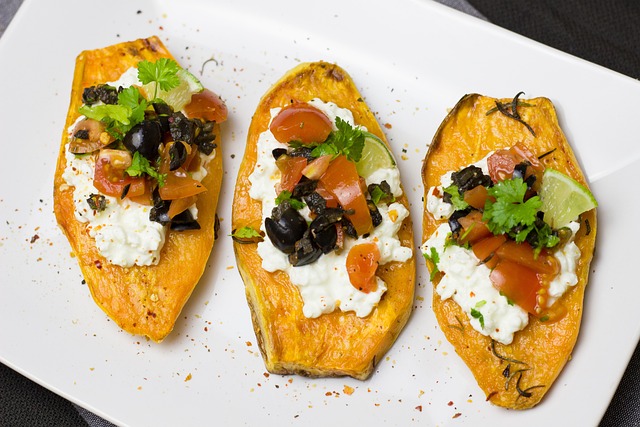 Ingredients in 4 portions:
Pumpkin 10.58oz
Sweet potato 1 pc.
Carrots 2 pcs.
Lemons ½ pcs
Salad mix 3.53oz
Peeled and dried sunflower seeds
2 teaspoons
Peeled and dried pumpkin seeds
3 teaspoons
Rosemary 3 sprigs
Fresh thyme 3 sprigs
Tarragon 2 twigs
Extra Virgin Olive oil 3 tablespoons
A mixture of ground chili and coriander to taste
Freshly ground black pepper ¼ teaspoon
Sea salt to taste
Instruction:
Cooking time 40 minutes
Peel the pumpkin, sweet potatoes, and carrots and cut them into pieces. Preheat the oven to 352F. Put the chopped vegetables, thyme and rosemary leaves in a small baking tray, sprinkle all the chili with coriander, and add a little salt and pepper. Pour 2 tablespoons of olive oil and bake in a preheated oven for 25-30 minutes. Squeeze the juice out of half a lemon. Put the lettuce leaves in a deep dish, pour the remaining olive oil, lemon juice, salt, and pepper, and spread the baked vegetables on top. Sprinkle the salad with seeds and tarragon leaves. Enjoy your meal!
(2) – "Many nutrition education strategies have positively impacted people's nutrition and health behavior yet there are many factors which need to be considered and challenges that need to be overcome when designing nutrition education strategies. To be successful, nutrition education needs to be much more comprehensive than giving basic nutrition information.  The current focus is on the effectiveness of methods of information dissemination and validation of educational tools."
(1) – Eat fruit and vegetables, live longer. https://magazine.medlineplus.gov/article/eat-fruit-and-vegetables-live-longer
(2) -Fruit and Vegetable Intake: Benefits and Progress of Nutrition Education Interventions- Narrative Review Article. Dhandevi PEM and Rajesh JEEWON*