How to make Bento
It would seem that Bento is a simple lunch that you can take with you. However, Bento is a meal that looks equally attractive to both the tooth and the eye – just like everything else, however, in Japanese cuisine. 5 rules for making Bento and recipe.
If You want both yourself and your loved ones to look forward to the lunch break, try to cook something special-let the ingredients be quite simple, but with skillful serving, The simplest dish becomes a work of art. And if it is made with the soul.
5 basic rules for making Bento for every day:
The food should be delicious. The simplest and one of the most important rules.
Reasonably healthy and nutritious. You can eat sweets and other junk food at any time of the day, but lunch should be delicious, healthy and nutritious, because this is our fuel for the rest of the day. This is the second main rule!
Neat and delicious to look at. One of the fundamental principles of Bento, as well as all Japanese cuisine — the appearance of food is important, as well as its taste.
Simple and quick to prepare. Because you're already spending too much time on everything else.
Even for those who love to cook, the daily hours at the stove and the production of culinary masterpieces takes too much time and effort. And the process is not a joy, and the result. Therefore, for creativity, set aside one day off, and for working days, leave simplicity and functionality. Make your meals from simple, healthy and delicious ingredients.
Food doesn't have to be expensive. Cooking takeaway meals at home is a great way to save money. Since even if you think that the cost of a business lunch is very cheap, it can be a good option several times. But even the cheapest set meal in the end for a month will cost you a pretty penny. And did I mention that this is much more healthy than any business lunch?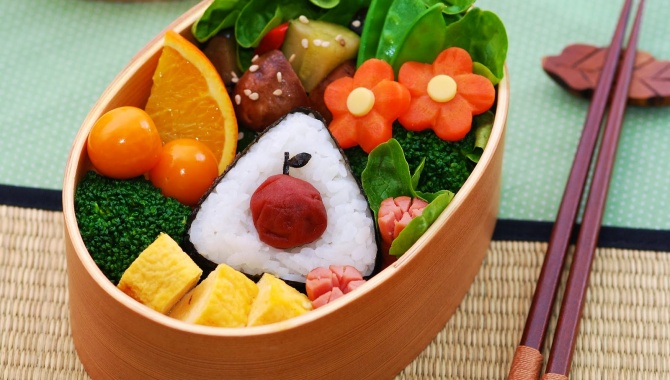 SEQUENCE OF ACTIONS
1. Buy a Bento box with compartments for various products. You can purchase such a container by ordering it online. If there is no such box, feel free to experiment – make partitions from strips of carrots or crackers. You can also put a few small ones in a large box so that the ingredients don't mix.
2. Divide food proportionally. When preparing Bento, a 4:3:2:1 ratio is usually used, that is, 4 parts of rice have 3 parts of garnish,2 parts of vegetables and 1 part of pickled vegetables or dessert. You can use a simplified version of 1:1, when 1 part of rice, 1 part of the side dish, as well as a side dish of meat and vegetables in turn make up the proportion of 1:2. And of course, if it's more convenient for you, you can use your own proportion of dishes, the main thing to remember is that the goal of Bento is a balanced diet. As an alternative to rice, sushi is suitable, you can experiment with different varieties of rice or even with pasta.
The main source of protein should be a side dish that can be used as beef, chicken, fish or pork – fried, boiled or in any other form. If you're making a vegetarian Bento, you can add tofu or beans. For an appetizer, chopped cabbage or other vegetables are good.
3. Choose products with bright and rich colors. The more bold and bright colors in your Bento, the more you want to eat it! White rice, hard-boiled eggs and cheese add a pleasant variety of colors to the Bento, especially when combined with bright orange, green and red products.
4. Pack the products are strictly in order, especially if your box has no built-in offices. Following this simple rule will prevent your lunch from being mixed inside the box when you are driving to work or taking your child to school. The first thing to lay out is, of course, rice. Then add those foods that don't change their shape with relatively little pressure – for example, chicken pieces. Then add the potato salad or sliced vegetables. Finally, add small and strong ingredients, such as cherry tomatoes, which can be used to fill the gaps between containers.
5. Create a drawing of Bento using seasonal spices or products. To do this, you can use ready-made stencils or come up with something of your own. Clearly define the borders of the drawing. Different colors, structures, and shapes of products can be placed next to each other, but it is best to distinguish between similar or almost identical products. Don't let the flavors mix. Make animal faces or other drawings out of the products.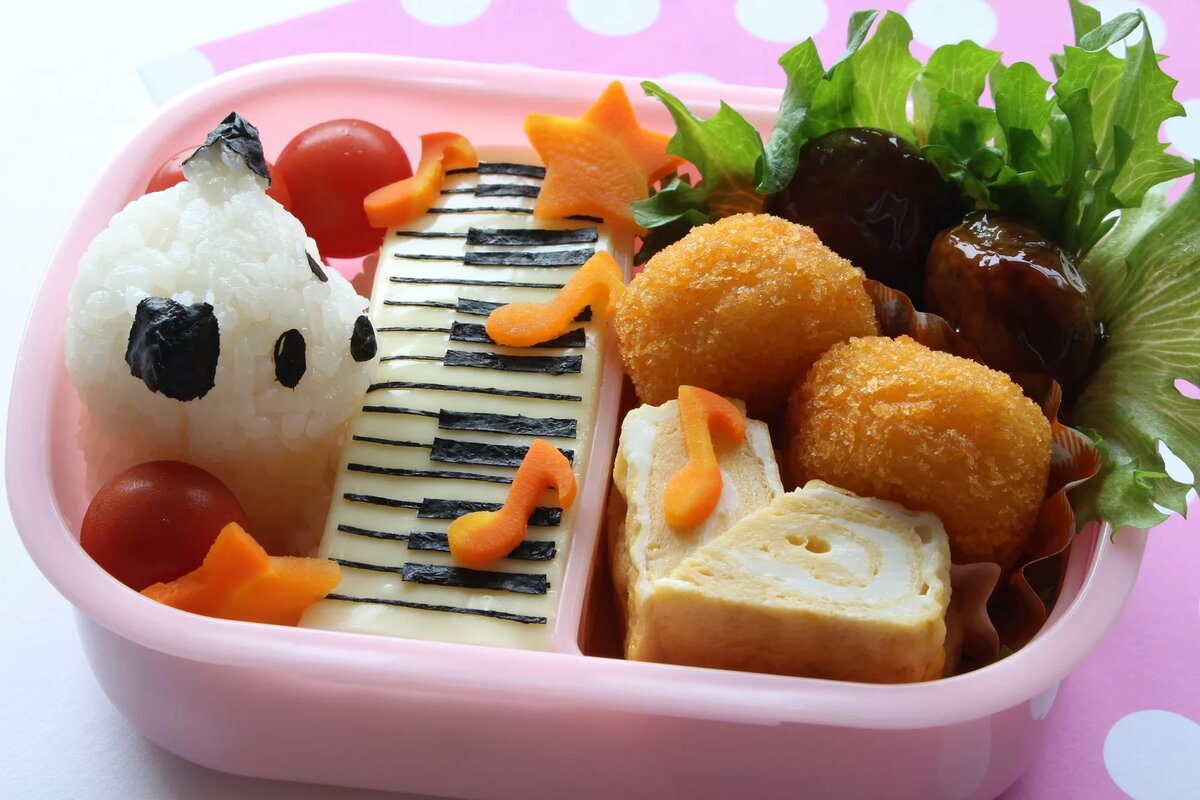 Add seasonal seasonings and garnish to the center of the dish. Cut out fruit, vegetables, or cheese in the shape of a heart or star. Place sauces or snacks that cannot be placed with all other products in separate plastic containers.
Fried vegetables or meat should be placed on an absorbent layer of shredded cabbage or rice – this way the rice/cabbage will be soaked in juice, and the juice itself will not spread to other products. Rice and any other hot ingredients should be cooled before being placed in the Bento. Otherwise, condensation will accumulate inside the box and all the food will get wet.
When choosing Bento products, you should consider their ability to maintain a stable temperature. A traditional Bento lunch is not refrigerated and does not need to be stored in the refrigerator. Bento products should be placed in a box when they have cooled to room temperature. In this case, they stay fresh longer.
As you can see, any food is good for Bento if two conditions are met. First, the dish should be stored and eaten at room temperature. And secondly, you can carry it with you.
Bento recipe
.5 rules for making Bento and recipe.
Ingredients
Designed for 1 serving
Chicken breast 2.12oz
Tuna fillet 2 tablespoons
Red sweet pepper ¼ pieces
Broccoli cabbage 1 piece
Carrots ½ pieces
Sushi rice 2 tablespoons
Rice 3.53oz
Mayonnaise 1 teaspoon
Chili sauce with garlic 1/4 teaspoon
Tempura flour 7.05oz
Avocado ¼ pieces
Chicken egg 1 piece
Chili pepper 1 piece
Chives 1 teaspoon
Romaine lettuce 1 stalk
Salt to taste
Vegetable oil 2 cups
Fresh pepper to taste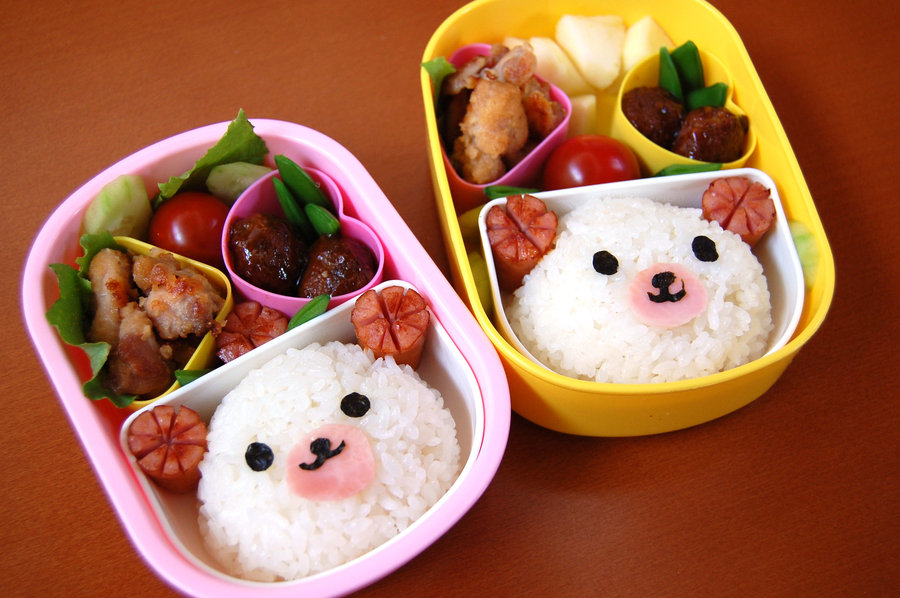 Instructions
Cooking time 25 minutes
1. Cut the chicken breast in two, season with salt and pepper on both sides. Fry the meat pieces on the grill: first put them skin down for one and a half to two minutes-the skin should become crispy — and then turn them over and fry for another couple of minutes.
2. As soon as the chicken is lightly browned and there are traces of the grill grate on it, send the breast to the oven, preheated to maximum. Bake for eight to ten minutes.
3. Prepare tuna tartare: combine mayonnaise (you can make it yourself) with hot garlic sauce (in a ratio of 10 to 1) and season very finely chopped tuna fillet. Add salt to the tartare to taste and mix well.
Prepare the rice. From rice for sushi a day ago (to make the rice crunch, it should not be fresh, but slightly dried) , use a cooking ring to form a small circle about a centimeter thick. Fry a circle of rice in boiling oil for two to three minutes.
5. as soon as the rice cake is golden, remove it from the boiling oil and put it on a napkin so that the excess oil is absorbed. Put tuna tartare on the fried rice, garnish with avocado, cut into small cubes, chives and a couple of thin rings of chili pepper.
6. Carrots cut into strips. Prepare the batter: mix a large handful of tempura flour with the egg and add cold water to the eye — the batter should be liquid, but quite dense and viscous. Roll the vegetables in the remaining tempura flour and dip in the batter.
7. With a sharp movement — to shake off the excess batter — throw the vegetables into the boiling oil. If necessary, to create an even crust, you can pour batter on vegetables already floating in oil. After three to four minutes, remove them with a slotted spoon and spread them on a paper napkin.
8. Put everything cooked in a Bento box: tempura, donburi with chicken (put the chicken breast cut into thin slices on the boiled rice), rice pie with tuna tartare on a salad sheet. Garnish all parts of the Bento with chopped chives. 5 rules for making Bento and recipe.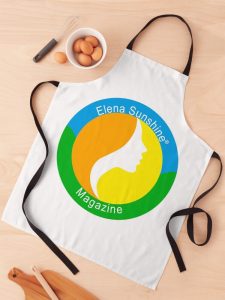 You can buy an apron with our logo 🙂
https://www.redbubble.com/i/apron/Elena-Sunshine-Magazine-by-Michaelbor76/52450511.6ZXWR?asc=u