Looking for an original dish that can be made from simple ingredients? Try picadillo beef – a traditional dish of Latin American cuisine, which will not leave indifferent those who like to combine unusual tastes and aromas. Mexican beef picadillo.
Beef picadillo recipe
To fully enjoy the bright, savory taste of this dish, we recommend buying minced meat from aged beef. Aged meat has a delicate texture and a richer taste, so it makes the most tender beef steaks, juicy roast beef and delicious second courses. Minced meat is prepared with an ideal proportion of sirloin and fat, which allows you to prepare incredibly juicy dishes.
Picadillo is served as a separate dish with a side dish, or as a filling for burritos, tortillas, enchiladas and other Mexican dishes. In any case, it will be very tasty and satisfying. New articles and best recipes every day!
Ingredients
Ground beef 24.69oz
Olive oil 3 tablespoons
Dry red wine 1/3 Cup
1pc onion
Garlic 3 cloves
Canned tomatoes 3.53oz
Raisins 1/2 Cup
Eggs 2 PCs
6 tablespoons of olives
Coriander to taste
Salad 1.76 oz
Salt and pepper  to taste
Instructions
. Mexican beef picadillo.
Cooking time 30 minutes
Fry the minced meat in a preheated pan, breaking the lumps with a wooden spoon. Cook for about 10 minutes, then add the wine, chopped onion and garlic. Continue roasting until the wine is almost completely evaporated.
After that, add the sliced tomatoes, soaked raisins and simmer, stirring occasionally, until the liquid evaporates – about 5 minutes. Season with salt and spices to taste. While the meat is cooking, boil the hard-boiled eggs.
Remove the dish from the heat and place on a plate. Add chopped eggs, olives and coriander to the fried minced meat. Stir, let rest for a couple of minutes and serve with a couple of lettuce leaves on a plate, and a fragrant meat mixture on them. The perfect side dish for picadillo is brown rice. It is healthier than white, besides, it has an original nutty taste. Bon Appetit!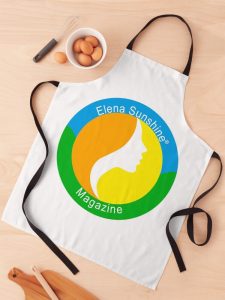 You can buy an apron with our logo 🙂
https://www.redbubble.com/i/apron/Elena-Sunshine-Magazine-by-Michaelbor76/52450511.6ZXWR?asc=u