A picnic is a great opportunity to relax in nature with friends and family. So that everyone would not only have fun, but also delicious. Choose ideas, get inspired and experiment. 7 healthy picnic snacks.
#1.Garlic tortilla with mozzarella
. 7 healthy picnic snacks.
It is extremely tasty, fragrant. And it is easy to prepare and not at all long. Especially if we have an assistant-a bread maker.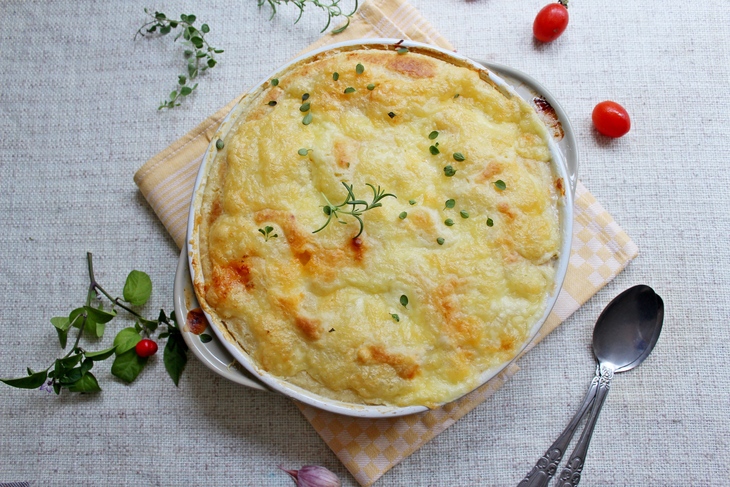 Ingredients for 8 servings:
Dough:
Flour 9.88oz
Dry yeast 1 teaspoon
Chicken eggs 2 pcs
Salt ½ tsp
Sugar 1 tablespoon
Butter 2 tablespoons
Milk 1/2 cup
Topping:
Mozzarella for pizza 7.0oz
Butter 1 tablespoon
Garlic 2 cloves
Chopped greens 2 tablespoons
The nutritional value of a serving is 288 k Cal
Instructions: 
Cooking time is one hour 30 minutes
Warm up the milk, melt the butter or use room temperature. Put the products in the bread maker's bowl, pour the yeast into the dispenser. Turn on the "Pizza" mode. The dough turns out to be tender and elastic.
Mix the melted butter with garlic passed through the press and finely chopped herbs. Roll out the dough into a flat cake on a teflon mat. Cover with a towel and put in the heat. For example, in a warm oven for 20 minutes.
Cut the mozzarella cheese into slices. Make incisions across the entire surface (longitudinal and transverse), retreating slightly from the edges, up to half the thickness of the cake. Do not cut through the dough to the end. Preheat the oven to 396F. Lubricate the surface with topping.
Bake bread in a well-heated oven at the above temperature for 18-20 minutes. The bread should turn brown, and the cheese should melt. Remove the bread from the oven and cool slightly (5-7 minutes). The crumb is layered, mozzarella stretches, garlic and herbs place delicious accents!
#2.Spring sandwiches
Bright sandwiches will delight your friends and family with their unusual appearance. Such a treat is easy to make at home and take with you for a walk or a trip.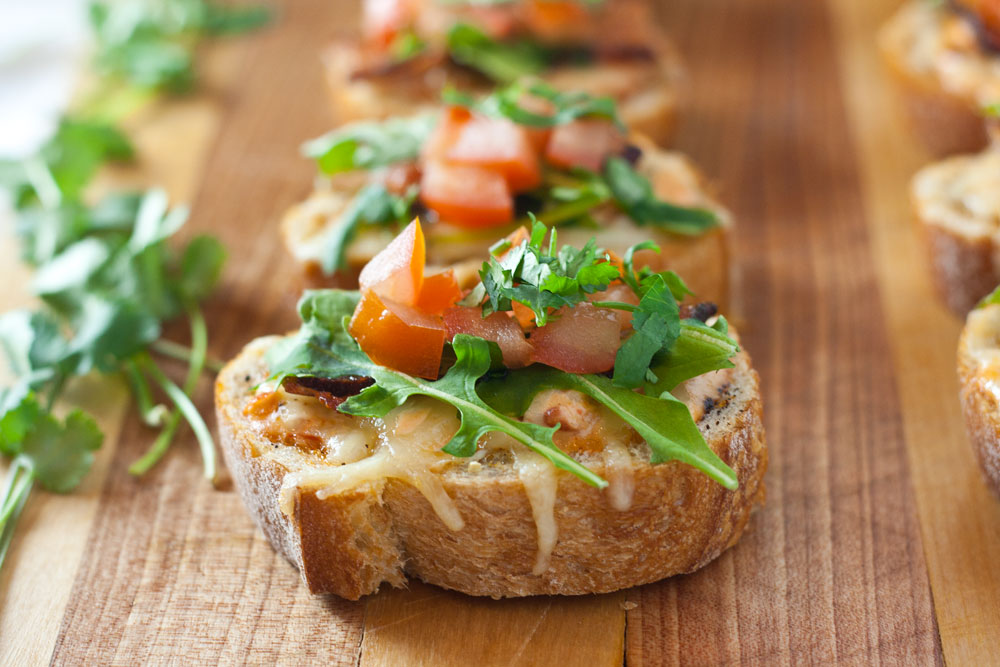 Ingredients for 4 servings:
Red onion 1 tablespoon
Homemade mayonnaise 2 tablespoons
Lemon juice 1 teaspoon
Freshly ground black pepper to taste
Fresh cucumbers 2 pcs.
Sandwich bread 6 pieces
Philadelphia cheese 2 tablespoons
Salted salmon 7.0oz
The nutritional value of a serving is 214 k Cal
Instructions: 
Cooking time 20 minutes
Philadelphia cheese should be taken out of the refrigerator about 20 minutes before the start of sandwich preparation, so that it can be applied to soft bread later without any problems. Prepare the filling. Chop the lightly salted salmon, chop (chop) the red onion very finely, put everything in a bowl and mix with lemon juice and mayonnaise. Pepper to taste. add another tablespoon of Philadelphia cheese to the filling and some dill greens. Stir and set aside.
Cut off the edges of the bread slices (it is best if the bread for sandwiches is homemade). Wash the long cucumbers and use a vegetable cutter to cut them into thin ribbons (not reaching the middle with the seeds). Put it on a napkin and get wet.
We begin to "assemble" the sandwich. Spread a thin even layer of Philadelphia cheese on one side of each slice of bread. Place cucumber strips diagonally on top. Gently press down and, if necessary, blot again with a paper napkin (paper towel).
Alternating through one, apply an even layer of salmon filling to the other side of the bread. Cover with a second slice so that the side with cucumbers is outside. And now just carefully trim the cucumber strips, aligning them along the edge of the sandwiches. Wrap in plastic wrap and put in the refrigerator. Before serving, cut each sandwich diagonally and serve! Very tasty and elegant at the same time! By the way, you can dream up with fillings!
#3.Cauliflower in batter
. 7 healthy picnic snacks.
In nature, while waiting for the meat to be cooked, it will be very pleasant to have a bite of crispy cauliflower in batter on sparkling water.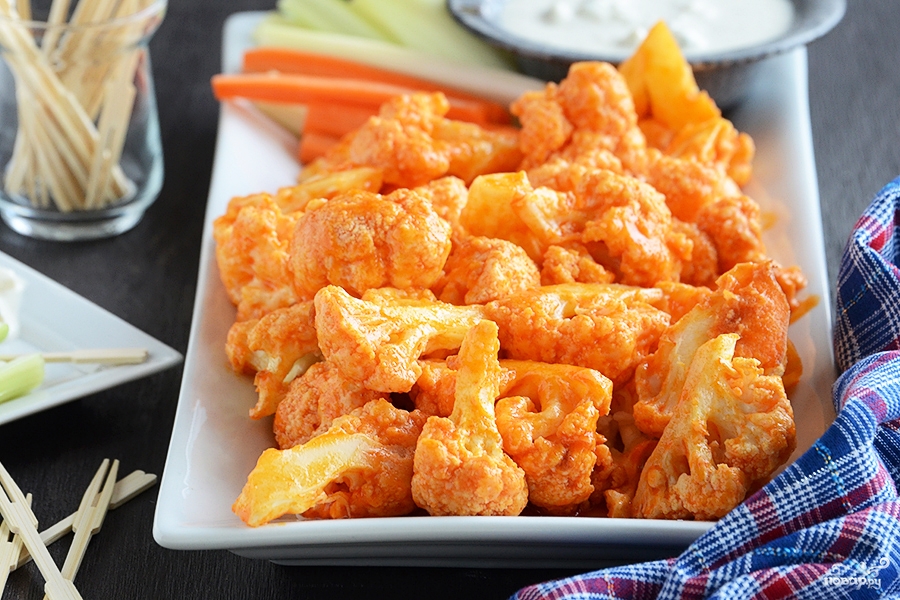 Ingredients for 2 servings
For the batter:
Chicken eggs 1 piece
A small bunch of cilantro 1 pc.
Wheat flour 3 tablespoons
Carbonated water 1/2 cup
Curry 1 teaspoon
Sweet paprika 1/2 teaspoon
Red pepper 1 teaspoon
Main course:
Cauliflower 1 head
Sauce 2 tablespoons
Olive oil 2 tablespoons
Sea salt 1 teaspoon
The nutritional value of a serving is 533 k Cal
Instructions: 
Cooking time 30 minutes
Disassemble the cabbage into small inflorescences and boil in salted boiling water for 2 minutes, then drain the water. Finely chop the cilantro. Prepare the batter: mix the curry with paprika and red hot pepper, add the egg and beat everything together lightly.
Pour in sparkling water, add flour and cilantro and beat the batter again. Put the cabbage in the batter and mix so that all the pieces are covered. Heat a little olive oil in a small deep saucepan and fry the cabbage in batter until light golden brown, then put it on a paper towel with a slotted spoon. Serve the cabbage, watering it with sauce.
#4.Baked beet mousse
Easy to prepare, but very original spread with baked beets, cottage cheese, herbs and walnuts.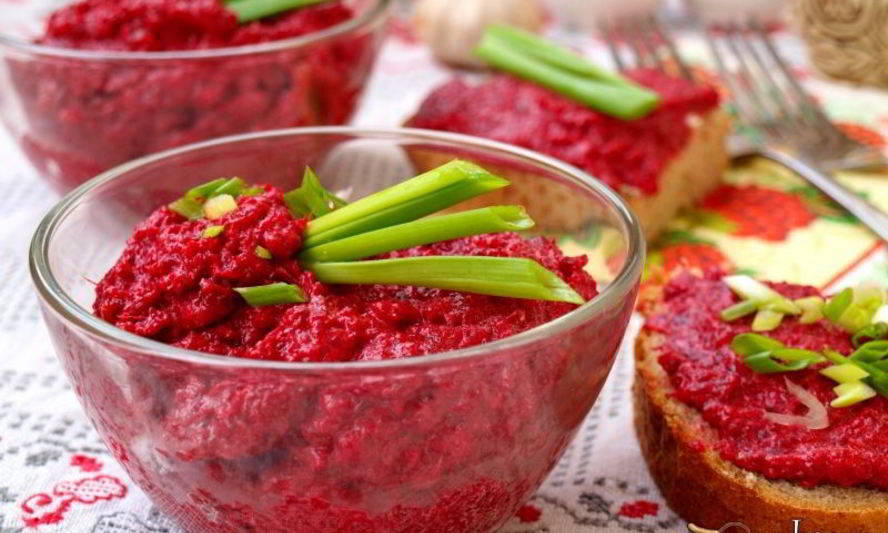 Ingredients for 2 servings:
Walnuts 3 tablespoons
Cottage cheese 3 tablespoons
Chicken eggs 1 pc.
Fresh dill 3 sprigs
Beetroot 3 pcs.
The nutritional value of a serving is 305 k Cal
Instructions: 
Cooking time 30 minutes
Wash the beets (medium-sized), wrap in foil and bake until soft. Cool the finished beets, cut into chunks and grind with a blender to a puree state. Add a handful of walnuts and egg white, beat well. Add the curd cheese and mix well. Serve on bread or toast, sprinkled with grated yolk and dill.
#5.Chicken roll with paprika
. 7 healthy picnic snacks.
A wonderful alternative to sausage. A quick, economical and simple chicken roll recipe. The addition of spices and sweet paprika makes it more spectacular with a marble pattern. To make a roll, you can use chicken breast, but it turns out juicier from a whole chicken. Only first remove excess fat and skin from it.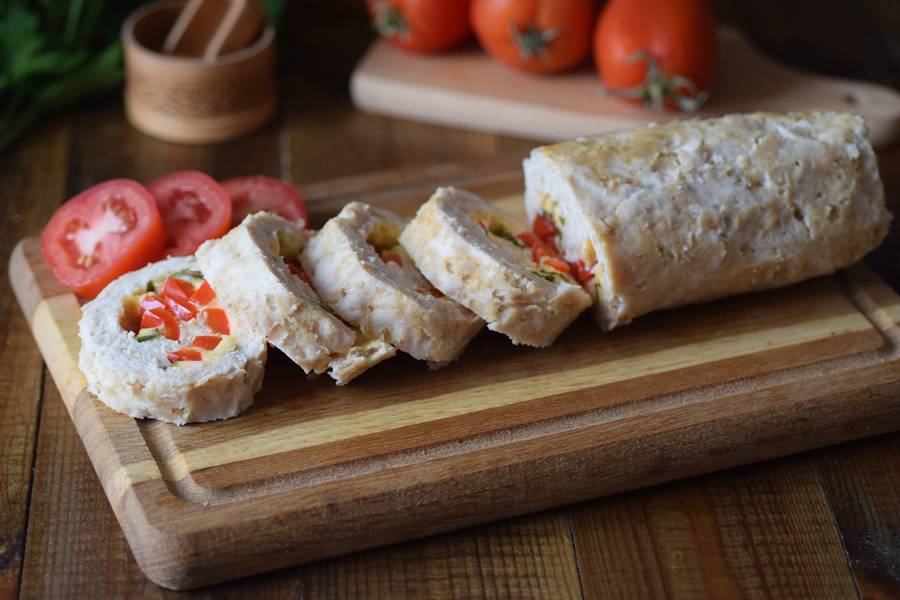 Ingredients for 10 servings:
Chicken carcass 45.86oz
Sweet paprika 2 teaspoons
Spices 1 teaspoon
Salt 1 teaspoon
Gelatin 2 tablespoons
Garlic 3 cloves
The nutritional value of a serving is 253  k Cal
Instructions: 
Cooking time 55 minutes
Prepare the necessary products. As spices, you can use a ready-made mixture of seasonings for chicken. Remove the skin from the carcass and cut off the fat. Remove the meat from the bones and cut into small cubes. Put in a bowl, add spices, paprika, gelatin, crushed garlic and salt. Mix so that the spices and gelatin evenly cover all the pieces.
To form a roll, it is convenient to use a baking sleeve. Put the prepared minced meat and roll it into a tight loaf. Try not to have air pockets between the pieces. Secure the edges of the sleeve with twine or special clips.
Wrap the roll in several layers of foil and put it in a mold. Bake in a preheated 356F oven for about an hour. Cool completely and put in the refrigerator (preferably overnight). The roll is ready.
#6.Vegetable salad
I share a salad recipe, it's crispy, juicy, healthy. You can safely take it to nature — without mayonnaise, it will not spoil.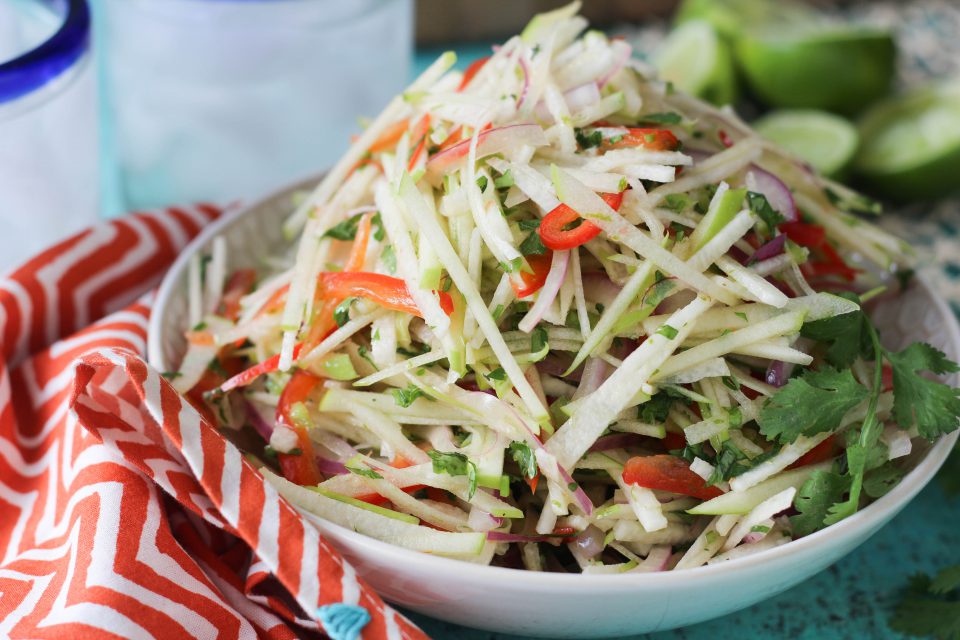 Ingredients for 6 servings:
Vegetable oil 4 tablespoons
Sea salt to taste
Pepper to taste
Canned green peas ½ cans
Carrot 1 pc.
Dried cranberries 2 tablespoons
Green onion 1/2 bunch
Onion red ½ pcs.
Green Bulgarian pepper 1 piece
Pickled pepper 1 pc.
Dried sea cabbage 2 tablespoons
Peking cabbage 1/2 head
Sauerkraut 1 cup
Nutritional value of a serving of 147 k Cal
Instructions: 
Cooking time 30 minutes
Cover the dried seaweed, let it stand for 5-10 minutes, drain the water and the cabbage is as fresh! Chop the fresh green pepper, peeling it from the seeds. But the red pepper is pickled, we pull out the slices from the brine. We divide the pepper into pieces, red onion too. Grate raw carrots coarsely.
Sauerkraut or pickled cabbage is squeezed from the brine, combined with carrots. Cut the Peking cabbage into strips. Especially thinly thick parts of the leaves. Pour into a common dish. We send both types of peppers and onions to the same place.
The seaweed is already soft and without liquid. At the end of the peas, salt, pepper. A handful of dried cranberries won't hurt to add. We fill it with olive oil or any vegetable oil.
Mix it up. It is advisable to let the salad brew in the refrigerator. Before serving, mix again and sprinkle with green onions.
#7. Salad with apple and cucumber
. 7 healthy picnic snacks.
And the salad is really very fresh, crispy and soft green in spring. It is perfect for poultry, fish and just crunch.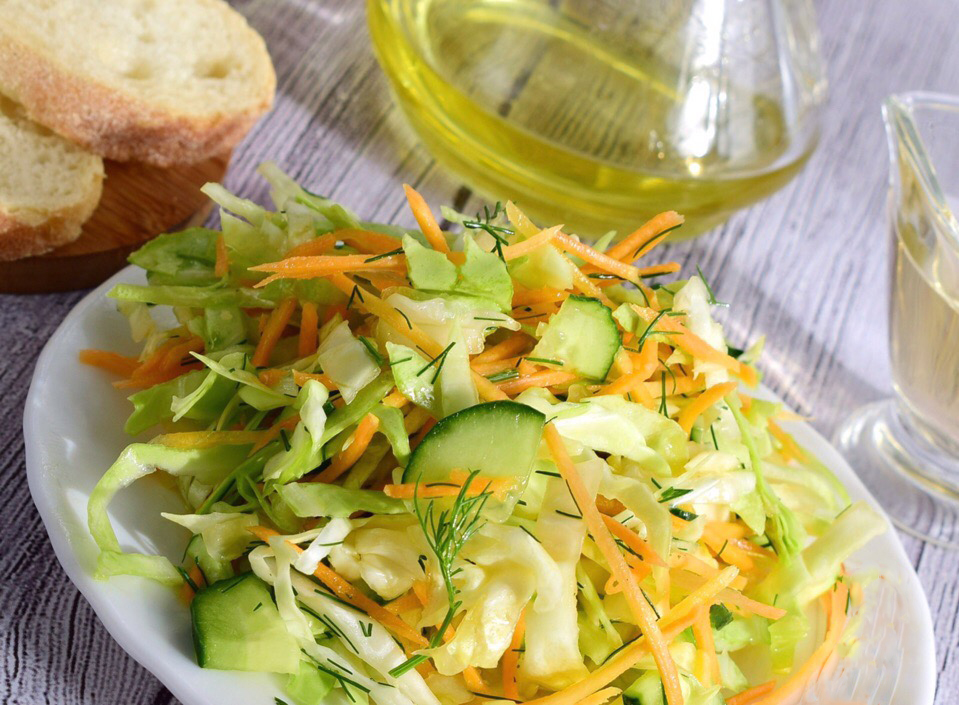 Ingredients for 2 servings:
Fresh cucumbers 1 pc.
Green apples 1 pc.
Fresh dill 1 bunch
Garlic 1 clove
Lemon juice 1 tablespoon
Olive oil 1 tablespoon
Instructions: 
Cooking time 30 minutes
For the salad, cut the cucumber and apple into strips. It is better to peel the apple, so the salad will turn out more tender.
Finely chop the dill. Mix all the ingredients, squeeze out a clove of garlic through a press. Add salt and pepper to taste. Season with olive oil and lemon juice. The salad is ready! Enjoy your meal!