Brownies with lemon and nuts can be prepared by anyone, there is no problem with this. The ingredients can be very diverse — lemon is replaced with strawberries, walnuts with almonds, and bitter dark chocolate is used instead of milk chocolate. Although, in my opinion, it is this combination-lemon, walnuts and milk chocolate-that makes the cakes taste very special.
Ingredients
Calculated 6 servings
Dark chocolate 3.53 oz
Butter 6.35 oz
Brown sugar 7.05 oz
Chicken egg 4 pieces
Wheat flour 3.53 oz
Walnuts 3.53 oz
Lemon 1 PC
ENERGY VALUE PER SERVING
Caloric content 676 k cal
Protein 10.3 grams
Fat 46.1 grams
Carbohydrates 55.3 grams
Instruction
. Brownies with lemon and nuts.
Cooking time 1 hour
1. Break the chocolate Into pieces and melt it together with the butter in a water bath, stirring constantly with a spatula or wooden spoon. Remove the resulting thick chocolate sauce from the water bath and leave to cool.
2. Meanwhile, mix the eggs with the brown sugar. Break the eggs into a separate bowl and beat, gradually adding sugar. You can beat with a mixer or manually-as you prefer — but not less than two and a half to three minutes.
3. With a sharp knife on a cutting Board chop the walnuts. Previously, they can be fried in a dry pan until the aroma appears.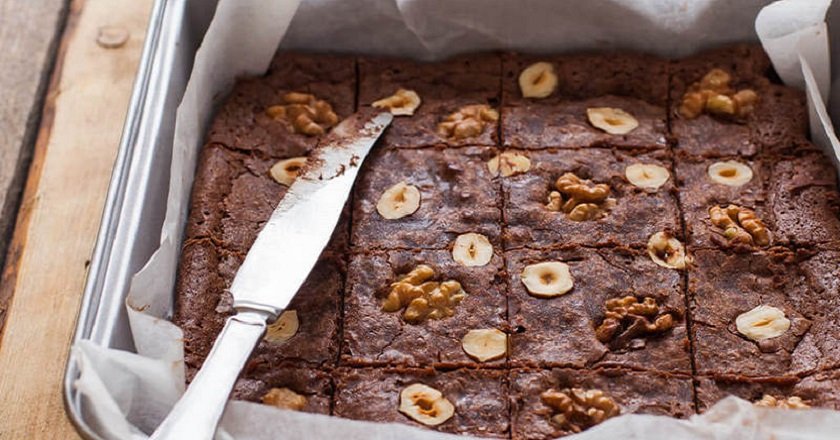 4. carefully add the remaining sugar to the cooled melted chocolate with butter, then flour and chopped nuts and mix everything well with a whisk. Peel the lemon and squeeze the juice into the resulting mass. Mix everything thoroughly.
5. Then pour in the sugar-egg mixture and mix with the chocolate mass. The color of the dough should be uniform, without streaks.
6. Preheat oven to 392F degrees. Line the bottom of a small, deep fire-resistant mold with a sheet of baking paper or tracing paper. Pour the dough into the mold. Put in the oven and bake for twenty — five to thirty minutes until a sugar crust appears.
7. Remove the finished pie from the oven, allow to cool and cut into squares with a sharp knife or pizza knife — so the pieces will turn out especially smooth.
8. you can Serve brownies just like that, or you can sprinkle powdered sugar on top or arrange squares on plates and decorate each portion with a scoop of vanilla ice cream. You can sprinkle with powdered sugar or serve with a scoop of vanilla ice cream. Bon Appetit! Brownies with lemon and nuts.