Christmas is a cozy family holiday with loved ones, for whom you want to cook only the best dishes. We offer a traditional Christmas menu. Appetizer of beef liver stewed in apple-sour cream sauce, juicy beef roast beef with sour cranberry sauce and salad with beef and capers. Your guests will remember such a luxurious Christmas dinner for a long time! Christmas menu: 3 delicious recipes.
Roast beef literally means roast beef. This is a traditional dish, which is a large whole piece of beef, baked in the oven or on the grill. Roast beef can become a chic festive dish that will decorate the table during any celebration. But even on weekdays, delicious, juicy and hearty roast beef can be enjoyed at home. It will take some time to prepare roast beef,but it tastes excellent.
Beef liver stewed in apple-sour cream sauce
. Christmas menu: 3 delicious recipes.
Beef liver stewed in apple-sour cream sauce is very tasty. The aromatic and delicate apple-sour cream sauce gives the liver a wonderful taste with a slight sweet and sour note. This dish is perfectly combined with many side dishes. Lovers of liver dishes are recommended for tasting.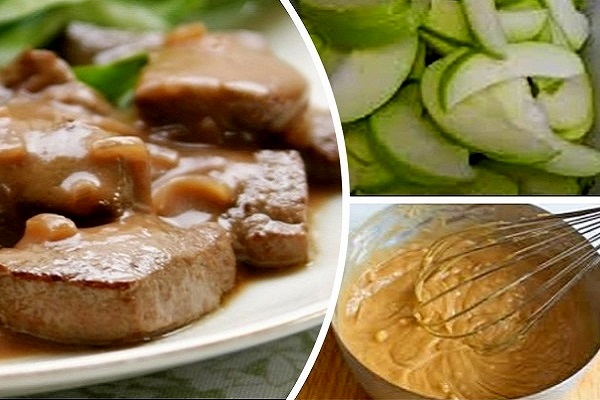 Ingredients for 6 servings
Beef liver 17.64oz
Apples (sweet and sour) 2 PCs
Onion 2 PCs
Sour cream (20% fat content) 8.82oz
Flour 3 tablespoons
Butter 2 tablespoons
Vegetable oil 2 tablespoons
Sugar 1/2 teaspoons
Salt 1 teaspoon
Ground black pepper to taste
Instruction
. Christmas menu: 3 delicious recipes.
Cooking time 60 minutes
Necessary product.
Beef liver should be pre-soaked for 40-60 minutes in cold water. We release the liver from the film (in those places where it remained), wash and dry with paper towels. Cut the liver into cubes, removing all the veins. Pieces of liver roll in flour.
In a frying pan, heat half the butter and 1 tablespoon of vegetable oil.
Fry the liver on high heat for about 2-3 minutes, until lightly browned. (You do not need to fry the liver for too long, otherwise it may become hard.)
remove the Fried liver from the pan.
Peel the onion and cut it into half rings. In a frying pan, heat the remaining butter and vegetable oil and spread the onion. Fry the onion for about 5 minutes, until soft.
Wash the apples, peel them and grate them on a coarse grater. Add apples and sugar to the fried onions. Simmer over medium heat for 5-7 minutes. Then add sour cream, salt and ground pepper.
And pour 1/2 cup of water into the pan.. Stir and simmer for 3-5 minutes. After that, add the fried liver to the pan. Mix everything and cook for about 7-9 minutes, until the liver is fully cooked. Beef liver stewed in apple-sour cream sauce is ready.
Bon Appetit!
Christmas menu: beef and caper salad
To make a real Christmas menu, prepare a salad with beef. We recommend you to purchase marbled beef is wet aging. New York steak or roast beef Striploin is perfect. Dry the marbled meat with paper towels and leave it at room temperature for a few minutes.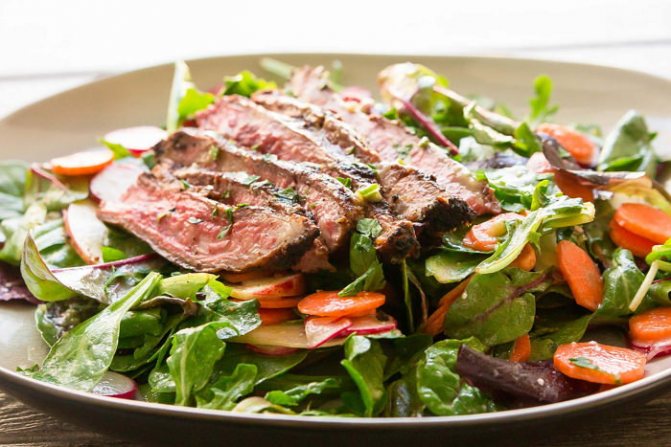 Ingredients
for 6 servings
Beef tenderloin 33.51oz
Cherry tomatoes 8.82oz
Capers 3 tablespoons
Anchovies 3 tablespoons
Egg yolk 3 pieces
Ghee 3.53oz
Parmesan cheese 4.23oz
Butter 2 tablespoons
Olive oil 2 tablespoons
White wine vinegar 1 tablespoon
Spicy arugula 2.82oz
Salt to taste
Freshly ground black pepper to taste
Instruction
Cooking time 50 minutes
Finely chop the anchovies and capers. Cut the cherry in half. Melt the butter in a saucepan.
Separate the whites from the yolks. Beat the yolks, gradually pouring in the melted butter, then pour in the vinegar. Add the chopped anchovies and capers. Add salt and pepper to taste and mix.
Clean the tenderloin, roll in freshly ground pepper and salt. Fry all sides until golden brown in a mixture of olive and butter. Remove to the oven, preheated to 356F degrees, for twenty minutes.
Cut the roast beef into thin slices and put it on a plate, pour over the sauce, garnish with cherry halves and sprinkle with cheese. Bon Appetit!
Roast beef Tenderloin cranberry sauce
The first rule of cooking high-quality roast beef is the right beef tenderloin.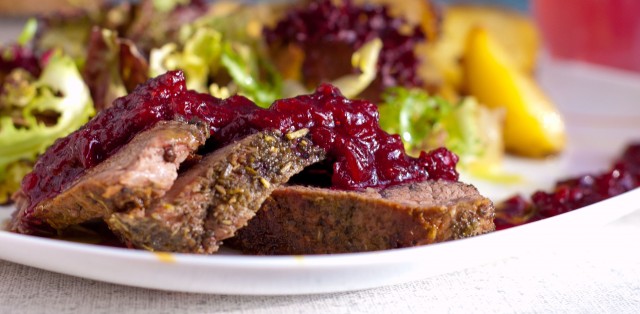 Ingredients
To prepare a classic roast beef according to our recipe, you will need:
Fresh beef tenderloin 26.81oz
baby Potatoes (mini tubers) 34.57oz
Fresh parsley 1 tablespoon
Fresh rosemary 1 teaspoon
Red onion 3 pieces
Fresh carrots 2 PCs
Fresh garlic 3 cloves;
Ground white pepper to taste
Green pepper (peas) 5 PCs
Floral natural honey 1 tablespoon
Pink pepper (polka dot) by taste
Black pepper (peas) by taste
Sweet cranberry sauce 1 Cup
Grainy mustard 2 tablespoons
Instructions
. Christmas menu: 3 delicious recipes.
cooking time is one hour
Before you start preparing the ingredients, you can turn on the oven at 356F degrees. It will just warm up perfectly by the time you finish the preparatory manipulations:
Peel the carrots-manually or using a vegetable cutter – and cut them into large enough pieces. Lettuce onions are also cleaned and cut into small slices. Garlic must be peeled and ground.
Parsley leaves should be separated from the twigs, finely chopped and divided into three equal parts.
We take a pre-prepared baking dish and put all our vegetables in it – well-washed potatoes, one part of parsley, chopped carrots and onions, rosemary sprigs. On top of all this, sprinkle with salt and ground white pepper – strictly to your own taste.
Then sprinkle our vegetables with olive oil, mix well and send them to the preheated oven for ten minutes.
While the vegetables are languishing in the oven, we will start preparing the meat. First, add honey to the mustard and mix them well together. In a separate container (preferably in a mortar), mix three types of peppers – green, pink and black – and then grind them. The same procedure can be done with a knife. Then add white ground pepper to the resulting mixture.
Put the beef on a flat bowl and lightly salt it. Then we coat it with a mixture of honey and mustard, and sprinkle the resulting mixture of four types of pepper on top. Sprinkle the beef with the second part of the parsley.
After 10 minutes, we take the vegetables out of the oven, put our seasoned beef tenderloin to them and send them to bake. To get roast beef medium well, it will be enough to bake for 35 minutes at a temperature of degrees.
After this time, we take the meat out of the oven and let it brew a little. After ten minutes, the roast beef can be cut into pieces.
We put the meat on a serving dish (in the center), and around it we place potatoes and other vegetables.
Cranberry sauce is heated in a saucepan over low heat for two minutes. Make the final chord-sprinkle the beef with the remaining parsley and serve with warm cranberry sauce. Bon Appetit!