The best way to express love is to cook a delicious dish with your own hands and, of course, say a few nice words. Fast and healthy gourmet recipes.
The brain is interested in the taste and texture of products: crispy crust of oven-baked chicken, hot cheese on pizza, tender, creamy ice cream, crispy meringue. But the composition of food, its energy value, the balance of proteins, fats and carbohydrates, and the amount of useful nutrients are much more important to the body. We suggest directing attention to getting pleasure not only from the taste of cooked dishes, but also from other things related to food.
Healthy food, along with sleep, rest and sports, is one of the main components of a quality life. First, try to determine how much time you need for a full meal. The slower you eat, the better the saturation process. You eat less food, do not overeat and do not gain excess weight.
Think in advance about the place where you are used to eating. If you do this at home, then take care of the comfort, ventilate the room, dim the lights, remove unnecessary objects from the surface and eliminate visual noise.
The contents of the plate are the most important thing in eating. How to make a balanced diet to stay awake during the day, you can read in this article, and we'll talk about the appearance of dishes. Even ordinary mashed potatoes with a cutlet can be made elegant, causing a lot of pleasant emotions: you have not yet started eating, and the brain is already experiencing pleasure.
To serve side dishes, we recommend using a culinary ring, placing the main dish on top of the side dish — on a "pillow" — so the food will become more voluminous.
Treats can be decorated not only with chopped parsley: do not be afraid to use a microgreens of arugula, green peas, mustard, radish (it can easily be grown on the windowsill). Sauces of different colors (pesto, tabasco, balsamic cream, tartare, berry sauces) will affect the taste and appearance of dishes. You can sprinkle salads and main dishes with sesame seeds, chopped nuts and seeds, French fries, berries, dried spices, chopped nori leaves, tuna shavings.
#1. Oatmeal with spinach
. Fast and healthy gourmet recipes.
Unsweetened version of oatmeal, which will be appreciated by fans of porridge for breakfast. In this recipe you will not find sugar and berries, but you will be pleasantly surprised by the presence of cheese, avocado and eggs. Delicious, balanced and unusual!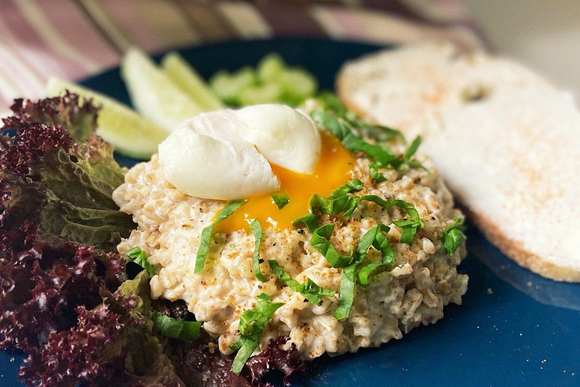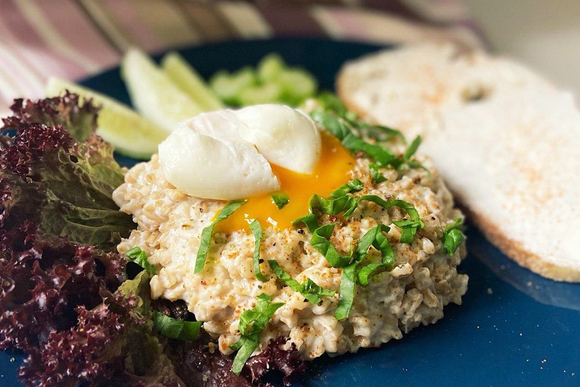 Ingredients for 1 serving:
Butter 1 teaspoon
Spinach 3 tablespoons
Water 1/2 cup
Milk 1/2 cup
Instant Oatmeal 3.53oz
For serving:
Chicken eggs 1 pc.
Avocado 1/2 piece
Seeds mixture ½ tablespoon
Parmesan to taste
Instruction:
Cooking time 10 minutes
Lightly fry the spinach in butter. Pour in milk and water, bring to a boil, add salt to taste. Pour in the oatmeal and cook until tender. The time is 2 minutes. In addition, boil the egg (6 minutes), cut into thin slices of avocado, sprinkle with a mixture of seeds and a crumb of parmesan. Enjoy your meal!
#2. Mini pancakes for breakfast
Mini pancakes taste no different from the usual ones, but they delight both adults and children with their appearance. Surprise your family by serving such a cute dish for breakfast.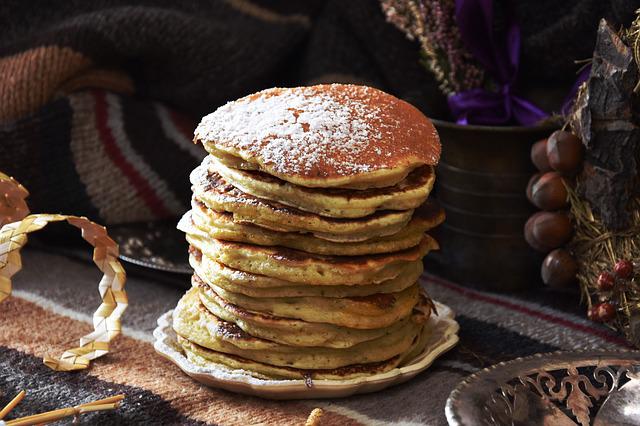 Ingredients for 2 servings:
The nutritional value of a serving is 344 k Cal
Kefir 3.2% 5.29 oz
Chicken eggs 2 pcs
Sugar 1 tablespoon
Flour 3.53oz
Vegetable oil 1 tablespoon
Baking powder ½ tsp
Salt to taste
Instruction:
Cooking time 30 minutes
I'm cooking food. Mix the flour with baking powder and sift through a sieve. Kefir is heated in a microwave oven for 30 seconds. I add egg, sugar, vegetable oil, salt and mix the ingredients with a whisk. I add flour with baking powder. Knead a homogeneous dough. The density of the dough is average, so that the mini pancakes keep their shape and do not spread.
Heat the frying pan and lubricate with vegetable oil. For convenience, you can pour the dough into a bottle and use a lid with a spout. You can put the dough in a frying pan with a teaspoon. The size of the pancakes depends only on your patience. Fry the pancakes until browned on both sides. I put the finished mini pancakes in a bowl. Before serving, add berries, honey or syrup.
#3. Vegan zucchini lasagna
. Fast and healthy gourmet recipes.
This vegan zucchini lasagna is light, healthy and filled with the aroma of fresh vegetables. And spicy tomato sauce and creamy vegan ricotta. Very tasty!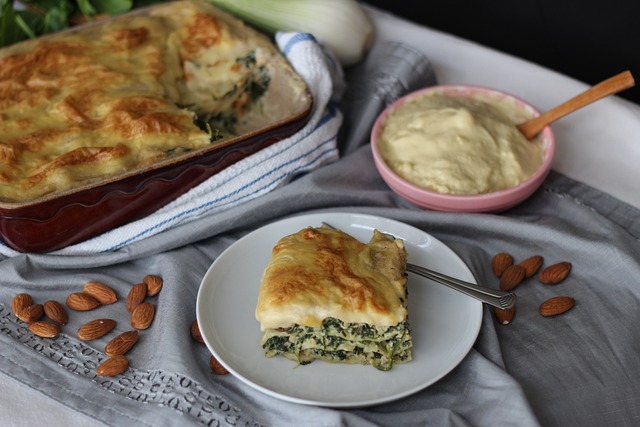 Ingredients for 6 servings:
Zucchini 4 pieces
Solid tofu 14.20oz
Food yeast 2 tablespoons
Italian seasoning 2 teaspoons
Salt to taste
Juice of half a lemon
Vegetable oil 1 tablespoon
Sliced onion 1 pc
Red pepper, diced 1 pc
Garlic (crushed) 3 cloves
Mushrooms, cut into quarters 10.58oz
Spinach Microgreens 5.29oz
Tomato sauce 2 cups
Chopped fresh basil optional
Instruction:
Cooking time one hour 15 minutes
Preheat the oven to 392F. Cut the zucchini lengthwise into thin slices, put it on a paper towel and sprinkle with salt, let it stand for at least 15 minutes to remove some moisture. Meanwhile, prepare the tofu ricotta. Combine tofu, food yeast, Italian seasoning, salt and lemon juice in a food processor.
Whisk until smooth and set aside. In a large frying pan over medium heat, add vegetable oil, then onion and pepper and saute for 5 minutes or until the onion becomes transparent.
Add the garlic and stir, then add the mushrooms and cook until the mushrooms darken and the excess liquid evaporates. Add spinach and let it become soft.
Add a layer of sauce to the bottom of the baking dish, then a layer of zucchini, then the sauce, then half the vegetables, then half the vegan ricotta.
Repeat, laying out the next layer of zucchini, then the sauce, then half the vegetables, then half the vegan ricotta. Continue with all the remaining ingredients.
Then add the last layer of zucchini and top with the remaining sauce. Cover the mold with foil and bake in the oven for 45 minutes. Add the fresh chopped basil and let stand for 10 minutes before slicing and serving.
#4. Falafel-stuffed pepper with coconut-dill sauce
. Fast and healthy gourmet recipes.
This fragrant dish with herbs is a must-try! Crispy falafel is seasoned with fresh basil and parsley, sprinkled with fresh lemon juice and baked to achieve piquant perfection. Falafel is baked in crispy red bell pepper and sprinkled with dill sauce to get the perfect dish with  flavors.
Ingredients for 4 servings:
For falafel-stuffed peppers:
Red bell peppers 4 pcs
Raw cashew nuts 1 cup
Canned chickpeas 2 cups
Garlic 2 cloves
Chickpea flour 1/2 tablespoon
Fresh basil 1 tablespoon
Fresh parsley 1 tablespoon
Cold-pressed olive oil 3 tablespoons
1/2 teaspoon coriander
Sea salt 1 teaspoon
White pepper 1/2 teaspoon
For the sauce:
Vegan mayonnaise 1/2 cup
Coconut milk 2 tablespoons
Lemon juice 1 teaspoon
Fresh dill, chopped 2 teaspoons
Garlic powder 1 teaspoon
Sea salt 1/2 teaspoon
Instruction:
Cooking time one hour 20 minutes
For the preparation of stuffed pepper with falafel:
Cut the bell pepper in half and remove the seeds. Preheat the oven to 356F and line the baking sheet with parchment or foil. Add all the ingredients for the falafel to a food processor and mix until the consistency is mostly homogeneous.
Place the bell pepper on a baking sheet and lightly brush with olive oil. Fill the bell pepper halves with falafel mixture. Evenly distribute the filling between the pepper halves.
Bake for 50 minutes, remove from the oven and let cool. Pour the sauce over the stuffed peppers when serving. If desired, add chopped tomatoes and red onion.
To make the sauce:
Shake the coconut milk pack well. Then combine the sauce ingredients in a medium bowl and whisk to combine.
#5. Quick and healthy breakfast for gourmets: scrambled eggs with vegetables
. Fast and healthy gourmet recipes.
There can be a great many options for this quick breakfast. It is also good because both frozen vegetables and fresh ones are suitable for its preparation. In addition, for such a breakfast, you can easily use the leftover vegetables in the refrigerator. Almost everything will do, except, perhaps, potatoes and other root crops.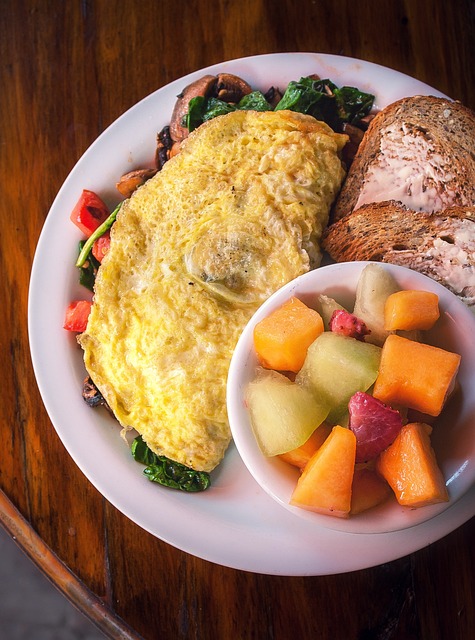 Ingredients for 1 serving:
Eggs 2 pieces
Soybeans (frozen) 3.53oz
Large onion
Cilantro or parsley 1/2 bunch
Medium tomatoes 2 pcs
Turmeric 1 teaspoon
Salt and pepper to taste
Olive oil for frying
Instruction:
Cooking time: 15 minutes
Cut the onion into rings. Fry soybeans and onions in olive oil together with spices for about 3 minutes. Push them aside and put 2 eggs in a frying pan next to them, season everything with salt and pepper. Cover with a lid, turn down the heat and fry until tender for about 3 more minutes. While everything is cooking, chop the tomatoes and coriander (parsley). Mix them, sprinkle with olive oil and serve as in the photo.
Eggs for breakfast are the best start to the day, because we definitely need protein in the morning. What for? We digest our food best in the morning, and egg whites allow us to stay awake all day. Enjoy your meal!