Original breakfast – beet omelet. Adding beetroot makes the omelet bright and gives it a special rich taste. This juicy omelet can be supplemented with various fillings, such as cottage cheese filling with herbs and cucumber. It turns out both delicious and beautiful! Healthy Breakfast beetroot omelet with lemon.
Ingredients for 2 servings:
Eggs 3 PCs
Beetroot 5.29oz
Lemon juice 1 teaspoon
Salt to taste
Vegetable oil (for frying) 1 tablespoon
For filling (optional):
cottage cheese 3.53oz
Cucumber 1 piece
Fresh dill 3 sprigs
Instruction:. Healthy Breakfast beetroot omelet with lemon.
Cooking time 50 minutes
We prepare the necessary products.
Beets can be boiled in advance or use boiled beets that remain after cooking other dishes.
Put the beets in a saucepan, fill with water, put on maximum heat and bring to a boil. Then reduce the heat to low and cook the beets for about 40 minutes, until soft. Remove the finished beetroot from the water and leave to cool.
We clean the cooled beets and grate them on the smallest grater. Break the eggs into a bowl and add salt. Mix with a whisk or mixer at low speed.
Add the grated beetroot. Mix until smooth. Add lemon juice. Mix again. In a frying pan, heat the vegetable oil and pour in the egg mixture.
Reduce the heat, cover the pan with a lid and cook the omelet on low heat for about 5 minutes, until the eggs are completely set. An unusual beetroot omelet is ready. We put it on a plate.
Preparing the filling. Wash the cucumber, dry it and cut it into thin circles. Dill is washed, dried and finely chopped with a knife. In a deep bowl, combine the cottage cheese and chopped dill. Add salt and mix.
Spread the curd filling on half of the omelet. Top with cucumber slices. Fold the omelet in half. Bright beetroot omelet with cottage cheese filling is ready.
Before you start cooking your favorite dish, you should pay attention to two simple but effective rules that will save you time. Make a menu in advance. Nothing helps save valuable time in modern society like the ability to plan. By planning your breakfast plan in advance (preferably a week in advance), you can make your meals more varied, which means more healthy and delicious. Bon Appetit!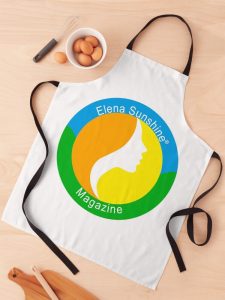 You can buy an apron with our logo 🙂
https://www.redbubble.com/i/apron/Elena-Sunshine-Magazine-by-Michaelbor76/52450511.6ZXWR?asc=u