Classic crumble is a sweet pie consisting of a crumb of shortbread dough and a filling of various fruits or berries. This is an economical pie, in the preparation of which fruits and berries are used, lightly sprinkled with sugar. And They are then placed in a mold, thickly sprinkled with crumbs of flour, oat flakes, sugar, butter, and all this is baked in the oven. How to cook a crumble?
Sweet crumble, whether it is fruit, berry, or cottage cheese, is very good. Cottage cheese crumble is more tender, and apple crumbles and berry crumbles perfectly convey the taste shades of their filler.
Crumble is also a great opportunity to prepare a quick and healthy dish from the products that are at hand. Prepare a low-calorie crumble, the classic vegetable crumble recipe allows you to use almost any vegetable. It is advisable to take moderately juicy vegetables, with not very dense flesh: zucchini, eggplant, pumpkin, and pepper.
Other, denser vegetables (for example, potatoes) take a little longer to cook. The common squash crumble belongs to the classics. Blueberry crumble and cherry crumble are also popular. And there is also pure oat crumble (this is a crumble with flakes, usually oatmeal), and mushroom crumble.
We just need to take into account that these are not exactly pies in our understanding. After all, there is not much dough in them, and it does not play a decisive role, it is usually only on top of a small and not very even layer. Hence the appearance of a crumble is not too presentable. The main thing is the taste and aroma of crumble.
Peach crumble
. How to cook a crumble?
Juicy peaches in a creamy vanilla sauce under a crispy sprinkle are an ideal dish both for breakfast and as a dessert for a pleasant day.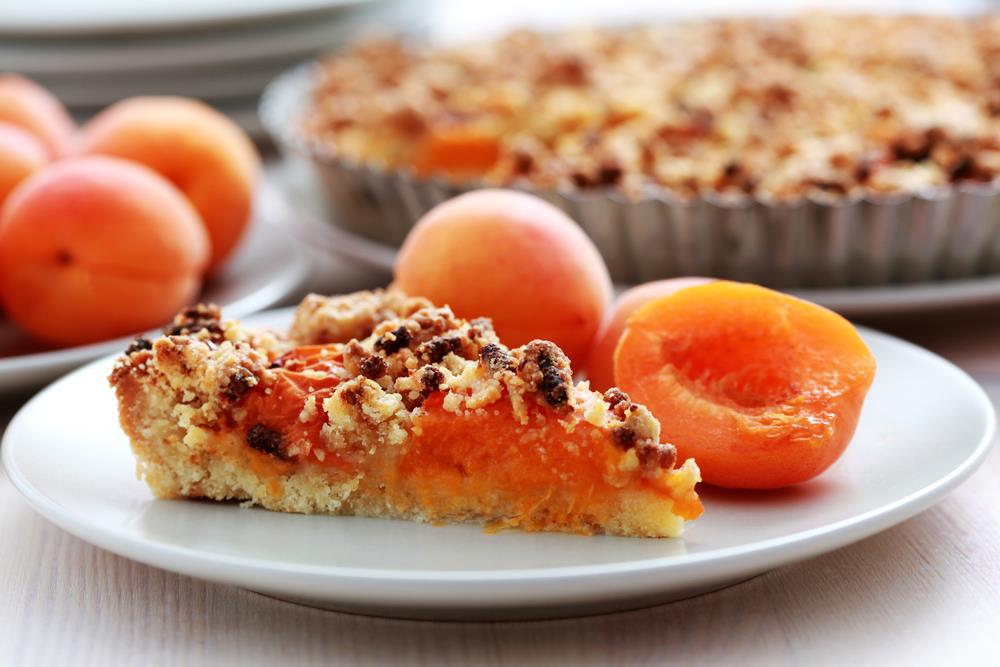 Ingredients (for medium form):
Juicy peaches 28.22oz
Coconut sugar 1 tablespoon
Starch (potato, corn, or tapioca) 1 tablespoon
Vanilla extract 1 teaspoon
Lemon juice 1 tablespoon
Fat coconut milk 1 cup
Dried basil 1/4 teaspoon
For crumbs:
Coconut chips 2 tablespoons
Walnuts (or pecans, or almonds) 3 tablespoons
Jerusalem artichoke syrup (or another liquid sweetener) 2 tablespoons
Peanut paste 2 tablespoons
Ground cinnamon 1 teaspoon
Sea salt ½ teaspoon
Preparation:
Preheat the oven to 356F.
Wash the peaches, dry them on a towel, cut them in half, and remove the seeds. Carefully cut the skin from the peaches, so they will be much more tender, and cut them into slices.
In a deep bowl, mix the peaches with sugar, starch, lemon juice, dried basil, and vanilla extract. Mix thoroughly so that each slice of peach is covered with starch. Add the coconut milk, mix gently and pour into a baking dish, evenly distributing the contents over the entire form.
Chop the nuts with coconut shavings in a food processor or mixer. Pour into a bowl, add the remaining ingredients for the crumbs and mix thoroughly. You should get a little sticky mass-a crumb. Spread the crumbs evenly over the peaches and bake in the oven for 30-35 minutes.
Check 15 minutes after the start of baking, whether the crumbs on the crumble are evenly browned. You may need to expand the baking dish with a different angle so that the crumble turns out to be equally browned on top, or cover the form with foil.
Cool the crumble completely before serving. Then, using a large spoon, spread it out in deep bowls and serve it with a cup of something fragrant and hot.
Plum crumble with nuts, cinnamon, and oatmeal
. How to cook a crumble?
A great option for such a pie is a plum crumble with nuts, cinnamon, and oatmeal. The fragrant sweet and sour plum filling is perfectly combined with crispy and crumbly crumbs with oat flakes and nuts. It is easy to prepare, and the taste is just wonderful!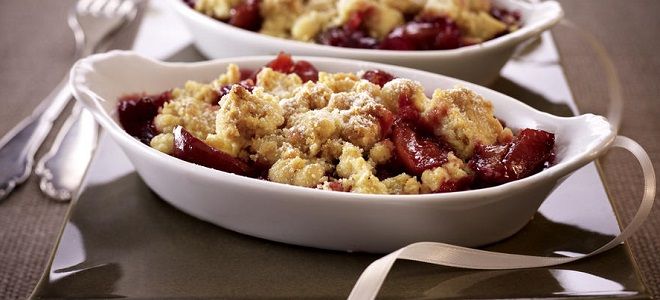 Products for 4 servings:
For the test:
Flour 3 tablespoons
Oat flakes 2 tablespoons
Butter (chilled) 2 tablespoons
Walnuts 3 tablespoons
Brown (or white) sugar 3 tablespoons
Ground cinnamon 1/2 teaspoon
Salt to taste
For the filling:
Plums 17.64oz
Sugar 2 tablespoons
Corn starch (or potato starch) 2 tablespoon spoon
Instruction:
Cooking time 1 hour 10 minutes
Plums are suitable for any variety. The main thing is that the plums are ripe, with a dense pulp, without signs of spoilage and mechanical damage.
Brown sugar can be replaced with ordinary sugar.
Instead of walnuts, you can use any, according to your taste. I used oat flakes that are cooked for about 10 minutes.
I took corn starch, which is less felt in the finished baking, but if desired, you can use potato.
Butter is best taken out of the refrigerator last. Immediately turn on the oven to preheat to a temperature of 356F.
In a deep bowl, sift the flour through a fine sieve. Add sugar, cinnamon, and salt. Mix thoroughly until smooth. In the bowl of a blender, combine the oat flakes and nuts. Grind at high speed for about 1-2 minutes, until fine crumbs.
Pour the crushed flakes with nuts into a bowl with flour. Mix it up. Cut the cold butter into small cubes and also send it to a bowl.
Quickly rub the butter with the flour mixture with your hands until a fine crumb forms and immediately send it to the refrigerator. Since this is a shortbread dough, the grinding process should be really fast – the butter should not completely melt, otherwise, the dough will become hard as a stone.
If desired, the dough can be prepared using a kitchen machine or in a blender (if its power allows).
Prepare the plum filling. Wash the plums well, dry them, cut each into two halves and remove the seeds. Cut the plum halves into slices about half a centimeter thick and send them to a deep bowl.
Add sugar and starch. Mix it up. Adjust the amount of sugar to your liking. It all depends on the taste of the plums. Transfer the plum filling to a deep baking dish.
Remove the sand crumb from the refrigerator and thoroughly loosen it with a spoon. Evenly sprinkle the cream filling with sand crumbs.
Place in the oven, preheated to 356F, for about 40 minutes, until golden brown. The exact time of baking crumble depends on the power of your equipment. It took me 50 minutes in a regular gas oven.
Plum crumble with nuts, cinnamon, and oatmeal are ready. Cool it slightly and serve it directly in the form. This oatmeal crumble with plums is very good both by itself and in combination with ice cream.
Pear crumbles with chocolate
. How to cook a crumble?
An unusual and original dessert is a pear crumble with chocolate. Tender slices of pears under a crispy crust will delight with juiciness and excellent taste. The addition of dark chocolate gives the dessert an interesting flavor accent.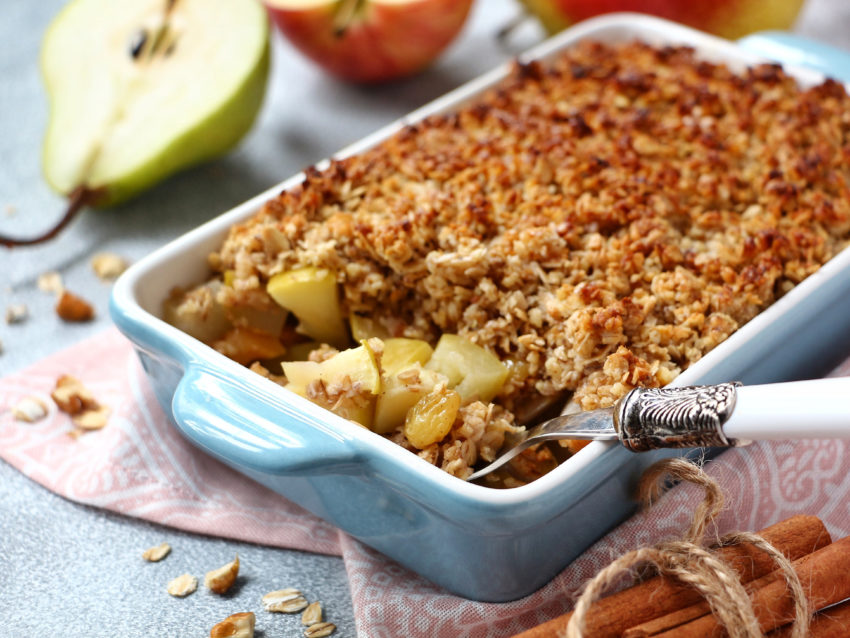 Ingredients for 4 servings:
For the test:
Wheat flour 7.0oz
Sugar 3 tablespoons
Butter 2 tablespoons
Salt to taste
For the filling:
Pears 12.0oz
Black chocolate 1 tablespoon
Lemon juice 1 tablespoon
For submission:
Powdered sugar to taste
Fresh mint 2 teaspoons
Instruction:
Cooking time 1 hour
Prepare all the necessary ingredients.
In a large bowl, sift the flour. Add salt, sugar, and butter. Rub the flour with butter with your hands until you get a fine homogeneous crumb.
Turn on the oven to preheat to 392F. About a third of the crumbs are spread out in portion refractory molds. The specified number of products is enough for about 4 such forms. Tamp the crumbs in the forms.
Wash the pears, cut off the peel and remove the core. Cut the pulp of the pears into small cubes. To prevent the pears from darkening, pour lemon juice over them and mix.
Place the slices of pears on the rammed crumb in the molds. Cut the dark chocolate randomly and put it on top of the pears.
Spread the remaining crumbs evenly over the pears and chocolate. You can spread it with a slide since the crumble will settle when baking.
Cook the pear crumble in the oven at 392F degrees for 30 minutes, until browned.
Remove the crumble from the oven and sprinkle it with powdered sugar.
Serve the crumble immediately after cooking or let it cool to room temperature first. If desired, the pear crumble can be decorated with a leaf of fresh mint. Bon Appetit!