An amazingly tender, silky brownie with avocado and macadamia nuts will make you love this dessert. Sweet in moderation, with the aroma of cinnamon and coffee – with such ingredients, it is very difficult to wait for the brownie to be ready. Don't be surprised if this recipe becomes one of your favorite! Vegan brownie with nuts and avocado.
Ingredients:
Pear juice 1/2 Cup
Green buckwheat flour 5.29 oz
Soy milk 3 tablespoons
Sugar 2.82 oz
Ground coffee 2 teaspoons
Salt to taste
Apple cider vinegar 2 tablespoons
Avocado 1 PC.
Cinnamon 1 teaspoon
Cocoa powder 2.12 oz
Macadamia nut 3 tablespoons
Instruction:
. Vegan brownie with nuts and avocado.
Cooking time 2 hours
Preheat the oven to 356F. Mash the avocado in a cup with a fork to make a mixture. Chop the nuts. In a bowl, mix all the ingredients except the flour and nuts. When all the ingredients are mixed, add the flour and mix thoroughly again. The mass should be uniform. If the mass is too dry, add a little more soy milk. At the last stage, add the chopped nuts and mix again.
On a baking sheet, place a sheet of parchment, on which spread the mass in a layer of 1.57 inch (3-4 cm). Bake for half an hour, then remove the baking sheet from the oven and let the brownies cool.
After that, you can cut the dessert, put it in a container and put it in the refrigerator for an hour and a half.
The original brownie is also better left for a few hours, so that its texture and taste are established. Vegan is no exception, but I would not recommend keeping it for a long time. You can first check its taste by cooling it after baking, then the next day. You can also serve it warm, i.e. you need to choose your own technology for working with such pastries. I think that its optimal shelf life is a day, then the taste begins to change, and the texture becomes drier.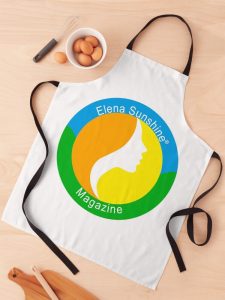 https://www.redbubble.com/i/apron/Elena-Sunshine-Magazine-by-Michaelbor76/52450511.6ZXWR?asc=u