Yogurt cake with kiwi and banana a little masterpiece was a success! Delicious, not very sweet and low-calorie.
Incredibly tender and flavorful yogurt cake with bananas and kiwi will delight everyone at a cozy home tea party or a festive table. Dessert is prepared very simply and from available products, the process does not take much time. You just have to wait until the cake freezes in the refrigerator – and you can enjoy a wonderful treat!
Ingredients
Cooking time 1 hour
Shortbread cookies 7.05 oz( 200 g)
Butter 2.47 oz (70 g)
Kiwi 6 pieces
Bananas 2 pieces
Sugar 5 tablespoons
Natural yogurt 16.91 fl oz (500 ml)
Gelatin 2 tablespoons
Almond petals 3 tablespoons
ENERGY VALUE PER SERVING
Calories 355 kcal
Proteins of 9.9 grams
Fat 14.7 grams
Carbohydrates 40.2 grams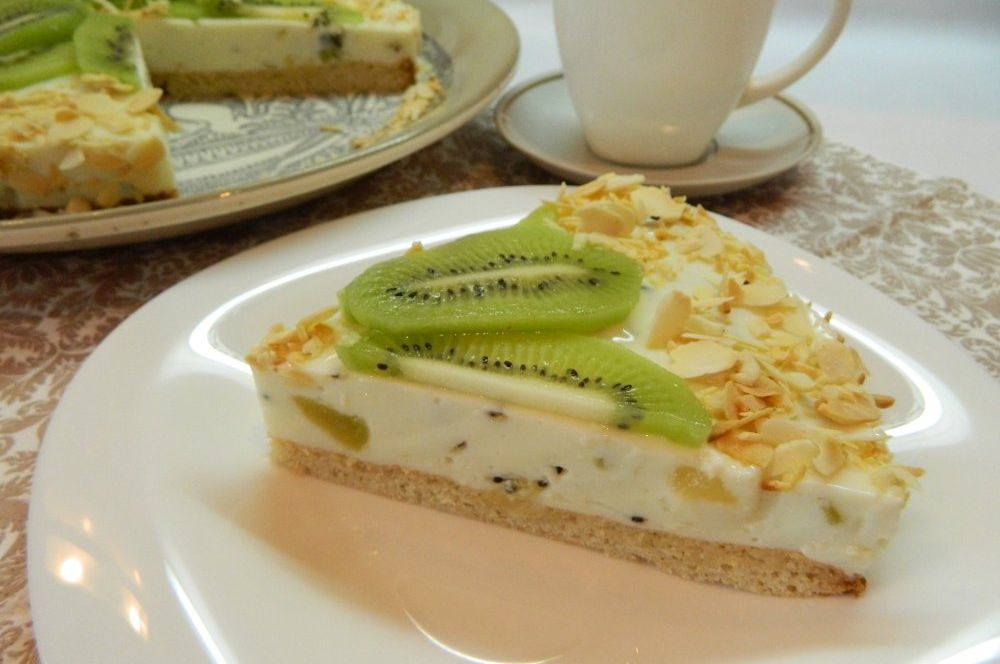 Instruction
. Yogurt cake with kiwi and banana.
Designed for 8 servings
Kiwi (4 PCs) cut into cubes, put in a saucepan, add sugar and warm over medium heat for 2-3 minutes to stand out the juice. Put it to cool.
Cookies are crushed in a blender into crumbs, add softened butter, mix well.
The split form is covered with baking paper, put the cookies there and seal. Put in the refrigerator for 30 minutes.
Gelatin pour 1 Cup of cold boiled water and leave for 25-30 minutes to swell. Then dissolve the gelatin in a water bath or microwave (30 seconds).
In a mixture of kiwi with sugar to stir in the gelatin and yogurt, mix well.
Put bananas cut into circles on the cake, then pour the yogurt mass and put it in the refrigerator for at least 6 hours (preferably overnight). Carefully remove the yogurt cake from the mold.
Garnish with kiwi slices (2 PCs.) and lightly fried almond flakes.
Yogurt cake with kiwi and banana is ready. Yogurt cake with fruit is not only light and delicious, but also very useful. This cake will not spoil your figure. Bon Appetit!