The fish has a good taste and is easy to prepare. For this reason, it is relatively easy to include it in your diet. Eating fish once or twice a week is considered sufficient to get health benefits. 3 Festive recipes with fish.
If possible, give preference to fish caught in the wild, rather than those grown on fish farms. Wild fish tend to contain more omega-3 and are less likely to be contaminated with harmful bacteria and antibiotics.
You can bake fish, fry, stew and steam. It goes well with a lot of vegetables and grains.
1. Salad with herring, quail egg and cheese
Herring is an indispensable decoration for any, including a festive table. Herring makes an excellent snack, it is put into salads, delicious forshmaks and pates are made from herring. Herring with onions is considered one of the classic snacks.
Ingredients:
Designed for 4 servings
Large fat herring 1 pc.
Quail egg 10 pcs.
Lettuce 1 bunch
Green onion 1 bunch
Parmesan 3 tablespoons
For refueling:
Lemons ½ pcs .
Sunflower oil 4tbsp
Freshly ground black pepper 1/2 teaspoon
Sea salt to taste
The nutritional value of a serving is 428 k Cal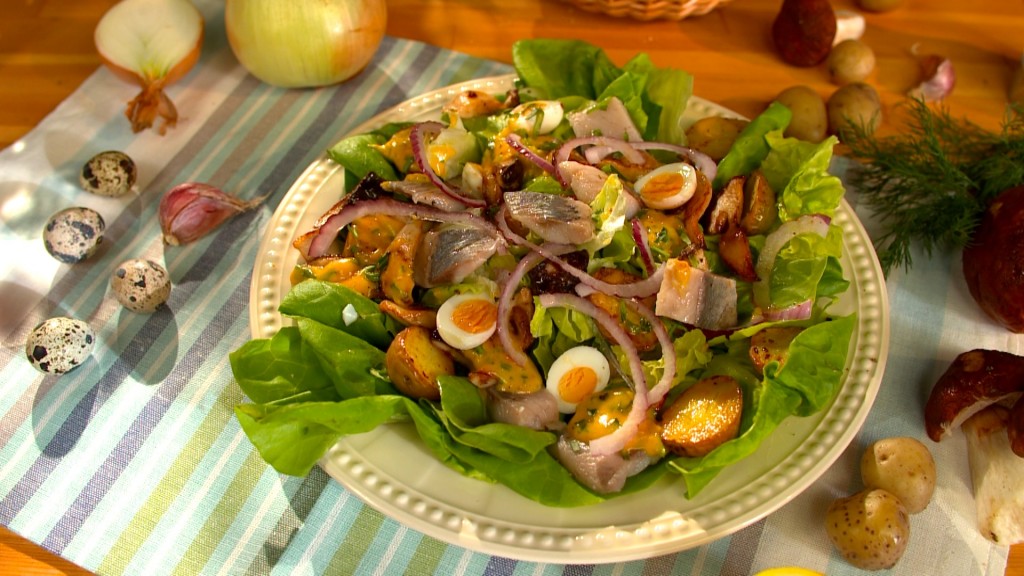 Instruction:
Cooking time 30 minutes
Hard-boiled quail eggs, pour cold water, and then carefully peel off the shell and cut in half. Peel the herring and cut into small pieces. Chop the salad and green onions finely.
Grate the cheese. Put the salad on a large plate, spread the egg halves and pieces of herring on top. Sprinkle with green onions and grated cheese. Squeeze the juice out of half a lemon.
Prepare the dressing by mixing sunflower oil with lemon juice, salt and pepper. Pour the dressing over the salad, no need to mix!
2. Salmon marinated in gin with juniper
. 3 Festive recipes with fish.
It is better to marinate fish in enameled or glass dishes, which cannot be oxidized.
What are the benefits of juniper berries? They have anti-inflammatory and fungicidal effects. In addition, the oils contained in this plant saturate the air with phytoncides, which is why juniper is used in aromatherapy. Juniper berries are also used for weight loss. Berries are harvested in autumn, after ripening, and then dried by a natural method, in this case useful chemical compounds are not lost.
The use of juniper berries in cooking is diverse: they are good as a seasoning, tea is brewed with them, used in winemaking – vodka tincture on juniper berries delights many lovers of aromatic alcohol.
Ingredients:
Designed for 3 servings
For the sauce:
Sour cream 7.0oz
Fennel ½ bunch
Powdered sugar 1 tsp
Apples ½ pcs.
Lemons ½ pcs .
Mustard 1tbsp
Freshly ground black pepper to taste
Sea salt to taste
Main course:
Salmon fillet on skin 14.11oz
Dill 1 bunch
Gin 4 tablespoons
Juniper berries 2 teaspoons
Black pepper with peas 1 tsp
Sea salt 1 tsp
The nutritional value of a serving is 494 k Cal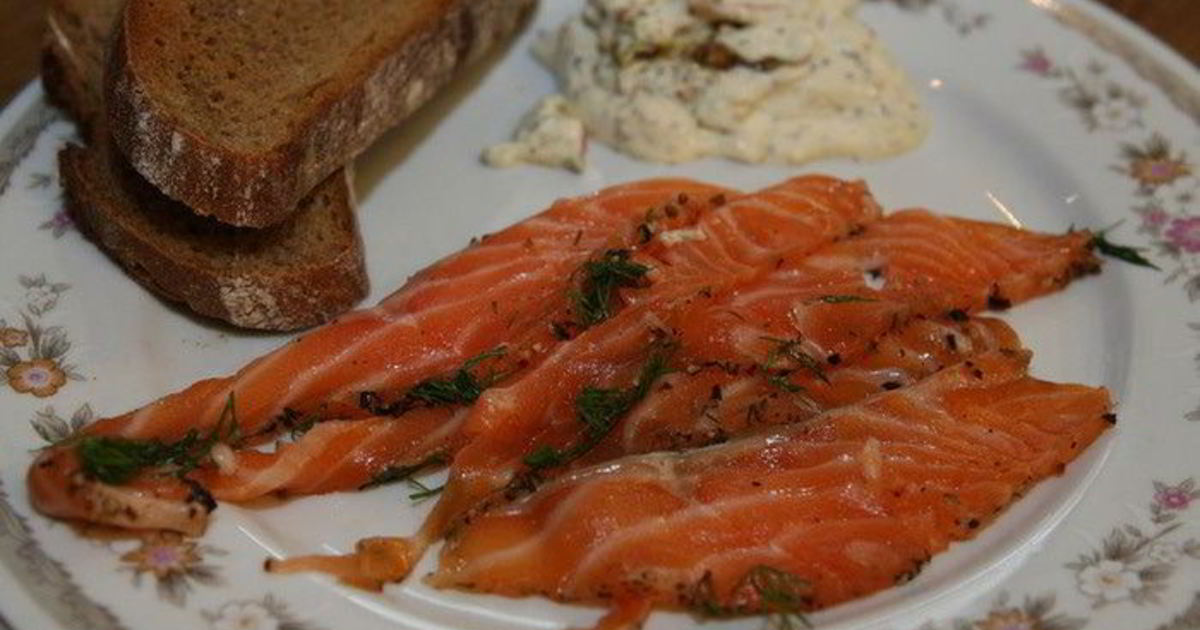 Instruction:
Cooking time is one day and 20 minutes
Dip the salmon in gin, then rub with ground spices on all sides, cover with dill sprigs, wrap in plastic wrap and leave to marinate in the refrigerator for a day or two.
Prepare the sauce: mix sour cream with mustard, apple and fennel, add lemon juice, remaining powdered sugar, a pinch of salt and freshly ground pepper and mix everything.
Cut the fish into thin slices and serve with sour cream sauce.
3.Baked stuffed pike perch
. 3 Festive recipes with fish.
Stuffed fish is already a classic of the genre. An easy-to-prepare hot fish dish will delight your family and friends! A great option for a festive table!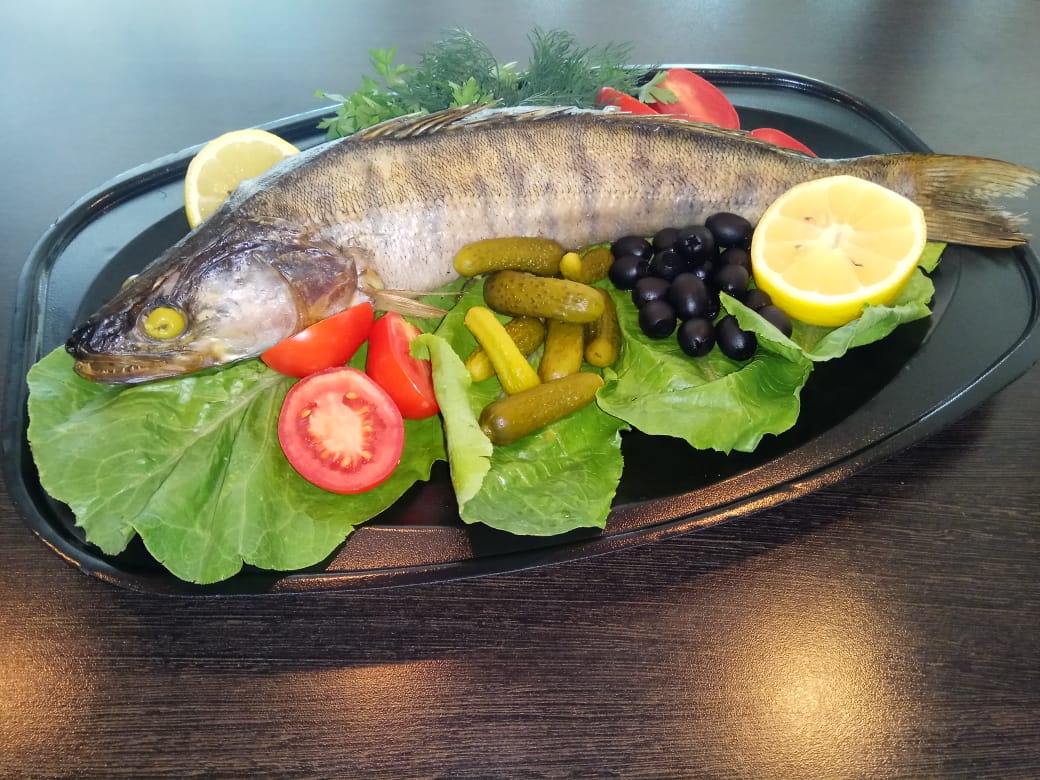 Ingredients:
Designed for 2 servings
Sudak 21.16oz
Large carrots 1 pc.
Onion 1 pc.
Tomatoes 1 pc.
Sour cream 2tbsp
Lemon juice 1tbsp
Soy sauce 1tbsp
Vegetable oil 2tbsp
Salt 1 teaspoon
Greens 1 bunch
Freshly ground pepper mixture 1/2 teaspoon
The nutritional value of a serving is 532 Kcal
Instruction:
Cooking time one hour 20 minutes
We will prepare the products. We clean the fish from the scales. We make an incision along the upper fin and carefully remove the spine and insides. We wash the fish well with water. We put the cleaned and washed fish in a cup. Add soy sauce. Leave for 5-10 minutes.
Chop the onion and three carrots on a grater. Pour vegetable oil into the pan. Spread the carrots and onions. Fry the vegetables for 5 minutes. Add salt and lemon juice.
While the vegetables are being fried, we cut the greens. Preparing the filling. We put fried vegetables, herbs and sour cream in a cup. Add spices to taste (a mixture of peppers). Mix it up. The filling is ready. Slice the tomato.
In the baking dish, we spread the parchment. We put the fish on top of the parchment. Inside the fish (boats) we spread the prepared filling. We distribute tomato slices along the edges of the boat fish. Lift the edges of the parchment, closing the fish. We put the form with the fish in the preheated oven.
Bake for 35-45 minutes at 356 F, focusing on your oven. We put the fish on a dish, add the greens and serve it to the table. Bon Appetit!