Microgreens are a natural product. The composition of microgreens, along with vitamins and minerals, already includes natural, digestive enzymes that help to assimilate healthy elements completely.3 recipes with delicious and healthy microgreens.
Microgreens come in a variety of flavors – from spicy to nutty, lemon? And the list of nutrients contained in these little miracles is huge.
The healthiest microgreens
The range of microgreens available today is huge. Wash the greens immediately before eating, so after the plant is cut, it is sent to the refrigerator in this form for storage. It is not recommended to wash the microgreens under the tap: the stems are quite fragile and easily break under water pressure. Therefore, you can simply rinse it in a saucer with water and blot it with a napkin.
Pea shoots
Microgreen peas are sprouts grown from seeds and have at least 2-3 real leaves. At this stage of development, they contain the maximum amount of vitamin and mineral substances and amino acids. In terms of the number of healthy elements, microgreens are significantly superior to ripe peas.
Microgreens grown at home contain vitamins A, B, C, E, K, PP, phosphorus, potassium, manganese, iron, zinc, proteins, interchangeable, and essential amino acids.
Young, juicy pea sprouts are the healthiest in the winter season when the body suffers from a deficiency of healthy vitamins, and micro- and macroelements. Sprouted microgreens of peas have a powerful immunomodulatory, antioxidant, and rejuvenating effect.
Salad with spinach and micro greens
. 3 recipes with delicious and healthy microgreens.
A very low-calorie and healthy salad that contains a lot of dietary fiber. You can eat at any time of the day, with a side dish or a meat dish. In the form of microgreens, you can use any sprouted greenery. Microgreen peas are a delicious, natural, and healthy product.
Its cultivation will not take much effort and time. The cut microgreen peas can be stored for 2-3 days by placing them in a tightly closed plastic container on the bottom shelf of the refrigerator. After this period, the seedlings lose their delicate taste and healthy properties.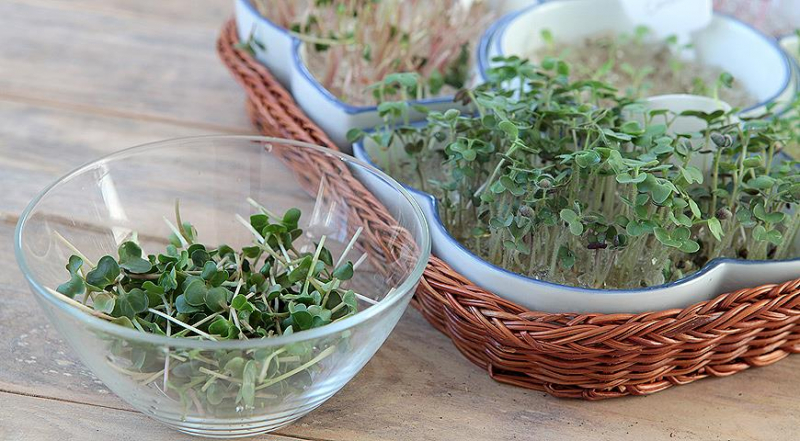 Ingredients:
Black sesame 1 teaspoon
Tomato 1 piece
Bulgarian pepper 1 piece
Fennel (crushed) 2 tablespoons
Spinach 2 tablespoons
Micro-green peas 1 tablespoon
Salt to taste
Instruction:
Cooking time 15 minutes
Rinse vegetables and herbs in running water. Chop the bell pepper, tomato, fennel, and spinach. Add microgreens, sprinkle with sesame seeds and salt to taste. If desired, you can add a little olive oil. Mix all the ingredients.
Radish sprouts
Radish sprouts are rich in essential amino acids and chlorophyll, which has all the benefits, from anticancer properties to improved digestion. Radish is rich in fiber, essential oils, anthocyanins, vitamins, and macro- and microelements. One of the most popular varieties of microgreen plants. It looks beautiful because of its unusual purple-green color. It is widely used in cooking for making salads and decorating various dishes.
Salad with radish microgreens
. 3 recipes with delicious and healthy microgreens.
We strengthen our immunity with greens, and seedlings of micro-green radish.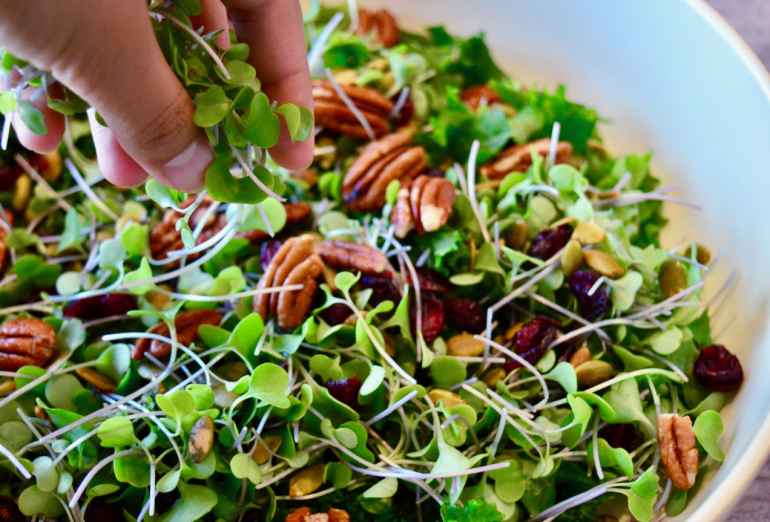 Ingredients:
For salad:
Radish micro-greens 1 cup
Orange, peeled and diced 1 piece
Avocado, peeled and diced 1 pc
Chopped carrots or daikon 1/2 cup
Walnuts 1/4 cup
For refueling:
Cold-pressed olive oil 1 tablespoon
Lemon juice 1 tablespoon
Finely chopped garlic 1 clove
Salt and pepper to taste
Instruction:
Cooking time 15 minutes
Place the sprouted microgreens in a salad dish and add the remaining ingredients.
Mix the ingredients of the dressing thoroughly in a separate container and pour the resulting liquid over the salad. The specified amount is enough for 1-2 servings. Arrange the salad in portioned salad bowls, and decorate the top with cheese petals, which we cut with a vegetable cutter. And you can serve it on the table.
Sunflower shoots
The taste of sunflower stalks crosses the border between nutty and lemon, with a more herbal taste. Sunflower shoots are best eaten in salads and sandwiches.
Sunflower microgreens have an impressive nutritional composition. This is the best microgreen for a complete replacement for vegetable protein. Sunflower shoots contain all the essential amino acids, as well as iron, potassium, magnesium, calcium, copper, and phosphorus. They are especially rich in zinc, which has many benefits, including strengthening the immune system and improving digestion. Sunflower seedlings are ready for harvesting in about 10 days. By trying and combining different types of microgreens, you can create completely new flavor combinations.
Halva from sunflower seedlings
. 3 recipes with delicious and healthy microgreens.
What is the difference between live halva and ordinary halva? The fact that it is really alive, with active enzymes and without sugar. Such a product cleanses the body well.
Parchment provides additional enzymes for better absorption, as well as a set of vitamins and minerals. Cocoa enhances the taste and acts as a natural stimulant. In the complex of all ingredients, halva from sprouts is a high-energy food.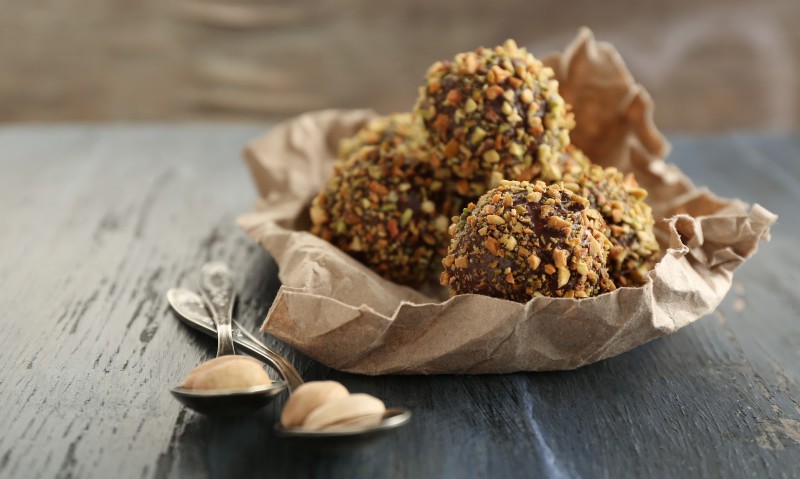 Ingredients:
Sunflower seeds 10.58 oz
Cocoa 2 tablespoons
Honey 5.29 oz
Parchment 3 tablespoons
Instruction:
Cooking time 20 minutes
Sunflower microgreens contain a very rich set of vitamins, minerals, proteins, and high-quality fats. Very dense food. You can eat just like that, with honey, and add it to salads. They taste neutral. As an independent dish, halva is probably the best.
Sunflower seeds (without shells) should be washed and filled with drinking water for 3 hours. Flip into a colander, cover with wet gauze in four layers and leave at room temperature for 2 days.
Scroll the microgreens on a meat grinder with a small or medium grate twice. Add honey, parchment, and cocoa, and stir everything. Halva is ready. You can add a handful of apricot pits or almonds for piquancy. Store in the refrigerator for no more than a week. Bon Appetit!