The daily diet has an impact on health and well-being. It is important that the diet is properly balanced and rich in vitamins and trace elements. When we are susceptible to all kinds of infections and colds. Most often, this is a signal that our immune system is weakened. Find out which vitamin salad will help strengthen the immune system. 5 Healthy salads to support Immunity.
(1) – "Fruits, vegetables, and legumes vary widely in nutrient content so should not be expected to have similar physiological effects. Although dietary guidance is supportive of a more vegetarian eating pattern, including increased servings of fruits and vegetables, the scientific support for these recommendations is mixed in an evidence-based review. Prospective cohort studies find weak support for the protectiveness of fruits and vegetables against chronic diseases, yet the intake of fruits and vegetables in U.S. cohorts is low. Additionally, few randomized controlled trials have been published on the addition of fruits and vegetables to the diet and changes in biomarkers or health status. Nutrients in fruits and vegetables, such as dietary fiber, vitamins, minerals, and phytochemicals, including polyphenols, all provide support for the biological plausibility that fruits and vegetables play a role in health."
1. Salad of fermented cabbage, beetroot, apples and cranberries
. 5 Healthy salads to support Immunity.
This recipe allows the use of both red and white cabbage. Both varieties serve as excellent sources of vitamin K, vitamin C, vitamin B6, and many other trace elements. Vitamin K plays a very important role in the functioning of the body, as it supports blood circulation. In addition, together with other nutrients, including calcium and vitamin D, it helps to form strong and healthy bones.
Beetroot doesn't just give sauerkraut a bright color. It is a very healthy product in itself. Beetroot is known for its positive effect on the work of the entire digestive system, it helps to cleanse the intestines of slagging and toxins. The recipe uses pumpkin seeds. Of course, you can experiment with other products.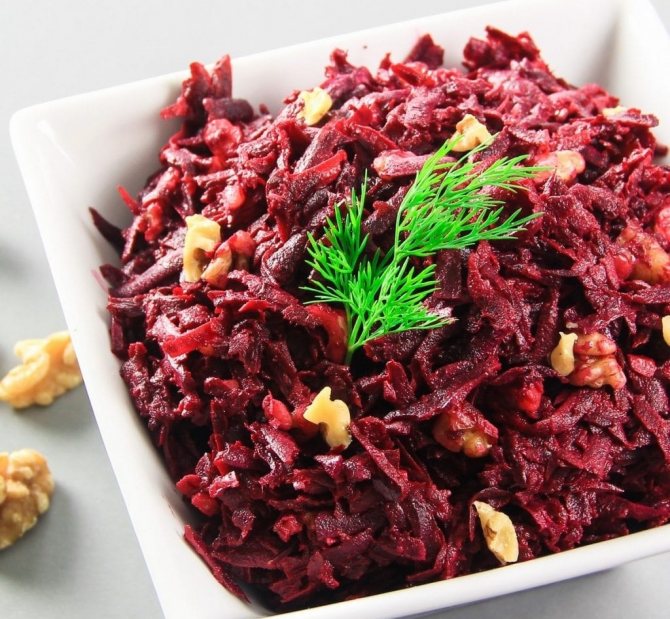 Ingredients:
Designed for 4 servings
Cabbage (white or red cabbage), finely chopped 1 medium head
Beets, peeled and grated 1 piece
Red onion, finely chopped 1 pc
Sea salt 1 teaspoon
Ginger, grated 1 teaspoon
Fresh parsley, finely chopped 3 tablespoons
Apple, cut into thin slices 1 pc
Fresh cranberries, cut into 1/2 cup halves
1 tablespoon of raisins
Pumpkin seeds 2 tablespoons
Olive oil 2 tablespoons
Instruction:
Put beets, cabbage, onion, ginger, and salt in a large cup and mash the mixture well with a spoon so that the cabbage becomes softer and lets the juice flow.
Transfer the mixture together with the juice into a sterile glass container with a lid. Attach vegetables so that there are no air bubbles left in them and they are completely covered with juice.
Close the container with a lid and leave it at room temperature for about 3 days, until the appearance of a characteristic smell and taste of sourness. Put it in the refrigerator for two days, then use it to make a salad. To make a salad, put the pickled vegetables in a large cup. Add the remaining ingredients and mix. The salad is cooked.
2. Vitamin salad
The salad contains a lot of vitamins, minerals, enzymes, and other useful substances. It also has an ideal ratio of healthy fats and carbohydrates. If you double the portion, you can store it in the refrigerator and use it for snacks or lunch the next day.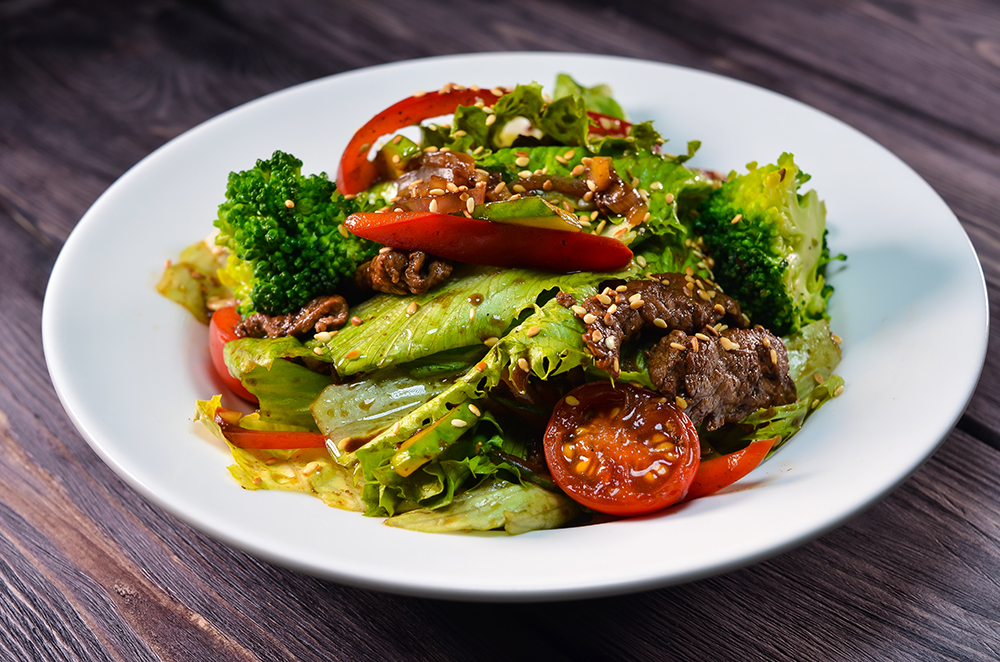 Ingredients:
Designed for 2 servings
Young salad greens, chopped 3 tablespoons
Spinach leaves, chopped 2 tablespoons
Cherry tomatoes, cut into halves 1 cup
Green young peas 3 tablespoons
Grated carrot strips 3 tablespoons
Red bell pepper, finely chopped 2 tablespoons
Sliced thin half rings of red onion 1 tablespoon
Avocado 1/2 piece
Peeled almonds 2 tablespoons
Sunflower seeds 1 tablespoon
Pumpkin seeds 1 tablespoon
For refueling:
Flaxseed oil 1 tablespoon
Apple cider vinegar 1 tablespoon
Sea salt 1 teaspoon
Instruction:
Cooking time 15 minutes
Combine all the ingredients for the salad, sprinkle with oil and vinegar, and season with sea salt. Stir and serve. The fastest way is to chop carrots and other vegetables using a food processor.
3. Winter citrus salad
. 5 Healthy salads to support Immunity.
This citrus salad is a real source of flavors and colors, and also a great way to enjoy winter citrus. It is very easy to prepare, the whole process takes no more than 15 minutes.
Salad is ideal for the role of lunch, juicy side dish, appetizer, or light dinner. It is elegant enough to serve on a festive table and is simple for everyday meals.
Juicy oranges of various varieties, crispy cucumbers, soft avocados, light sweet onions, and herbs are laid out on fresh lettuce leaves. All this is sprinkled with pomegranate seeds, walnuts, and peas, sprouted and dehydrated with honey and spices.
The salad is complemented with a smooth honey-citrus dressing. It is made in addition to citrus juice from apple cider vinegar, honey, homemade mustard, and crushed garlic. This mixture is seasoned with salt and pepper. Then olive oil is poured into it in a thin stream.
It can be served chilled or at room temperature. Citrus lovers will surely like it, and those who are not too fond of these fruits will allow them to see them in a completely new "taste" light. If you need a bright, impressive salad, it is advisable to use a rainbow of colors from several varieties of citrus. If a simple serving is enough, a couple of citrus fruits of different shades will suffice.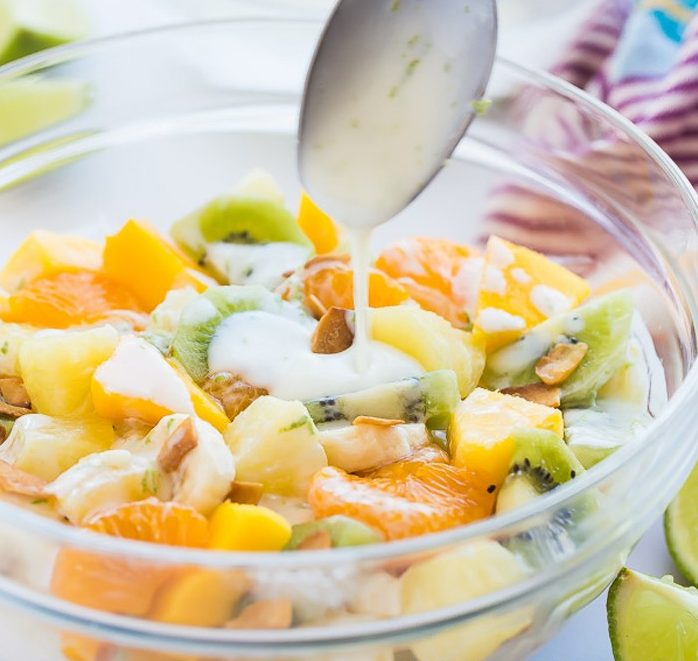 Ingredients:
Designed for 2 servings
Any salad leaves 1 bunch
Red-orange, peeled and sliced into thin slices 1 pc
Orange, peeled and sliced into thin slices 1 pc
Tangerine, peeled and sliced 1 piece
Avocado, sliced 1 piece
Sweet (white) onion, sliced into thin rings 1 pc
Cucumber, cut into thin slices 1/2 pc
Fresh mint or parsley, chopped 2 tablespoons
Pomegranate seeds 1/2 cup
Walnuts, chopped 3 tablespoons
Sprouted and dehydrated peas with honey and spices 1/2 cup
For refueling:
Orange juice 2 tablespoons
Lime juice 1 tablespoon
Apple cider vinegar 1 tablespoon
Honey 1 tablespoon
Homemade mustard 1 teaspoon
Garlic, crushed or passed through a press 1 clove
Sea salt and ground black pepper, to taste
Olive oil 3 tablespoons
Instruction:
Cooking time 15 minutes
To make the dressing, whisk orange juice, lime juice, vinegar, honey, mustard, and garlic in a small cup. Season with salt and pepper to taste. Continuing to beat, pour in a thin trickle of oil. Try and adjust the amount of salt, pepper, and sweetener. The filling is well stored in a closed container in the refrigerator for a week.
To assemble the salad, spread the salad leaves on a serving plate. Put oranges, avocados, cucumbers, and fresh herbs on the leaves. Sprinkle with pomegranate seeds, walnuts, and, if desired, dehydrated peas. Sprinkle the salad dressing and serve.
To make citrus fruits less bitter, free them from white membranes. To do this, putting them on the work surface, first cut off the top and bottom of them with a sharp knife so that the pulp is visible on the cut. Turn the fruit over, placing it on one of the slices, and cut off the entire peel along with the white membrane from top to bottom, following its round shape.
Taking one fruit, make an incision to its middle from the edge of one of the lobules along the inside of any of the membranes. After that, cut off the slice from the second side, from the opposite membrane, so that the slice remains on the knife. In the same way, cut off the remaining slices from the membranes. Repeat the process for all fruits.
If you need to save time, you can use ordinary sprouted and washed peas, omitting the dehydration stage with spices and honey. If there is no desire to add peas, you can simply omit them.
4. Kiwi salad cucumber, nuts, and greens
To maintain immunity, the best thing is to seek help from the power of fruits and vegetables. Kiwis contain twice as much vitamin C as oranges and provide the body with much more energy. Here is a recipe for a salad of these amazing fruits with the addition of no fewer healthy greens and other nutritious ingredients.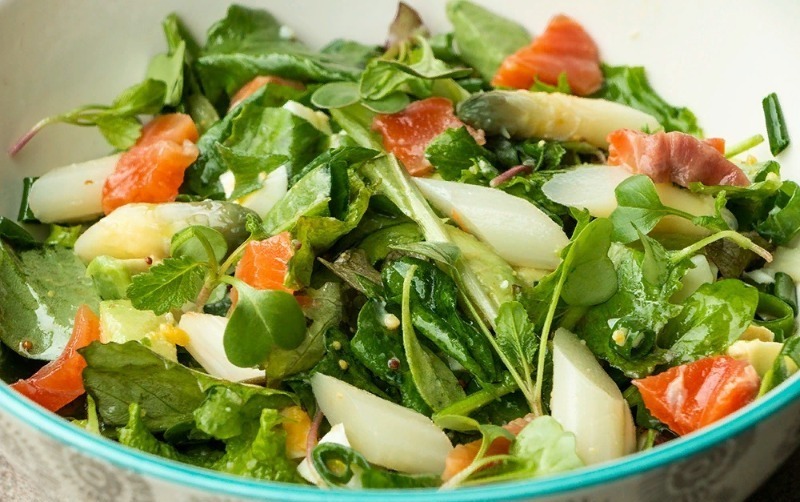 Ingredients:
Designed for 2 servings
Young salad greens 2 cups
Small cucumber 1 piece
Kiwi 2 pcs
Walnuts 3 tablespoons
Mint 1 teaspoon
Chopped small pieces of young peas 1/4 cup
For refueling:
Olive oil 3 tablespoons
Freshly squeezed lime juice 1 teaspoon
Sea salt and ground black pepper, to taste
Instruction:
Cooking time 10 minutes
Thoroughly rinse and dry the salad greens. Cut the cucumber into thin slices. Peel and slice the kiwi. Combine all the ingredients in a cup, adding chopped pea pods, nuts, and mint leaves. Combine in a small cup and mix thoroughly all the ingredients for the dressing. Pour the salad with the resulting dressing and serve, if desired, pre-cooling it in the refrigerator.
5. Cucumber, celery, and fennel salad
. 5 Healthy salads to support Immunity.
This green salad of cucumbers, celery, and fennel has a surprisingly clean, fresh taste. Cut the vegetables into the thinnest slices, giving the dish the consistency of cabbage salad and an elegant, appetizing look. In addition, in this form, vegetables turn out softer and are better covered with fresh herbs. Slices of cucumbers, celery, and fennel go very well with olive oil and almonds.
All components of the salad can be prepared in advance and simply combined at the right moment. Thanks to this, it is convenient to use it as an addition to the brunch, lunch, or picnic menu.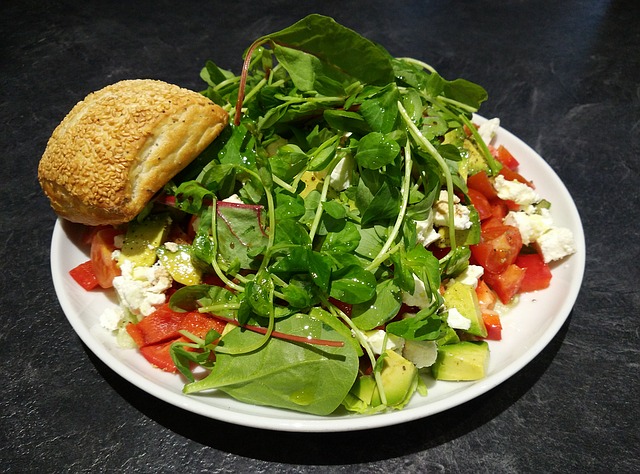 Ingredients:
Designed for 3 servings
For salad:
Small cucumbers, cut in half into 2 pieces
Celery 5 stalks
Fennel root 1/2 piece
Chopped fresh parsley, without stalks 3 tablespoons
Fresh dill, without stems (chopped) 2 tablespoons
Mint leaves 1 tablespoon
Olive oil 2 tablespoons
Zest one small lime
Freshly squeezed lime juice 1 teaspoon
Fine sea salt to taste
Freshly ground black pepper to taste
For the almond dressing:
Almonds (soaked for at least 8 hours) 4 tablespoons
Olive oil 1 tablespoon
Filtered water 1/4 cup
Lemon juice 1 tablespoon
Instruction:
Cooking time 15 minutes
Soak the almonds for at least eight hours, drain the water from them and peel them. Place all the ingredients for dressing in a small blender or food processor and grind until smooth. Cover and put in the refrigerator. To make a salad, chop cucumbers, celery, and fennel into thin slices on a shredder or with a very sharp knife.
Combine chopped cucumbers, celery, and fennel with chopped parsley, dill, mint, olive oil, zest, and lime juice in a large cup. Season with salt and black pepper and mix. Distribute the almond dressing on a plate, put the salad on it, and sprinkle with chopped almonds and a pinch of salt if desired. Bon Appetit!
(1)-Health Benefits of Fruits and Vegetables, Joanne L. Slavin and Beate Lloyd, 
https://www.ncbi.nlm.nih.gov/pmc/articles/PMC3649719/