Project: delicious food for beauty and health. Additional support for immunity of 10 foods drinks herbs.
The connection of immunity with nutrition is not obvious at first glance, and yet the basis of immunity is laid precisely by those nutrients and trace elements that a person receives from food.
The presence of protein food in the diet ensures the intake of amino acids into the body, which are part of antibodies and other immune agents. Fats are necessary as a building material for immune cells, and carbohydrates are the "fuel" on which the immune system works.
Choosing a particular product for your diet, you need to understand that in this way you can both strengthen and undermine the protective functions of the body. Following the principles of proper nutrition will provide a natural strengthening of the immune system.
As for the specific foods that should ensure that your diet also supports immunity? There are several recommendations:
Fruit
. Additional support for immunity of 10 foods drinks herbs.
1.Citrus fruits
Various citrus fruits, including oranges, clementines, grapefruits, lemons and limes, contain large amounts of vitamin C. Why is vitamin C important for the immune system?
Vitamin C is an independent antioxidant that affects the supply of carbohydrates in the liver, improves the ability of immune cells to recognize foreign agents, and also stimulates their bactericidal activity. It also improves the body's defense by acting on vitamin E, A (carotenoids).
How to use: Bright citrus salad, healthy citrus cocktail for the intestines.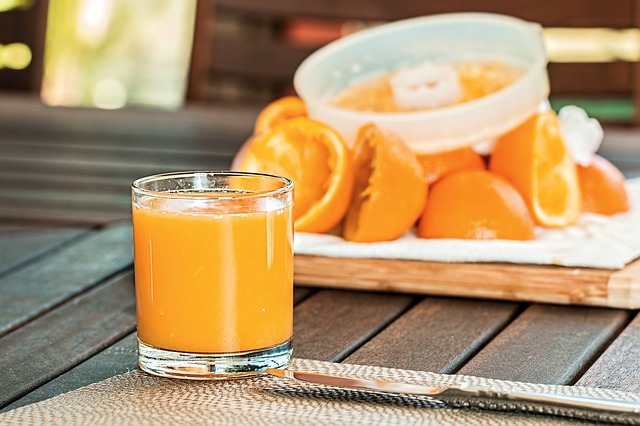 Citrus cocktail
A drink made from a mixture of fruit juices (orange, grapefruit and lime) is bright, refreshing, and very pleasant to the taste.
Ingredients for 4 servings:
Limes 12 pcs.
Oranges 3 pcs.
Grapefruits 2 pcs.
Water 3 cups
Powdered sugar (fine sugar) 6 tablespoons
Instruction:
Squeeze out the juice from the fruit (you can leave some pulp, but throw away the bones). Pour the mixture into a large jug. Add water and sugar. Stir to dissolve the sugar. Cool well. Serve with ice and pieces of fruit. The drink can be stored in the refrigerator for several days.
2.Kiwi 
Kiwi is an exotic fruit, which, thanks to its rich composition, is healthy for the human body. According to scientists, regular consumption of kiwi is associated with a reduction in the risk of cardiovascular complications, improvement of the digestive system, strengthening immunity and prevention of vision loss.
The amount of vitamin C in one average kiwi is 200% of the daily norm. Thus, with regular consumption of half of the fetus per day, it is possible to fill the body's need for ascorbic acid.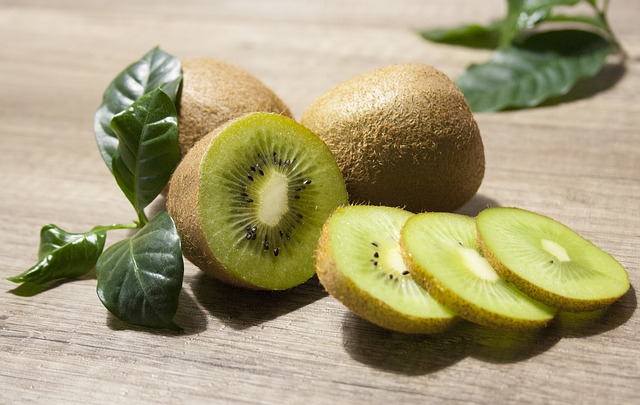 How to eat kiwi? The fruit is consumed both fresh and canned. Kiwi can be served with a peel, cut into rings or cubes, make juice, cocktail or confiture from it. The sweet and sour taste of the fruit will harmoniously complement meat dishes, vegetable or fruit salads, pizza. A marinade for shish kebab is prepared on the basis of kiwi. The sour juice of the berry breaks down the protein, as a result, the meat will be soft and tender.
Together with the peel. The shell contains pectin, fiber, which help digestion, ascorbic acid, which strengthens the immune system, and vitamin E, which has a pore-tightening effect. Only the pulp. To do this, cut the fruit in half and eat the inside with a spoon.
Prepare a smoothie
Grind 3.53oz of blueberries, 5.29 oz of strawberries, 1 kiwi with peel, 1 cup of orange juice, 1 peeled banana, 5 grams of flax seeds in a blender. The resulting vitamin drink should be drunk immediately after cooking, otherwise it will lose its healthy properties.
Papaya is another good source of vitamin C, containing about 88.3 mg per cup, according to the U.S. Department of Agriculture (USDA) food database.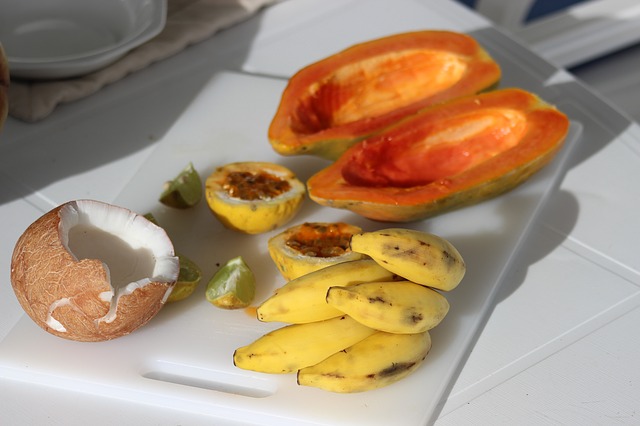 It also contains the digestive enzyme papain, which helps break down proteins in the gastrointestinal tract. According to research, this bioactive herbal component helps to cope with bloating and constipation to maintain overall intestinal health. As mentioned earlier, a healthy gut is directly related to immune health.
How to use: Fruit cocktail or a bowl with tropical chickpeas.
4. Acai berries
Acai berries contain powerful antioxidants, vitamins, vegetable fats, minerals and many other healthy substances. They are an ideal supplement for smoothies, have an exceptional taste and are perfectly combined with any other ingredients.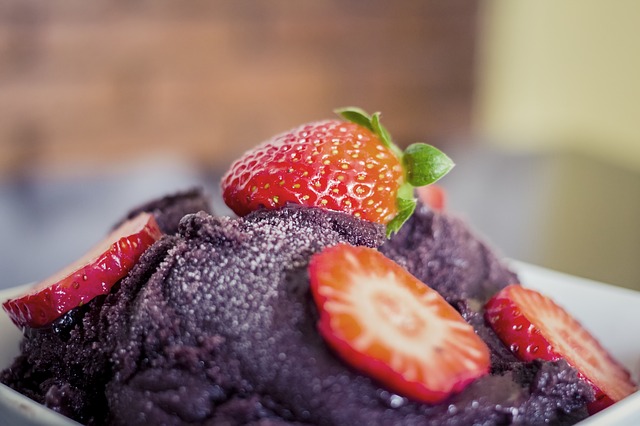 Pomegranate smoothie with acai and blueberries
Pomegranate is another delicious dark red fruit with a high content of antioxidants. The combination of acai and pomegranate is a powerful blow for the recovery of the body. Mix the following ingredients in a blender to the consistency you need and enjoy a healthy drink.
Water, green tea or juice 1/2 cup
Pure pomegranate juice or fresh pomegranate seeds 2 tablespoons
Frozen acai puree 3.53oz (1 tbsp acai powder, or 2 tbsp acai juice)
Fresh banana 1/2 piece
Fresh or frozen blueberries 1/2 cup
Honey, stevia or maple syrup for sweetness optional
5. Watermelon
Watermelon is not only delicious, but also extremely useful. It perfectly cleanses the liver and kidneys, improves digestion and has a positive effect on the cardiovascular system.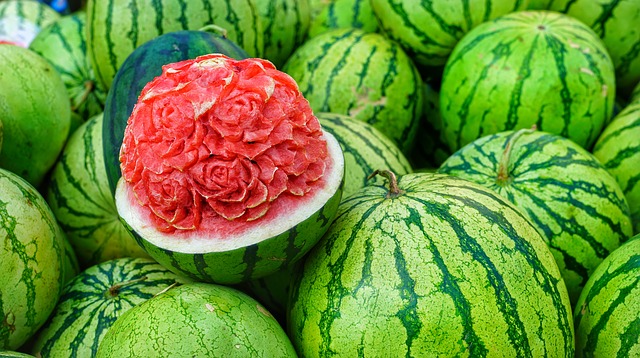 Salad with watermelon, tomatoes and cheese
For this amazing recipe you will need: watermelon, cream cheese, sour cream (all at room temperature), as well as almond petals. The quantity, of course, largely depends on the size of your watermelon. It really surprises the guests when you cut a white cake, and inside there is a bright red watermelon! Cream cheese is a soft, sweet, moderately flavored cheese made from milk and cream.
Ingredients for 8 servings:
Watermelon pulp 1 pc
Cream cheese 8.82oz
Sour cream 10% 1 cup
Almond petals 2 tablespoons
The nutritional value of a serving is 191 kcal
Instruction:
Cooking time is one hour
Cut out a large circle from the middle of the watermelon, clean it and dry it with a towel. Mix sour cream and cream cheese, lubricate the watermelon from all sides, trying to completely cover it. Finally, sprinkle the whole cake with almond shavings. For the perfect taste, it should be put in the refrigerator for 1 hour.
Veggies
. Additional support for immunity of 10 foods drinks herbs.
6. Red peppers
Red sweet pepper is known to everyone for its bright colors and useful properties! It strengthens the immune system, helps to prevent and cope with many diseases. According to the content of some vitamins, pepper overtakes many vegetables and fruits!
One large fruit contains a daily allowance of vitamin P for an adult. Regular consumption of pepper reduces the permeability and fragility of capillary vessels. But in terms of the amount of vitamin C, it is ahead of even lemon.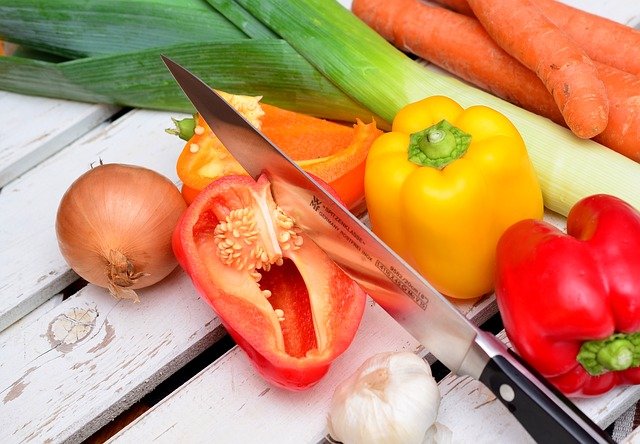 Vegetable therapy
It's never too late to make lecho from red pepper for the winter. Such a billet will warm you with the warmth of summer memories one winter.
Ingredients:
Tomatoes 70.54oz (2 kg)
Red pepper 88.18oz (2.5 kg)
Vegetable oil 3.53oz
Sugar 3 tablespoons
Salt 1 tablespoon
Vinegar 9% 2 tablespoons
Cooking method:
Put ripe juicy tomatoes through a meat grinder.
Pour the resulting mass into a large saucepan, add vegetable oil, sugar and salt.
Stirring tomatoes from time to time with a spatula, bring them to a boil.
Peel the small peppers from the tails and seeds, cut each lengthwise into eight parts.
Lower them into the tomato mass and cook for 30 minutes, stirring frequently. At the end, add vinegar.
Pour the lecho into sterilized jars and roll up the lids.
Red sweet pepper is a nice vegetable, which will always have a tasty and useful use.
7. Broccoli
Broccoli is a unique vegetable product. With a significant content of nutrients, such cabbage is a light and dietary vegetable. It has become widespread in various food systems, is often used for diets and fasting days, the diet of children and the elderly. The following are the main characteristics of broccoli for weight loss.
Broccoli is a nutritious vegetable that contains vitamins, fiber, minerals and other active biological compounds. The product is an important source of vitamin C. 1/2 cup of broccoli in cooked form will provide 84% of the daily norm of vitamin C.
Broccoli in sour cream and garlic sauce
Broccoli in sauce is a light, healthy and very tasty vegetable dish in a hurry. It's amazing how a small amount of sour cream and garlic transforms and reveals the taste of broccoli. Juicy and fragrant green cabbage inflorescences in a delicate white sauce with a pleasant garlic aroma are a harmonious combination.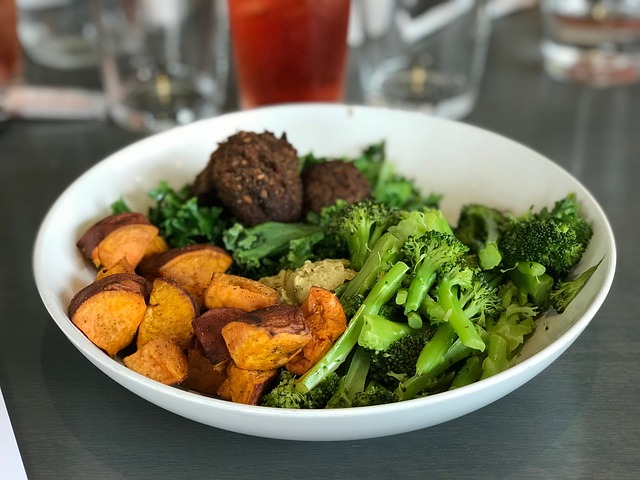 Ingredients for 2 servings
Broccoli 14.10oz
Sour cream with a fat content of 20 % 3 tablespoons
Garlic (large) 1 clove
Butter 2 tablespoons
Salt to taste
Ground black pepper to taste
Instruction:
Cooking time 15 minutes
Divide the broccoli into medium-sized inflorescences. In a saucepan or saucepan, boil 4 cups of water, salt it (1 teaspoon). Put the broccoli in boiling water. Blanch the cabbage over medium heat for 2 minutes.
Discard the broccoli in a colander and leave the water to drain. Now prepare the sour cream sauce. To do this, melt a piece of butter in a frying pan. Add sour cream to the butter. Stir and let the sour cream disperse in the oil.
Peel the garlic and pass it through a press into a frying pan. Season the resulting sauce with salt and pepper (to taste). Stir and heat the sauce for 1 minute. In the finished sauce, transfer the broccoli inflorescences.
Stir so that the sauce permeates all the inflorescences. Warm the dish under the lid for another 1 minute. Broccoli in sour cream and garlic sauce is ready. Serve broccoli as a separate dish or as a side dish. Bon Appetit!
8. Spinach
Spinach dishes are mostly summer dishes. However, if you prepare frozen spinach, you will be able to cook super-healthy spinach recipes virtually all year round. Spinach is the "king of greens". The benefits of this green leafy vegetable are appreciated by world nutritionists and nutritionists.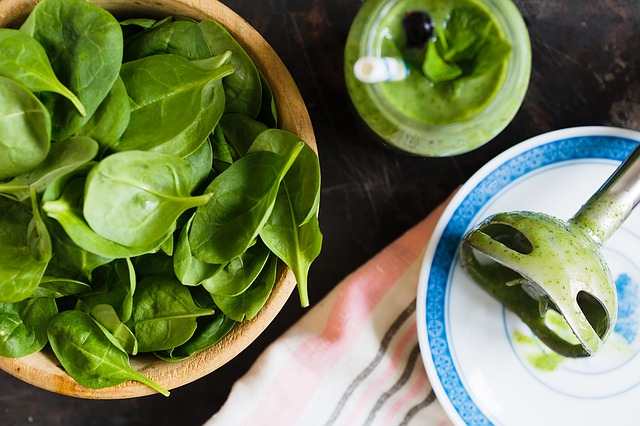 Garnish with fresh spinach
The simplest side dish of fresh spinach, cooked in a frying pan. Spinach retains its beneficial properties, fast and healthy!
Ingredients for 2 servings:
Spinach 17.63oz
Garlic 3 cloves
Hot fresh pepper (optional) – 1/4 pod
Hard cheese (optional) 3.53oz
Salt to taste
Olive oil 1 tablespoon
Instruction:
Cooking time 10 minutes
In olive oil, fry the chopped garlic (and hot pepper, if desired). Spinach is thoroughly washed, we remove the roots. We put the wet leaves in a frying pan. Salt.
When the spinach leaves begin to wilt, cover with a lid and simmer the spinach in a frying pan over low heat for 5 minutes.
You can sprinkle the spinach garnish with grated hard cheese.
Bon Appetit!
9. Mushrooms
Mushroom dishes will help to diversify your daily or festive meal. Recipes with mushrooms are always fragrant, delicious and appetizing. Simple recipes of mushroom dishes will take very little time and are suitable for a quick dinner.
The uniqueness of mushrooms lies primarily in their balanced composition. They contain healthy substances, minerals and vitamins.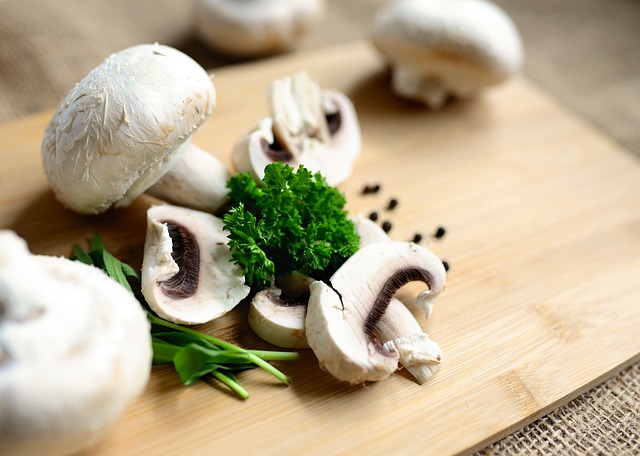 Fried mushrooms
Delicious snack in 15 minutes I don't like complicated recipes that take several hours. And I have already begun to notice that the simpler it is, the tastier it is. I cook these juicy, fragrant, delicious fried mushrooms very often. And just for dinner, and for a festive table, and for a snack, if suddenly unexpected guests.
Ingredients for 2 servings:
Mushrooms 17.63oz
Salt 1/2 teaspoon
Flour 2 tablespoons
Olive oil (for frying)
Instruction:
Cooking time 15 minutes
The taste is so rich and varied! With garlic it resembles a grilled chicken, with dill – fried pies, with green onion – chips. And no one can immediately guess how I cook them. Try it once and you will definitely tell: "I want more!"
It's very simple!
I cut mushrooms, salt them. Roll the chopped champignons in flour and fry them in olive oil. I serve fried mushrooms with sour cream sauce. Champignons are very tasty!
10. Sweet potato 
Many people call sweet potatoes "sweet potatoes". Externally, tubers are really often similar. Varieties have a whole palette of colors: from pale to orange, red and purple. The same applies to taste, there are both neutral or bland, and with obvious sweetness, more or less watery, soft and dense.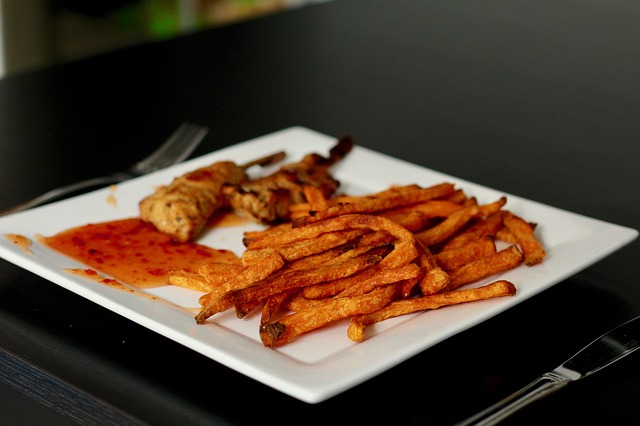 Sweet potato with thyme. Additional support for immunity of 10 foods drinks herbs.
Delicious and beautiful side dish of sweet potatoes. So, orange sweet potatoes, as in this recipe, are especially rich in beta-carotene, comparable or even superior to carrots in this indicator. Baked in the oven with thyme, sweet potato can be an independent dish, and is also ideal as a side dish for poultry, meat, suitable for filling tortillas / tortillas, in various prefabricated salads.
Ingredients for 1 servings:
Sweet potato  1 pc.
Thyme 1 tablespoon
Vegetable oil 1 tablespoon
Cottage cheese 2 tablespoons
Garlic 1 clove
Salt, hot pepper to taste
Instruction:
Cooking time 30 minutes
Take the products from the list. Remove the top layer from the sweet potato. First we divide with thick circles, then with bars. Season the sliced sweet potatoes with salt and hot pepper.
We throw thyme, pour vegetable oil, mix. Spread the oiled sweet potato with thyme in a suitable form, add the crushed garlic clove. We send it to the oven heated to the maximum, bake at a temperature of 356 F for 25 minutes. Turn it over a couple of times.
We pierce, check for softness, blush the crust to the desired degree. We shift the sweet potato with thyme into a plate, sprinkle with crumbled cottage cheese, serve with your favorite sauce. Bon Appetit!