Meat with berry sauce is not only beautiful, delicious, but also healthy. We will tell you how to prepare berry sauce for meat in order to preserve the maximum of its healthy properties. 5 healthy recipes berry sauce for meat.
How to make berry sauce for meat
Recipes for berry sauces for meat are very simple. Your task is to warm the berries until they soften, adding liquid and spices. Usually, dry table wines, juices or broth are used as a liquid. With spices, you don't have to be too clever. It is enough to take nutmeg, cinnamon, star anise, cloves, rosemary or ginger – they will give a good rich aroma.
If you are preparing a sauce for fatty meat, such as marbled beef, pork, or baked lamb, make the sauce slightly sourer. If you are preparing lean, white meats or lean beef steaks without bones, prepare a sauce in which the caramel note will be more important.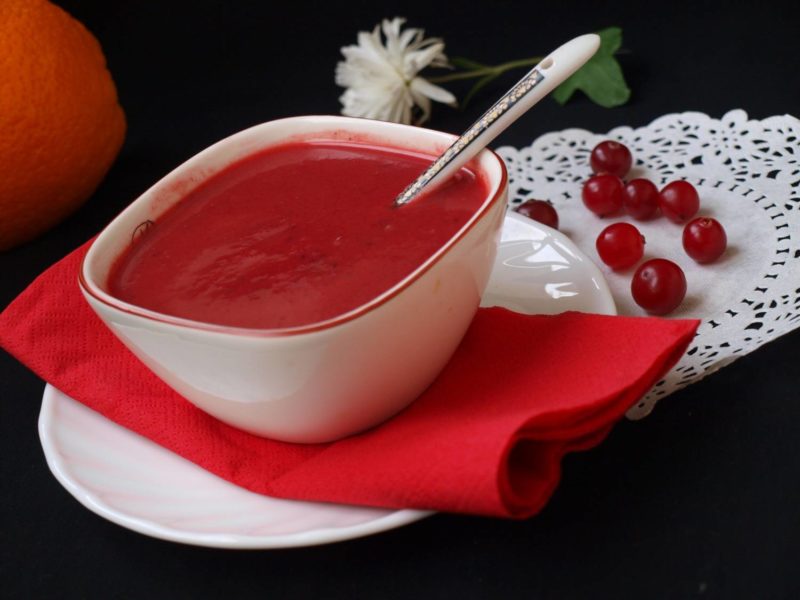 The benefits of berry sauce
The cooking time for berry sauces is minimal. This means that all the useful vitamins and trace elements contained in berries are preserved. What are the benefits of berry sauces?
— sea-buckthorn: high content of potassium strengthens the walls of capillaries, vitamin C boosts the immune system and volatile to help with inflammatory diseases and colds, acting as a natural antibiotic;
— cranberry is a natural antioxidant that protects cells from aging. in addition to antioxidants, it contains a large amount of potassium, magnesium, iron and manganese;
— black currant: the substances contained in it have a tonic, hematopoietic, anti-inflammatory effect, which increases metabolism, expands and cleanses blood vessels, improves appetite;
— lingonberry: it is rich in vitamins, organic acids and sugars that improve vision and increase the body's resistance to various viral infections.
Berry sauce for cranberry meat
Cranberry sauce for meat is a real "winter" sauce. It is especially suitable for baked meat: roast beef, boiled pork and baked tenderloin. This berry sauce for meat is prepared very simply. Cranberry berries are sprinkled with sugar and caramelized for 5-10 minutes. Add to taste cinnamon, nutmeg, a pinch of black pepper. Citrus zest gives the sauce a special flavor. Pour the contents of the saucepan with orange juice, add sugar and boil until thick. Serve with any meat. Berry sauce is especially good for cranberry meat, baked veal, turkey and pork. Learn how to cook a loin in the oven and serve it with ready-made cranberry sauce.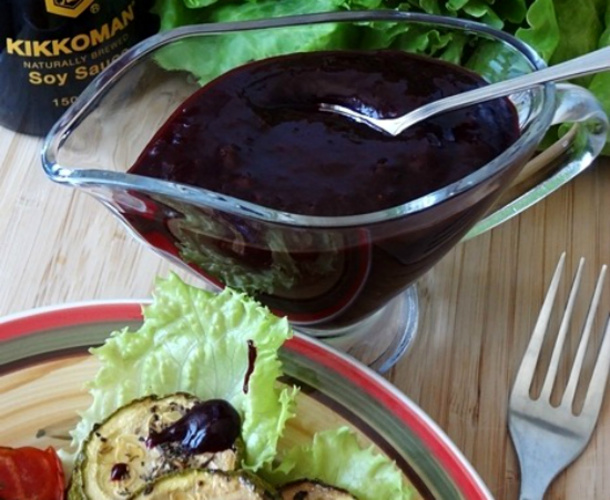 We recommend this sauce for marbled beef. Light sourness, tartness and a subtle currant flavor perfectly complement the expensive and refined rib eye steaks, filet Mignon or Chateaubriand steak.
Currant sauce for meat can be prepared from frozen berries. Melt the butter in a pan. Do this over low heat. Pour in the white or red wine and add a couple of tablespoons of sugar. Cook over low heat, stirring, until the sugar is completely dissolved. Add the currant berries and cook for another 10 minutes. At the very end, add a little chopped mint and black pepper. Beat the mixture with a blender and, if you have time and desire, rub the resulting sauce through a sieve.
This wine and berry sauce is perfect for juicy roast beef or tender Filet Mignon steak. In addition, the sauce goes well with veal loin or liver – try it.
Berry sauce for cowberry meat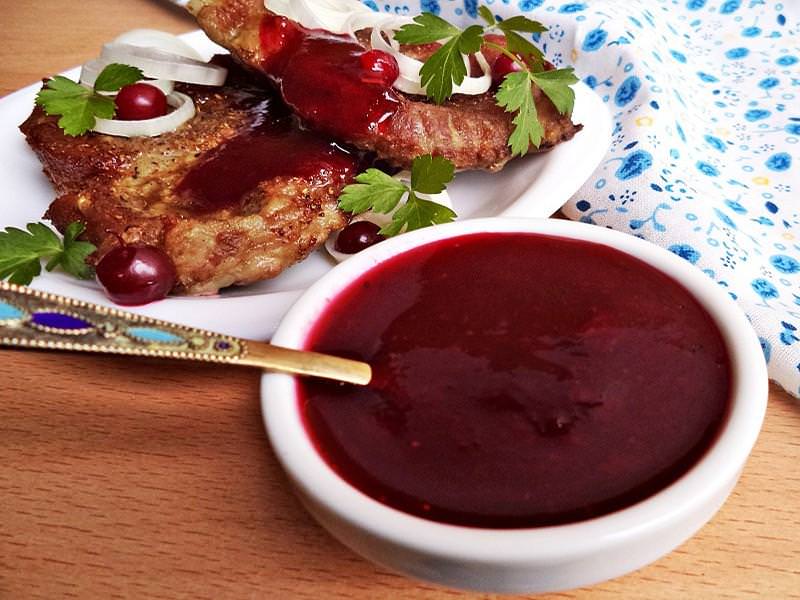 Lingonberry sauce for duck is a classic of the genre, but nothing prevents you from cooking it for other types of meat. For example, roast beef or baked pork. Berry sauce recipe with cranberries is identical to the recipe with cranberries. The berries are covered with sugar and cooked until they start to burst.
Then add the zest of lemon and orange, as well as their juices. Lemon juice needs just a few drops. Although, if you are cooking fat marbled meat, add a little more.
For flavor, use nutmeg, cinnamon, and cloves. Boil the sauce until thick, and then break with a blender. Although it is acceptable to serve meat with berry sauce served with whole berries.
Sea buckthorn sauce for meat
. 5 healthy recipes berry sauce for meat.
Delicious and healthy sauce is especially good with white meat: pork, chicken, turkey, rabbit. First, beat the sea buckthorn berries with a blender and RUB the resulting mixture through a sieve. Add the garlic crushed in a mortar to the sea buckthorn puree. For a more delicate taste, first bake it in the husk, and then grind it into a paste.
Add a little liquid honey and starch diluted in water to the sea buckthorn puree. Cook for 3-5 minutes on low heat until thickened, not forgetting to stir the sauce regularly.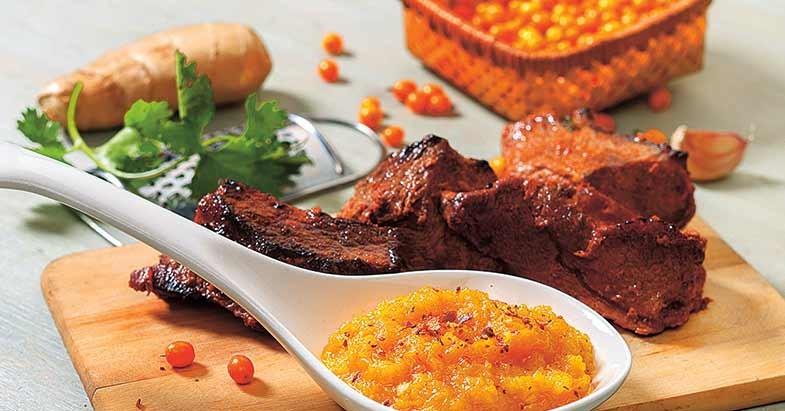 Pork with berry sauce
. 5 healthy recipes berry sauce for meat.
Fat pork is ideally combined with light berry sauces, in which sourness prevails over sweetness. Prepare this berry sauce from frozen berries: put the washed berries in a small saucepan. Add the orange juice and zest. Spice the sauce will add some grated ginger and a few cloves of inflorescences. Boil the berry sauce to the pork for 10 minutes and add a little sugar and cognac. Heat for a couple more minutes and let the mixture cool slightly. Beat it with a blender until smooth and serve with fried chops or baked pork.
For pork, especially grilled, cherry sauce or sour cranberry and cranberry sauce is perfect. Also with pork, raspberry sauce is combined with the addition of nectarine and other citrus fruits.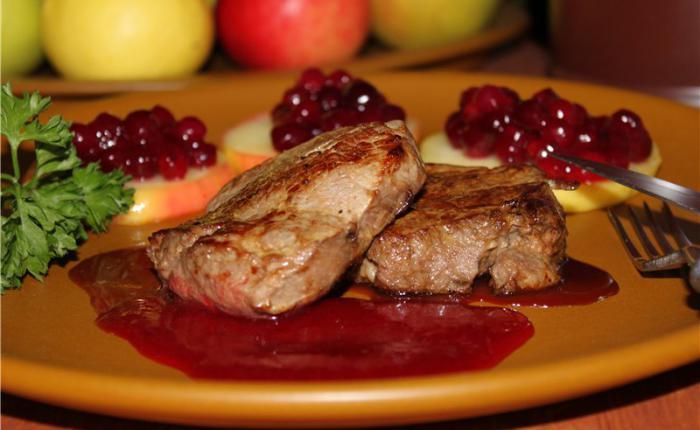 Berry sauce for lamb
Prepare an unusual berry sauce, the recipe of which contains blueberries. We suggest this sauce with lamb, although you can experiment and serve it with grilled steaks or baked roast beef.
So, bring the dry red wine to a boil and pour in the blueberry puree. To do this, simply wash the berries and beat them with a blender. Add salt and a little pepper to taste. Cook the sauce for at least half an hour over very low heat, stirring constantly. At the final stage, it is tightened with a slice of cold butter and served. 5 healthy recipes berry sauce for meat.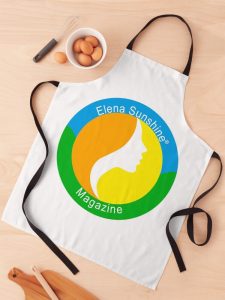 You can buy an apron with our logo 🙂
https://www.redbubble.com/i/apron/Elena-Sunshine-Magazine-by-Michaelbor76/52450511.6ZXWR?asc=u