What can you cook for lunch with proper nutrition? Closer to the middle of the day, our body begins to get tired, so it is important to provide it with energy and healthy elements. We get them from food. 5 recipes of hearty and healthy dishes for lunch.
At the same time, it is important not only when we eat, but also what. For example, whole foods contain more vitamins and minerals. Therefore, in a healthy diet, the emphasis is on them.
Benefits of a healthy diet
A balanced diet has many advantages. The main one is health. Of course, you should not expect that you will become invulnerable to infections and viruses. However, proper nutrition helps strengthen the immune system, so you will get sick less often. Overall well–being will improve, and a balanced diet will prevent the development of chronic diseases, including the endocrine system and gastrointestinal tract.
The second plus of a healthy diet is a slim figure. Of course, the weight will not go away quickly: if there are excess kilograms, it will normalize gradually, but a long-term effect is guaranteed. Unlike extreme diets that help you lose weight for a short time, proper nutrition will keep you a slim figure for many years.
In addition to these advantages, a balanced diet has other advantages:
Appearance improvement: hair, skin, and nails will become healthier, and you will seem younger.
Normalization of mood: you will become less irritable, and you will feel more confident.
Additional energy: a balanced diet often gives strength, energy, and enthusiasm, which many urban residents lack.
Risk reduction: the probability of getting cancer, diabetes, or getting another serious diagnosis decreases.
#1. Pasta with broccoli
It is important to take a paste from durum wheat. It contains more protein and fiber.
Ingredients for 2 servings:
Broccoli 8.82oz
Pasta 5.29oz
Hard cheese 2 tablespoons
Unrefined olive oil 1 tablespoon
Garlic 1 clove
Salt to taste
Ground black pepper to taste
Instruction:
Cooking time 20 minutes
Put two pots of water on the fire. Add salt to each of them after boiling.
Boil the pasta in one pan according to the instructions, and in the other — broccoli for 7 minutes. Put the pasta in a colander and let the water drain.
Place the broccoli in cold water or on ice. Heat the olive oil in a frying pan and add a clove of garlic crushed with the wide side of the knife blade.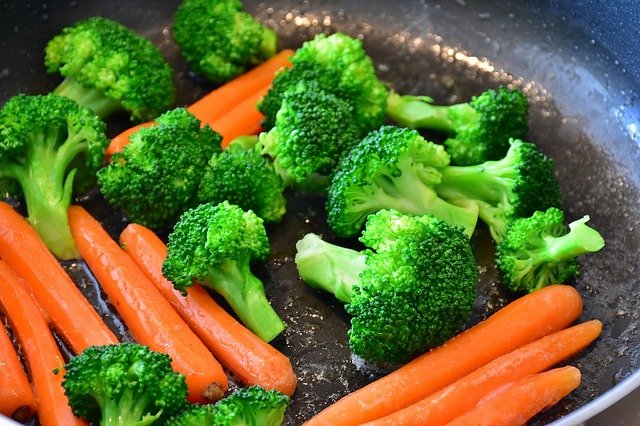 As soon as the clove is covered with a golden crust, remove it.
Fry the broccoli in flavored oil for 5 minutes.
Add the pasta, season with salt and pepper, and simmer all together for another 5 minutes.
Spread the pasta on plates, sprinkle with grated hard cheese, and serve.
There are no strict restrictions or prohibited foods in proper nutrition. The main thing is to correctly make a balanced diet. And our dishes will just help with this.
#2. Chicken cabbage rolls in savoy cabbage
. 5 recipes of hearty and healthy dishes for lunch.
Cooking with savoy cabbage is much easier. Its leaves do not require additional preparation, so you can immediately wrap the filling in them. Not only chicken is suitable for minced meat, but also turkey. Don't be afraid to experiment with the rice variety either. Try to take not only the classic long grain but also brown or black.
Ingredients for 4 servings:
Chicken fillet 21.16oz
Savoy cabbage 1 head
Kefir 1/2 cup
Rice 3 tablespoons
Onion 1 pc.
Garlic 1 clove
Salt 1 teaspoon
For the sauce:
Water 1/2 cup
Sour cream 2 tablespoons
Instruction:
Cooking time 50 minutes
Chop the meat together with onion and garlic. Add kefir, and salt and knead the minced meat. Rinse the rice, pour boiling water, and leave for 7 minutes.
Drain the liquid and combine the grains with the minced meat.
Spread the filling over the leaves of the Savoy cabbage and roll the cabbage rolls.
Place the workpiece in a heat-resistant mold. Mix the water with sour cream and pour the cabbage rolls.
Bake at 356F for 45 minutes.
#3. Spicy fish with vegetable puree
The traditional puree is a delicious, but high—calorie dish. But the mass of potatoes, green peas, and celery will be less heavy. Any fish will do. It is better to take fillets, so as not to be afraid of bones in a ready-made treat.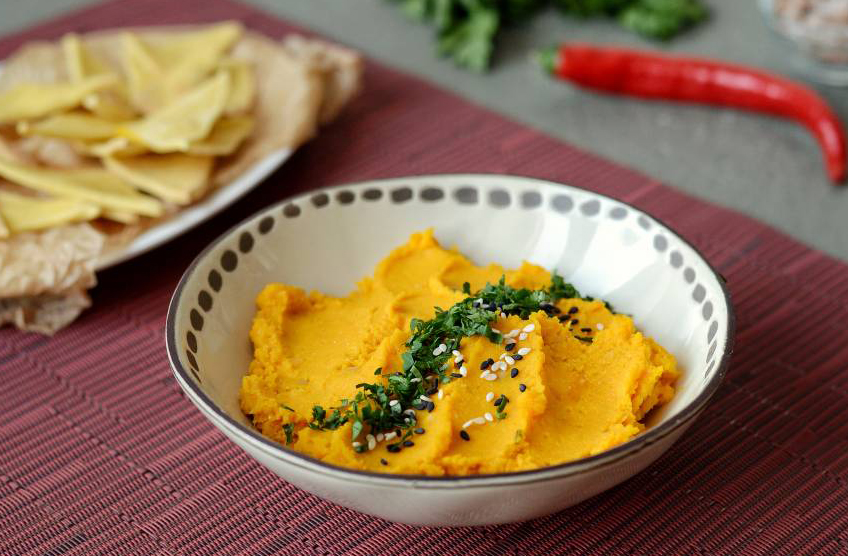 Ingredients for 4 servings:
Fish fillet 17.63oz
Garlic 2 cloves
Olive oil 1 tablespoon
Lemon juice 1 tablespoon
Parsley 5 stalks
Bay leaf 1 pc.
Allspice peas 2 pcs.
Ground black pepper to taste
Sea salt to taste
For the vegetable puree:
Green peas 14.02oz
Potatoes 4 pcs.
Celery 1 stalk
Olive oil 2 tbsp
Salt to taste
Instruction:
Cooking time 54 minutes
Boil water in a saucepan. Add salt, bay leaf, and allspice.
Enter the fillet and cook for 30 minutes until tender.
In a saucepan, combine diced potatoes, fresh or unfrozen green peas, and chopped celery.
Pour the vegetables and green peas with water and cook until the potatoes are soft. Then drain the water, saving 2-3 ladles.
Add salt and olive oil to the cooked vegetable stock. Whisk the mass with a blender into a puree. With the help of the stored liquid, you can adjust the density of the side dish.
Take the boiled fish into small pieces. Add chopped garlic, chopped parsley, salt, and ground pepper. Season the spicy fillet with a mixture of olive oil and lemon juice. If desired, the pieces can be lightly browned in a dry frying pan.
Put the vegetable puree on a plate, and on top — are pieces of fish. Garnish to taste and serve.
#4. Potato casserole with vegetables and mushrooms
. 5 recipes of hearty and healthy dishes for lunch.
All kinds of casseroles will make a healthy menu more original. You can always experiment with seasonal vegetables. Stewed pumpkin, eggplant, and bell peppers in tomato sauce are also suitable for the basis of this dish. All these fillings are perfectly combined with a delicate layer of mashed potatoes.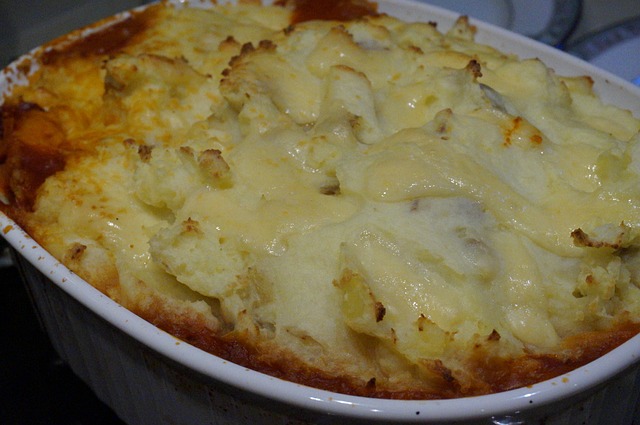 Ingredients for 5 servings:
Potatoes 34.92oz
Garlic 5 cloves
Carrot 1 pc.
Champignons 10.58oz
Frozen green peas 10.58oz
Onion 1 pc.
Leek 1 stalk
Tomato paste 3 tablespoons
Salt to taste
Freshly ground black pepper to taste
Instruction:
Cooking time 30 minutes
Peel and boil the potatoes.
Mash the hot potatoes with a potato masher. Pour in 3 tablespoons of sunflower oil, and a few tablespoons of potato broth, and add salt and pepper. You should get a smooth and thick homogeneous mass.
Prepare the vegetables: peel the carrots and onions, thoroughly wash the leeks, peel the garlic, and pour hot water over the frozen peas. Cut the carrots and onions into small cubes, chop the leeks, and pass the garlic through the press.
Pass the vegetables over low heat in a small amount of vegetable oil.
After 10 minutes, add finely chopped mushrooms to the vegetables, make the heat stronger, and fry for another 5 minutes.
Add tomato paste to the pan, stir, and season with salt and pepper.
At the very end, add the peas, and cook for 2 minutes. The filling is ready!
Transfer the contents of the pan to a form greased with vegetable oil, and put a layer of crumpled potatoes on top. To make the dish look prettier, you can squeeze out the potato mass with a pastry bag.
Place the mold in the oven under the grill at 392F so that the crust is properly browned. It will take 15 minutes. Enjoy your meal!
#5.Vegetable soup with cod
. 5 recipes of hearty and healthy dishes for lunch.
For lunch, you can make a thick soup with vegetables. The more plant components you take, the better. And the fish will add satiety to the dish.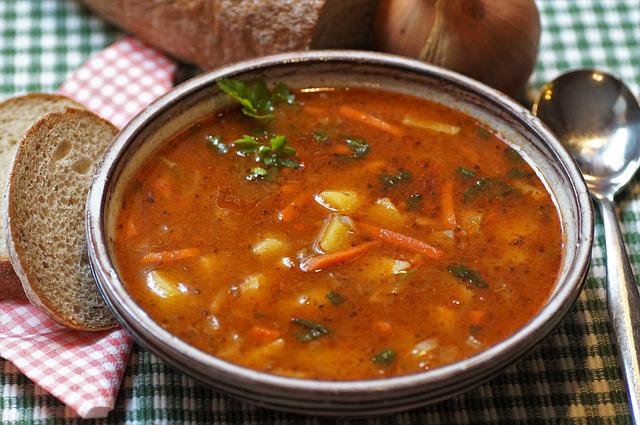 Ingredients for 4 servings:
Vegetable broth 4 cups
Cod fillet 21.16oz
Tomatoes in their own juice 14.02oz
Zucchini 2 pcs.
Onion 2 pcs.
Carrots 2 pcs.
Bulgarian pepper 1 pc.
Celery 2 stalks
String beans 5.29oz
Vegetable oil 3 tablespoons
Salt to taste
Dried thyme 1/2 teaspoon
Bay leaf 2 pcs.
Pepper to taste
Instruction:
Cooking time 40 minutes
Zucchini, onion, carrot, pepper, and celery cut into the same cube.
Heat the oil in a large saucepan with a thick bottom and fry the onion and celery on it until golden brown. Season with salt and pepper.
Add carrots and pepper, and simmer all together for another 7 minutes.
Pour in the broth, add the chopped tomatoes with juice, thyme, and bay leaf, cover, and heat over medium heat for another 10 minutes.
Enter the squash and string beans. Cook for another 5 minutes. If you take frozen food, then double the cooking time.
Try the soup with salt and pepper and add more if necessary. At this stage, you can also add a little hot sauce.
Place the fish fillets on top of the vegetables, cover them, and simmer for another 10 minutes.
Carefully break the pieces of cooked cod and spread them evenly over the soup.
Pour the first dish on plates, garnish with herbs, and serve. Enjoy your meal!
Maintain an energy balance − the intake of food, the value of which is measured in calories should be equal to the daily consumption.
Make a menu of a variety of products, because a person should receive a lot of minerals and vitamins while taking into account their compatibility when eating.