In order for the working week to be fruitful, it is crucial to maintain a balance. And for this, you need to eat a complete and varied diet. Then the body will receive all the necessary nutrients, and we will successfully cope with any tasks.
The balanced weekly menu for people with a high mental workload at work.
(1) – "Just as there is no magic pill to prevent cognitive decline, no single almighty brain food can ensure a sharp brain as you age. Nutritionists emphasize that the most important strategy is to follow a healthy dietary pattern that includes a lot of fruits, vegetables, legumes, and whole grains. Try to get protein from plant sources and fish and choose healthy fats, such as olive oil or canola, rather than saturated fats."
Monday
#1.Breakfast
Scrambled eggs with sweet pepper and herb salad
Scrambled eggs are a delicious dish that is most often served for breakfast. For example, in sweet pepper, with tomatoes and cheese. This breakfast will give you the necessary amount of protein, fat, carbohydrates, vitamins, calories, and a boost of energy in the morning.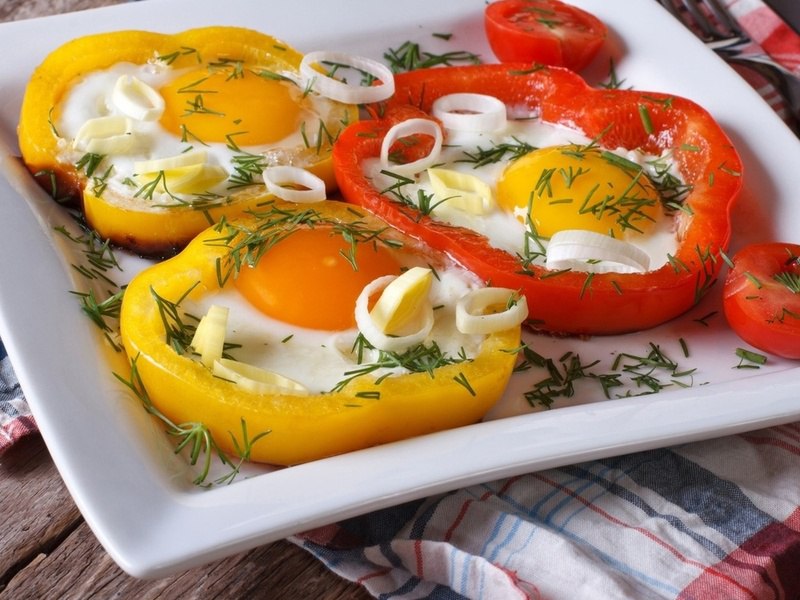 Ingredients for 2 servings:
Red Bulgarian pepper 4 pcs.
Egg 4 pcs.
Bacon 2 slices
Canned corn 1 tablespoon
Green peas 1 tablespoon
Cherry tomatoes 4 pcs.
Smoked cheese 2 tablespoons
Dry oregano to taste
Thyme to taste
Vegetable oil 1 tablespoon
Garlic 1/2 clove
Paprika to taste
Smoked salt  to taste
Salad:
Tender spinach 2 tablespoons
Spicy arugula 3 tablespoons
Radicchio 2 tablespoons
Sweet dressing:
Olive oil 1 tablespoon
Balsamic mustard 1 teaspoon
Maple syrup 1/2 teaspoon
Instruction:
Cooking time 35 minutes
Cut the multicolored peppers in half, peel them from the seeds, and send them to bake in the oven until half-cooked for 4-6 minutes at 356F. Then sprinkle them with vegetable oil, break eggs in them, and spread finely chopped bacon, corn, peas, cherry tomato rings, and a little garlic on top.
Sprinkle with oregano and thyme, add salt, and bake until the eggs are ready for 10 minutes at 356F (cooking time depends on the characteristics of your oven).
In a salad bowl, mix spinach, spicy arugula, and radicchio. And pour sweet dressing. We serve hot scrambled eggs in sweet peppers, sprinkled with paprika, with a salad mix. We try and enjoy!
Spicy cocoa
In the morning, I don't want to go to work, but slowly cook cheesecakes with vanilla and saffron. In the fall, this is normal. But if you still have to go to work, then St. John's wort and Melissa go to tea.
And the tradition of morning cocoa is returning to the kitchen. What do we add to cocoa and how do we ward off sadness?
Ingredients 2 servings:
Milk 2 cups
Cocoa powder 4 teaspoons
Turmeric 1/2 teaspoon
Nutmeg to taste
Saffron to taste
Sugar to taste
Instruction:
Cooking time 10 minutes
Add cocoa and turmeric to the milk and put it on the fire, stirring and thinking about the good. When the drink becomes homogeneous, we remove it from the fire. Add saffron, nutmeg, and sugar.
Nutmeg is fragrant and adds cheerfulness. Nutmeg helps to wake up and even out the mood.
Add saffron to the finished cocoa, and then stir. Saffron helps with stress and depressive moods.
Turmeric. Another spice from autumn dementors: it can bring relief when sad.
#2.Breakfast.
The balanced weekly menu for people with a high mental workload at work.
Avocado chocolate mousse
Living with taste is my basic principle. This dessert is not just sweet. It includes two ingredients for brain health – avocado and cocoa.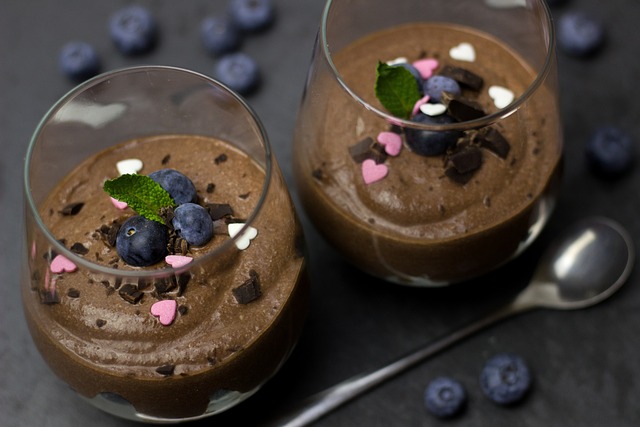 Ingredients per 1 serving:
Ripe avocado of medium size 1 piece
Coconut milk 2 tablespoons
Natural cocoa 2 tablespoons
Cinnamon to taste
Vanilla to taste
Nutmeg to taste
Instruction:
Cooking time 10 minutes
Put everything in a blender. Punch to a homogeneous consistency – and you're done. You can serve it with berry topping: it's beautiful and delicious.
Lunch
. The balanced weekly menu for people with a high mental workload at work.
Cauliflower puree soup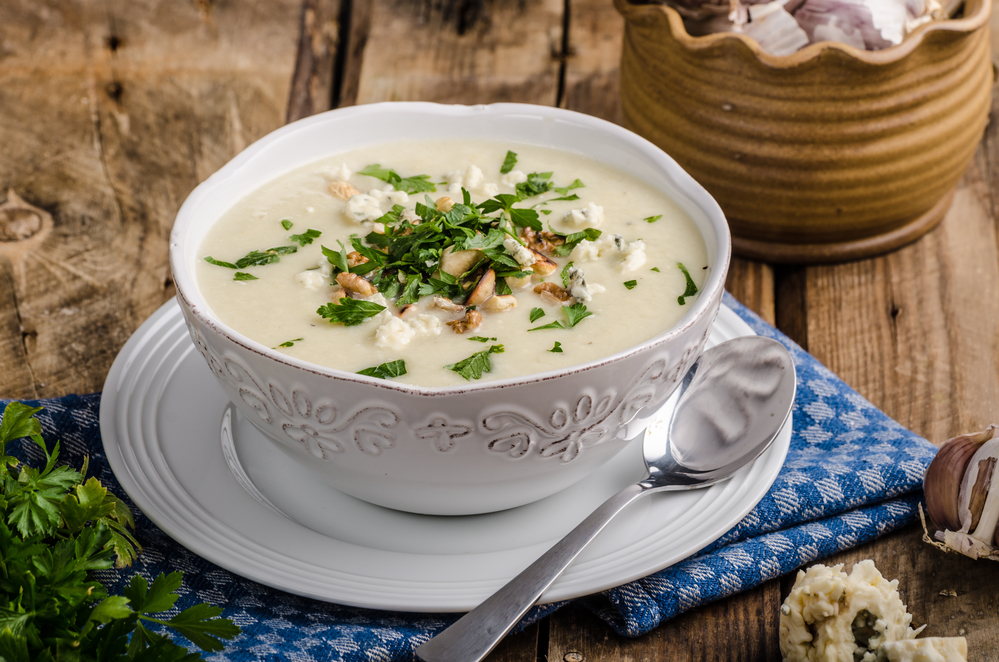 Ingredients for 4 servings:
Cauliflower 1 pc.
Potatoes 2 pcs.
Onion 1 pc.
Cream 22% 4 tablespoons
Halloumi cheese 3 tablespoons
Vegetable broth or water 2 cups
Baguette fresh 1/2 pcs.
Olive oil 2 tablespoons
Salt, and pepper to taste
Nuts for decoration
Micro-greenery for decoration
Lettuce leaves 3.53 oz
Instructions:
Cooking time 35 minutes
Chop the onion into a small cube and fry in a saucepan in olive oil until golden brown. Then we send diced potatoes and cauliflower inflorescences to the onion and fry for 5 minutes. Fill the vegetables with water or vegetable broth and cook for 20 minutes until tender, salt and pepper to taste. Add cream and use a blender to puree until smooth consistency.
Cut halloumi cheese into cubes and fry in olive oil until crisp.
Decorate the soup with fried cheese, lettuce leaves, hazelnuts, and micro greenery. Served with baguette or crispy croutons. Enjoy your meal!
Bruschetta with shrimp and arugula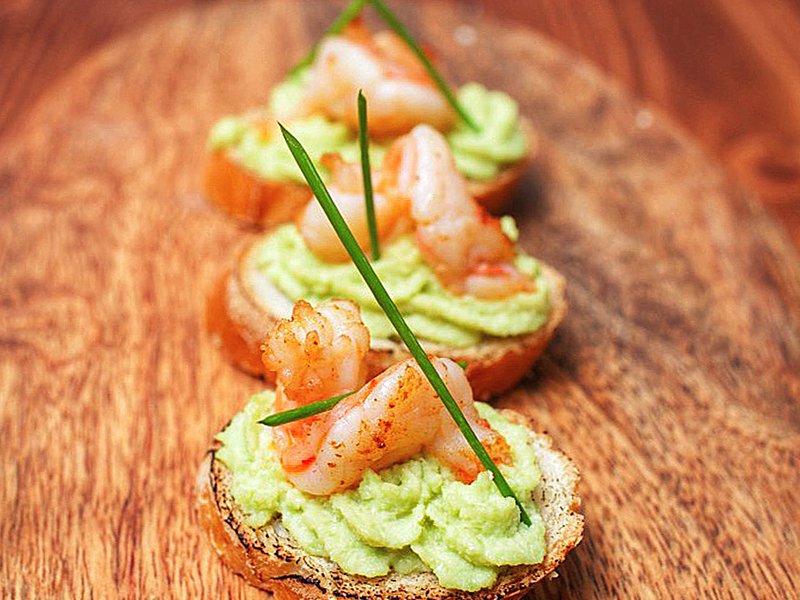 Ingredients for 2 servings:
Arugula 2 tablespoons
Delicious bread 2 slices
Shrimp 10 pcs.
Cottage cheese 4 tablespoons
Avocado 1 pc.
Salt, and pepper to taste
Olive oil to taste
Garlic 1 clove
Juice of 1/2 lime
Rosemary 2 sprigs for decoration
Instructions:
Cooking time 20 minutes
Peel the shrimp and fry them in olive oil for 5-7 minutes. Then add a sprig of rosemary and a clove of garlic to the shrimp for flavor, and fry for another 3-5 minutes.
Curd cheese is mixed with grated garlic, salt, and pepper. Dry the bread in the toaster until crisp. Peel the avocado and cut it into quarters.
Spread cottage cheese on bread, then spread arugula, shrimp, and avocado on top. Sprinkle with olive oil and lime juice.
Carrot and apple smoothie
A great idea for a snack is a healthy and fragrant carrot-apple smoothie with the addition of cinnamon. Due to the fact that there is milk in the composition, the smoothie turns out to be a pleasant cream color. Delicious, simple, and nutritious!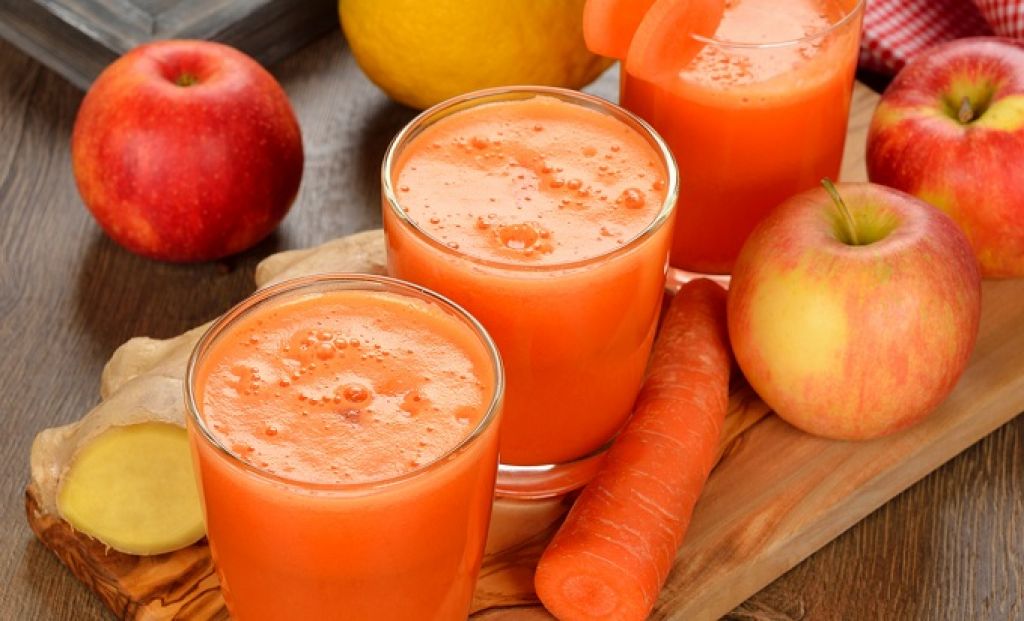 Ingredients for 2 servings:
Apple 2 pcs
Carrot 5.29oz
Milk 1 cup
Sugar to taste
Ground cinnamon 1/2 teaspoon
Instructions:
Cooking time 10 minutes
We prepare products according to the list.
Peel the carrots and grate them on a fine grater – so more juice will stand out. Smoothies will have a smoother consistency. We put the grated carrots in the blender bowl.
Peel the apple, and remove the seeds. Cut the apple into cubes and add to the carrots.
We also pour sugar and cinnamon in there (focus on your taste). Pour in the milk. We interrupt all the ingredients with a blender until as homogeneous as possible.
You can also combine the ingredients in a high bowl and beat with an immersion blender.
The carrot and apple smoothie is ready. We pour it into glasses, decorate it according to your taste (grated carrots, cinnamon, mint, etc.), and serve it on the table. Enjoy your meal!
Snack
. The balanced weekly menu for people with a high mental workload at work.
Healthy chocolate chip bars
These sugar-free bars are just perfect! Try.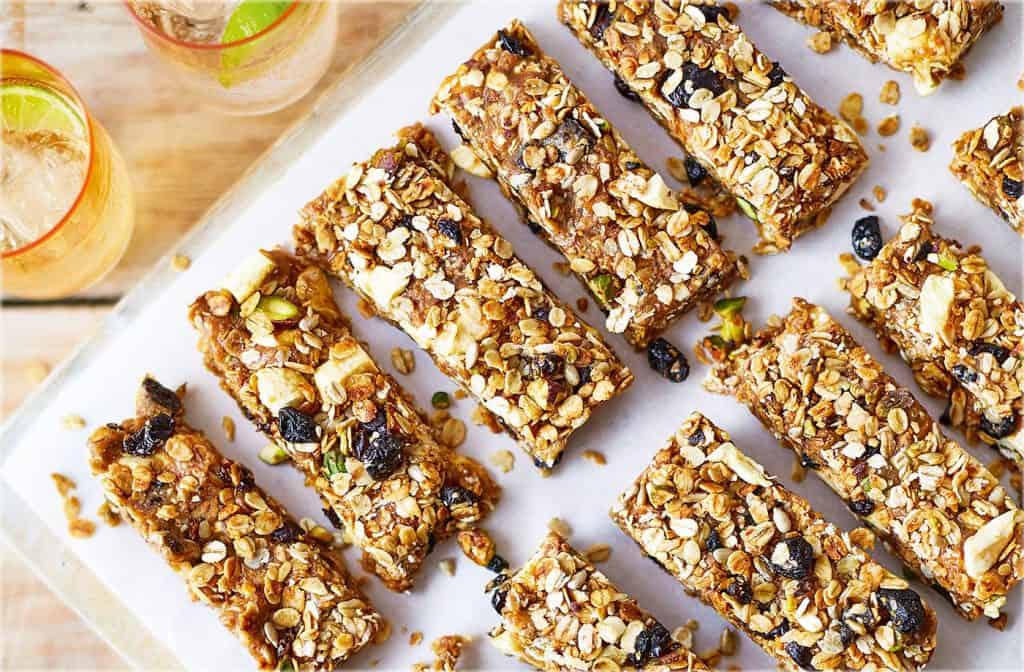 Ingredients:
Oat flakes 2 cups
Coconut milk 4 tablespoons
Coconut oil 2 tablespoons
Nut paste 1/2 cup
Sweetener to taste
Zucchini, grated and pressed 1 pc
Eggs 2 pieces
Salt to taste
Chocolate chips 3.53oz
Instructions:
Cooking time 50 minutes
Preheat the oven to 356F. Set aside about half of the grated zucchini to add later. Mix everything else in a blender until you get a homogeneous dough.
Add the chocolate chips and the rest of the zucchini. Pour the dough into a square baking dish. Bake for 40 minutes, until tender. Allow cooling completely. Cut into bars. Store in the refrigerator.
Dinner
Crispy breaded chicken breasts
Chicken fillet is a light product, which is prepared quickly. On Monday, we'll cheer up with chops in crispy breading. Garnish with juicy lettuce leaves, and tender red cabbage, and put on a plate with chicken breast.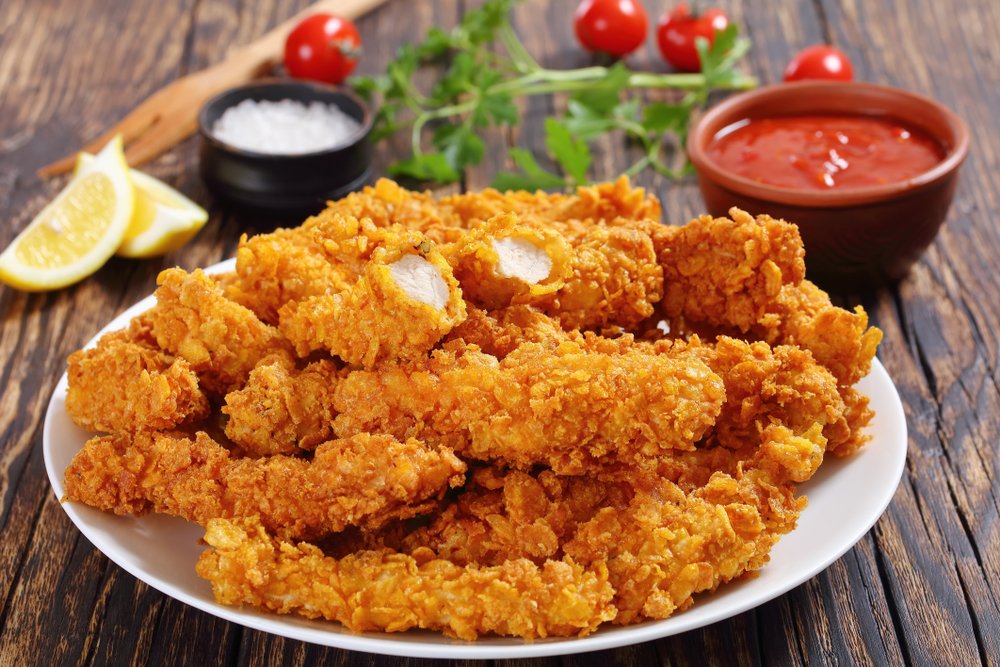 Ingredients for 4 servings:
Chicken breast 4 pcs.
Chicken eggs 2 pcs.
Flour 2.47oz
Milk 3 tablespoons
Butter 2 tablespoons
Vegetable oil 3 tablespoons
Nuts 3.53oz
Breadcrumbs 3.53oz
Grated hard cheese 3 tablespoons
Cherry tomatoes 12 pcs
Salt, black pepper, and dried rosemary to taste
Instructions:
Cooking time 40 minutes
Chicken breasts are wrapped in cling film, lightly beaten off, and rubbed with salt and pepper. Grind the nuts into crumbs, and mix with ground breadcrumbs, grated cheese, and spices. Separately, beat eggs with milk with a whisk.
Chicken fillet is rolled in flour, dipped in egg-milk mixture, and rolled in nut breadcrumbs. Press the fillets tightly with your fingers so that the breading is properly "imprinted". Heat the frying pan with vegetables and butter, and fry each fillet on both sides until golden brown.
Try not to overdo it on the fire, otherwise, the cheese will burn. We spread the crispy chops on plates and complement them with a lush salad mix. Cherry tomatoes can be added as desired.
Berry tea with orange
The most popular drink, and on its basis you can prepare a lot of options. Have you tried, for example, adding fruit to tea? Try it — it's very tasty!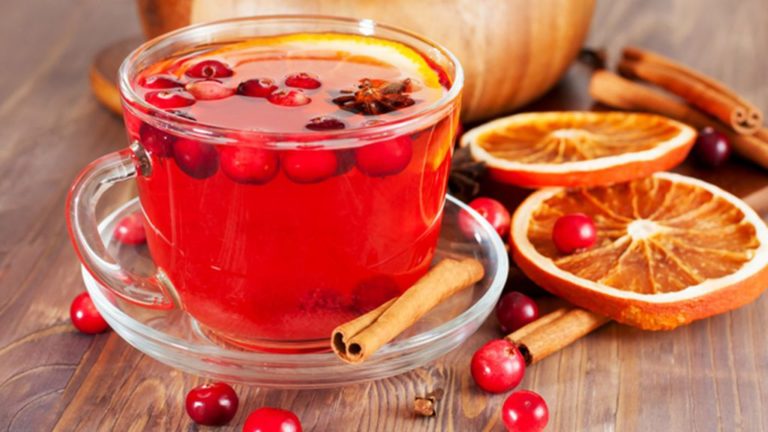 Ingredients for 2 servings:
Water 2 cups
Large-leaf black tea 2 teaspoons
Orange 1 pc.
Frozen berries 3.53oz
Honey 1 tablespoon
Instructions:
Cooking time 15 minutes
Pour boiling water over the teapot or French press. Remove the zest from the orange and cut several slices into cubes. Put everything in the kettle. Pour in the berries. Pour in a good leaf tea.
Pour boiling water. Cover with a lid and leave to infuse for 5-7 minutes. Strain or lower the piston of the press. Add honey or sugar to taste. Stir, and vitamin tea can be drunk. Serve with a slice of orange. Enjoy your meal!
(1) – Foods linked to better brainpower. https://www.health.harvard.edu/healthbeat/foods-linked-to-better-brainpower
© 2023 Elena Petrova, Mikhail Borisov