Chocolate Semifredo with sponge cake. Semifredo is a wonderful refreshing dessert that can decorate your summer holidays. A kind of ice cream cake that resembles a delicate chilled mousse. Thanks to various fillers, you can get a huge variety of flavors, and it looks bright and spectacular in summer. Chocolate semifredo with sponge cake.
Ingredients:
Designed for 10 servings
Cooking time 30 minute
Cream 35%  16.91 fl oz (500 ml)
Eggs 5 PCs
Sugar 1 Cup
Cocoa 5 tablespoons
Cake:
Cooking time 40 minute
Eggs 5 PCs
Sugar 1 Cup
Flour 1 Cup
Olive oil 2 tablespoons
Baking powder 1 bag
1/2 teaspoon vanilla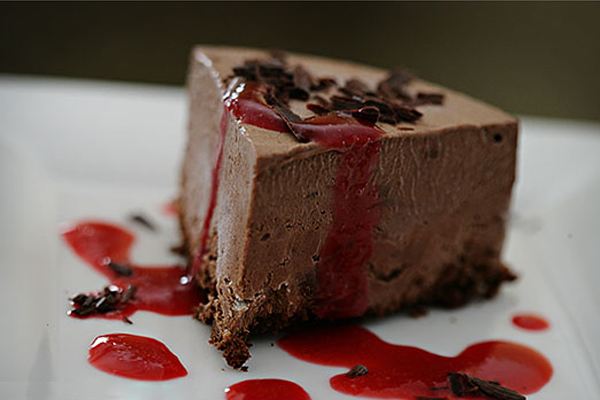 Instruction:
. Chocolate semifredo with sponge cake.
Preparing the cake. Beat the yolks for 5 minutes. Whisk the whites as on meringue, to a thick foam. Without stopping whipping the yolks, add the sugar. Add the baking powder and vanilla sugar. Then add the flour. Follow this sequence. Knead well. And carefully enter the beaten egg whites. Knead it carefully and carefully, so as not to precipitate the proteins, 10 minutes. Then the dough will be lush and rise well.
Brush the baking dish with olive oil, pour out the dough and immediately put it in a 356F-degree oven to bake for 20-25 minutes. Ready-made sponge cake completely cool. Sponge cake will suit any, choose your favorite recipe and bake, or you can buy ready-made.
Combine the sugar and eggs, mix and put in a water bath. Beat the mass for 6-8 minutes, without removing from the water bath. The mass should lighten and increase in volume. Remove from the heat and allow to cool slightly. Beat the cream to steady peaks. Add the cocoa and stir. Combine the cream and egg masses and gently mix.
If the form is not silicone, then cover it with food wrap, silicone lining is not necessary. Put half of the mass in the mold and put it in the freezer for half an hour.
Then, on the frozen mass, lay out a biscuit in any form and pour the remaining mass. Cover with cling film and put in the freezer for a few hours, or overnight.
Before serving, remove the food wrap, place on a platter (just turning the form over) and garnish with nuts or grated chocolate.
Bon Appetit!
If you like articles subscribe to our newsletter and you will learn more. https://elenasunshinemagazine.substack.com/