Spinach – fresh leaves with a barely noticeable bitterness. It's hard to guess that this is one of the healthiest foods on earth. Spinach must be added to the diet in order to eat in a balanced way and get the necessary substances, vitamins, and trace elements. Delicious and unforgettable recipes with spinach.
Spinach performs well in fresh form, but even during heat treatment, it does not lose its useful properties and even enhances them. The nutrients from stewed spinach are better absorbed. The main thing is not to boil spinach but to steam or stew it. In addition, spinach contains a lot of vitamin B6, which is absorbed better when heated and enhances its beneficial properties.
There are a lot of options for using spinach in cooking.
Use it fresh, so spinach retains the maximum amount of nutrients, and add it to snacks and salads.
You can cook spinach, lightly boiled in butter (literally 30 seconds). You can also add a little heavy cream, this will give the dish a very delicate taste. This spinach is a great addition to any unsweetened breakfast with eggs, you can use it as a side dish, for example, to a salmon fillet. By the way, another way to use spinach is an addition to a morning smoothie.
#1.Spinach dumplings
. Delicious and unforgettable recipes with spinach.
Vegan dumplings with spinach are a great alternative to a traditional dish. This recipe perfectly diversifies your diet. Spices will enrich this dish with flavor and give it piquancy.
Ingredients for 4 servings:
Buns (with vegan composition) 4 pcs.
Soy milk 1 cup
Onion 1 pc.
Garlic 2 cloves
Salt and pepper to taste
Spinach leaves 31.75oz
Ground nutmeg pinch
Flour 10.58oz
Oat flakes 1 tablespoon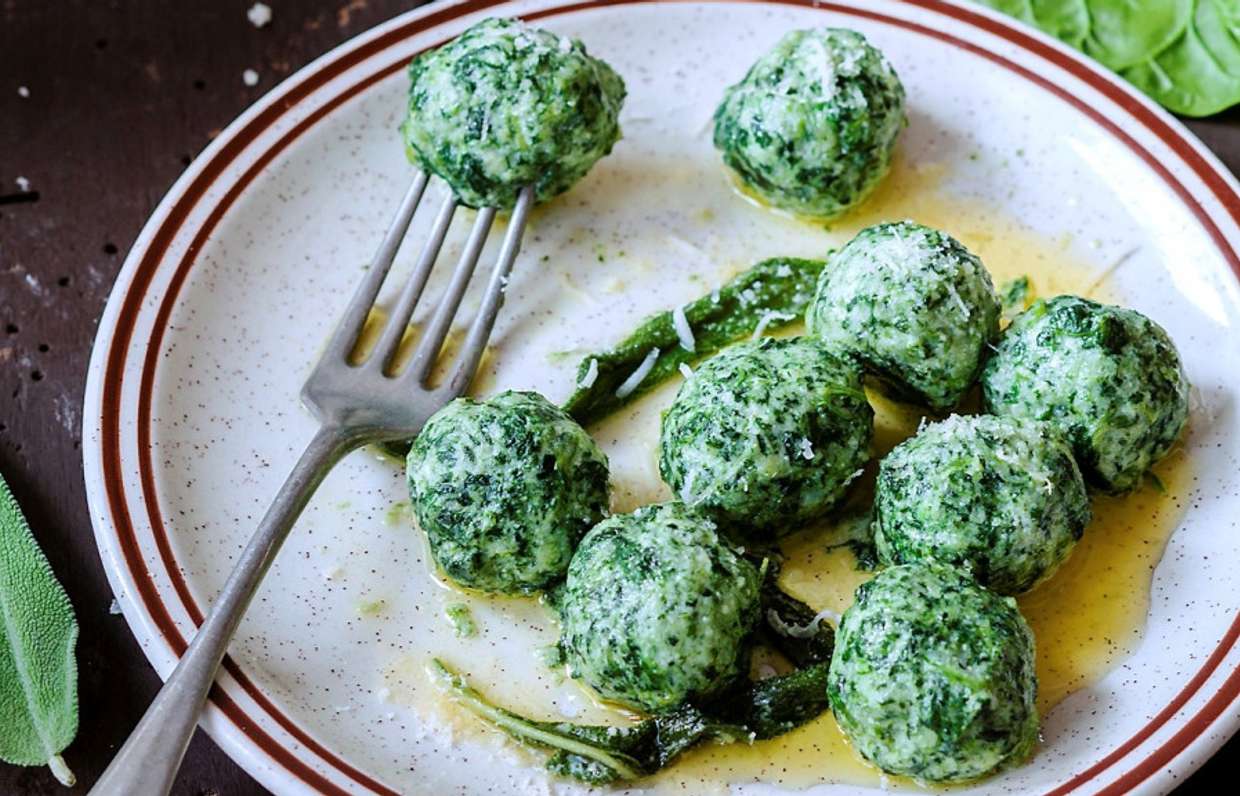 Instruction:
Cooking time 35 minutes
Pour boiling water over the fresh spinach for a few minutes. Then put it in a colander and rinse it with cold water. Let the water drain and squeeze the spinach with your hands.
Chop the onion very finely and fry in a frying pan. Let it cool down.
Soak the buns in warm water, and then squeeze. Mash them and mix them with spinach, flour, oatmeal, onion, and soy milk. Add chopped garlic and salt. Season with salt, pepper, and nutmeg, and leave to stand at room temperature for half an hour.
With wet hands, form dumplings from the mass. Place in boiling salted water and boil for about 20 minutes. Then drain the water. Done.
#2. Champignons with rice and spinach
A delicious, quick, and healthy breakfast or dinner is possible! We share a simple recipe for champignons with rice and spinach. You can use basmati rice, ruby, brown, or wild rice, and take any other mushrooms instead of champignons!
Ingredients:
Rice 1 cup
Champignons 7.0oz
Spinach 5.29oz
Turmeric 1 teaspoon
Cumin 1 teaspoon
Garlic 2 cloves
Medium onion 1 piece
Olive oil 1 tablespoon
Soy sauce 1 tablespoon
Salt, pepper, and chili to taste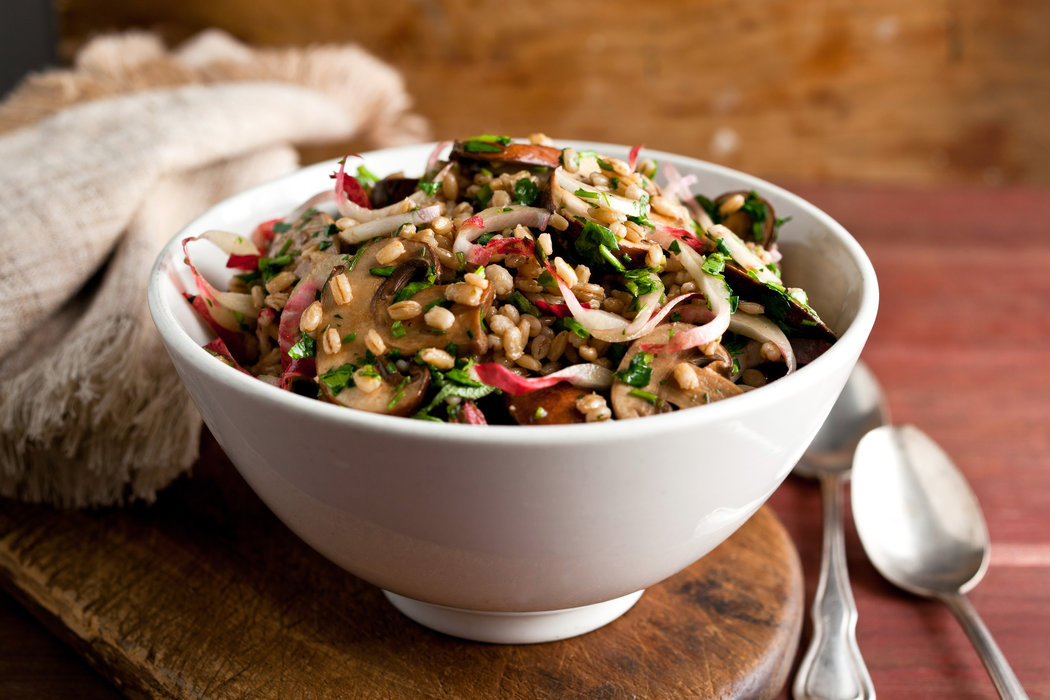 Instruction:
Cooking time 20 minutes
Boil the rice in two cups of salted water or vegetable broth, adding turmeric.
Heat the oil in a frying pan. Add the cumin and chopped onion. Fry for 2-3 minutes on medium heat. Add chopped garlic, chili, and champignons. Fry for 5 minutes, add soy sauce, and cook for another 3-4 minutes. In the end, add spinach, and rice and fry for another 2 minutes. Pepper and mix. Serve with a slice of lemon!
#3. Pancakes with spinach, cheese, and pine nuts

. Delicious and unforgettable recipes with spinach.
Ingredients for 4 servings:
Spinach leaves 8.82oz
Ricotta cheese 7.0oz
Sliced feta cheese 3.53oz
Roasted pine nuts 2 tablespoons
Olive oil 1 tablespoon
Sliced onion 1 piece
Garlic 2 cloves
Thyme 1 teaspoon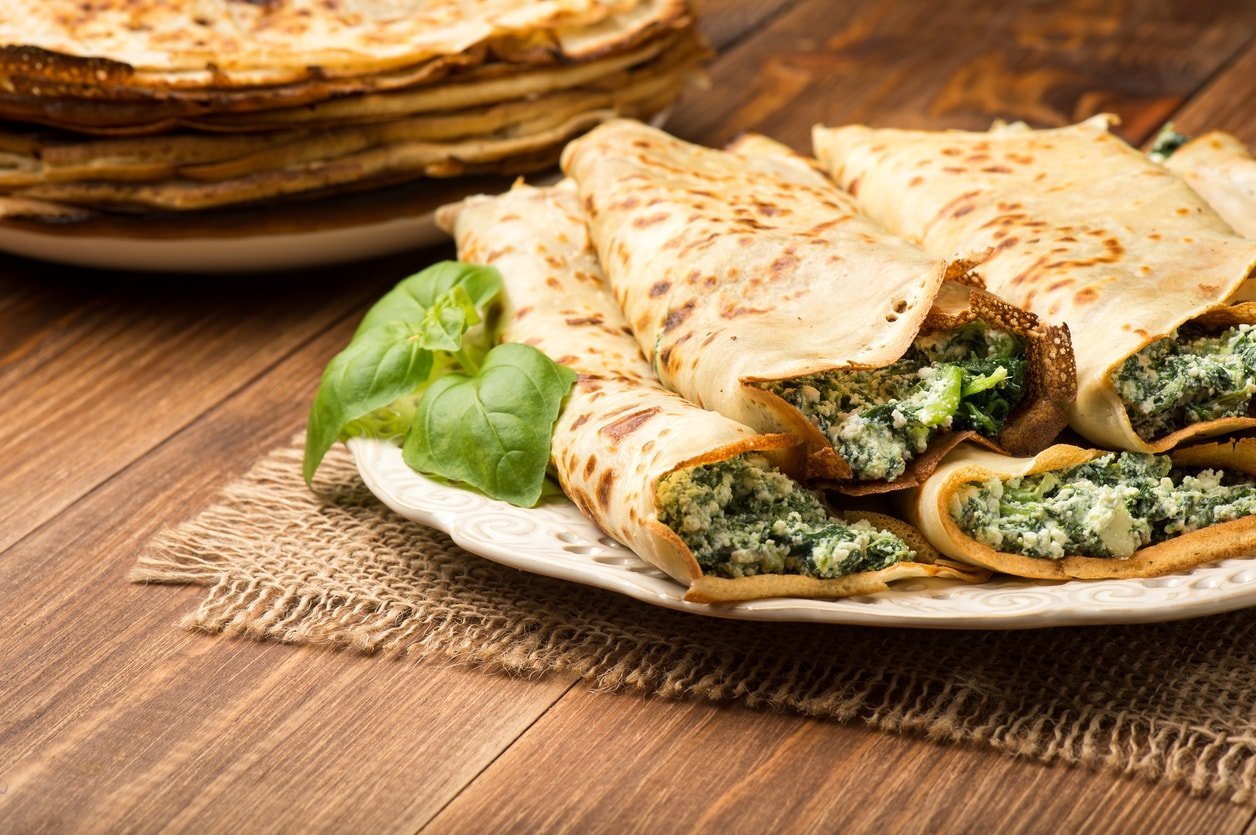 Instruction:
Cooking time 15 minutes
It is necessary to prepare unsweetened pancakes for this recipe. Put the spinach leaves in a colander, and pour boiling water over them. Leave the leaves to cool down a little, and squeeze out excess water. Transfer the leaves to a bowl, and mix with ricotta cheese, feta, and pine nuts.
Heat the oil in a saucepan over low heat, add onion, garlic, and thyme leaves. Cook for 5-10 minutes until the vegetables are soft. Add spinach and ricotta mixture. Season to taste. Remove from the heat. Spread the mass over 4 pancakes, and carefully wrap them.
#4.White bean puree with spinach
Eating beans in the form of mashed potatoes is quite unusual for us. Try it once, you will definitely like it! Spinach, lemon, and garlic will make the dish perfect.
Ingredients for 2 servings:
Olive oil 3 tablespoons
Chopped spinach 2 tablespoons
Crushed garlic 1 teaspoon
Lemon cut in half and peeled (keep the peel) 1 pc
Boiled white beans (or canned) 2 cups
Salt to taste
Freshly ground black pepper to taste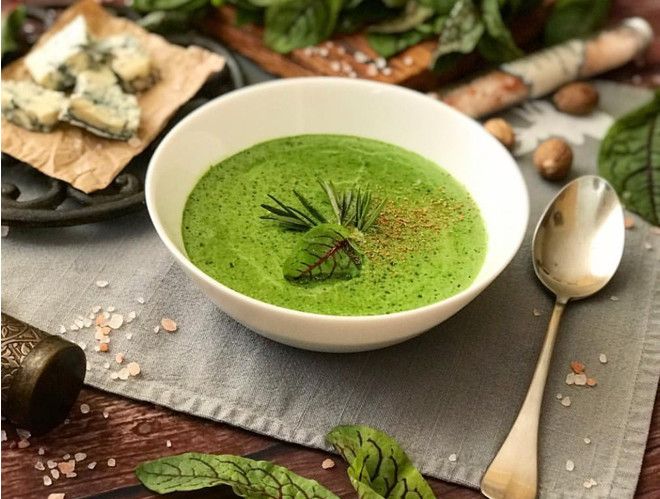 Instruction:
Cooking time 25 minutes
Add olive oil to the bottom of the pan, and put on medium heat. Add spinach, garlic, and lemon zest. Cook, stirring occasionally, for about 1-2 minutes.
Add the beans, salt, and freshly ground black pepper. Using a fork, crush the beans to the consistency of mashed potatoes.
Distribute the dish on serving plates. Squeeze lemon juice into each of the plates, season with olive oil, and add salt and pepper if necessary.
5. Spinach fettuccine with arugula and tomatoes
Delicious and unforgettable recipes with spinach.
A very tasty and satisfying dish of Italian cuisine.
Ingredients 6 servings:
Spinach fettuccine 15.87oz
Olive oil and a little Extra Virgin olive oil 5 tablespoons
Garlic, finely chopped 3 cloves
Chili pepper to taste
Ripe arugula leaves stem removed, leaves coarsely chopped 6 cups
Peel tomatoes from seeds and cut them into cubes of 4 pieces
Finely chop the parsley 3 tablespoons
Parmesan cheese 3 tablespoons
Salt to taste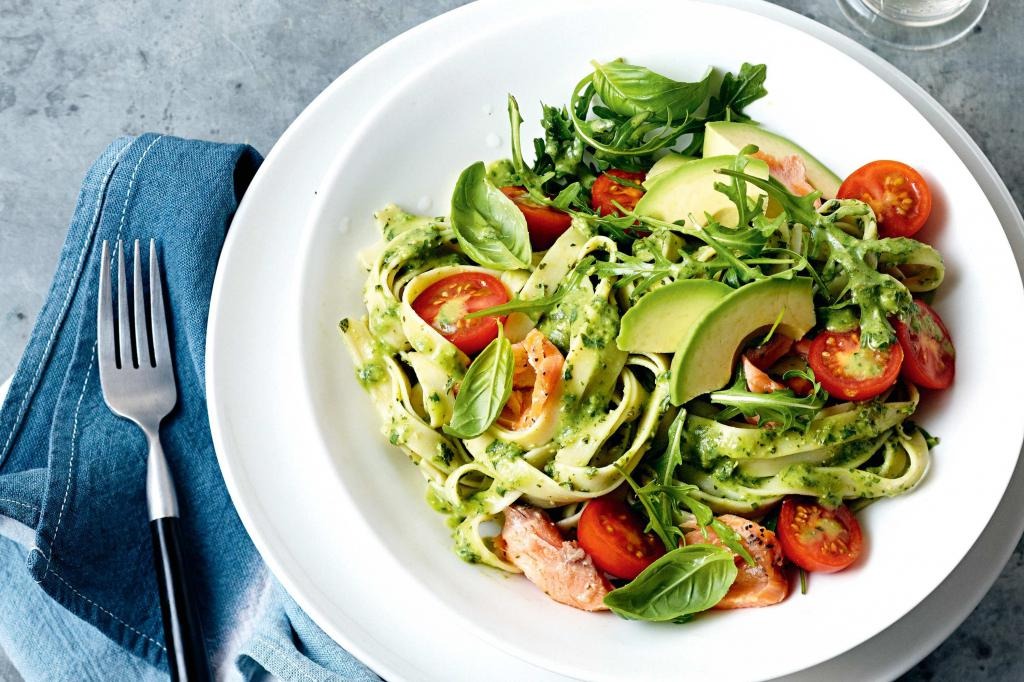 Instruction:
Cooking time 20 minutes
Cook the pasta in salted boiling water. Heat the oil in a wide frying pan and fry the garlic and chili over medium heat until golden brown. Then fry the arugula, add salt, add tomatoes and parsley, and remove the pan from the stove. Add fettuccine, pour extra virgin olive oil, sprinkle with grated cheese, mix everything, and serve.
Ripe arugula leaves are large and taste sharp. It is better not to use them in salads, but they are ideal for pasta dishes. Bon Appetit!