Alternative steaks have a bright, rich taste, so they can be served with a variety of sauces. Today we have prepared a recipe and will tell you how to cook a spicy grilled steak with chili sauce. Denver steak is perfect for this dish. This steak is cut from the inside of a bull's shoulder blade. Meat, although it has a certain hardness, is easy to cook on the grill juicy and tender, even without pre-marinating.
How to cook grilled steak with chili sauce. Grilled Denver steak with chili sauce.
For this recipe, you will need simple and affordable ingredients. The Denver steak itself is also among the budget steaks. Adding a few vegetables and spices, you will get a completely new sauce that you can use to decorate the grilled steak.
Hot chili sauce is a versatile sauce that perfectly complements the taste of beef steak, juicy burger or mexican fajitas.
Ingredients
Designed for four servings
Denver steak ingredients 4 PCs
Red onion 1 piece
1 large tomato
Freshly cut thyme leaves 1 tablespoon
Chili sauce 1 teaspoon
Rapeseed or olive oil 2 tablespoons
White sugar 1 teaspoon
Salt to taste
Ground black pepper to taste
Instructions
. Grilled Denver steak with chili sauce.
Cooking time 30 minutes
Heat the Denver steaks to room temperature. Rub them with salt, pepper, and olive oil and place them on a well-heated grill. Fry for 3-4 minutes on each side for medium rare roasting.
Transfer the meat to a plate, cover with foil and leave for 10 minutes. Prepare the sauce. To do this, fry the chopped onion in a frying pan in olive oil. Cook it for 3-4 minutes, until soft. Add the peeled and chopped tomatoes. Also add sugar, thyme and chili sauce. Cook for another 3 minutes and turn off the heat.
Serve the steaks with boiled potatoes and hot chili sauce. You can also add grilled vegetables to the dish. Especially well will be combined with meat and sauce sweet peppers, baked on the grill.
Recommendations
As you probably guessed, the main ingredient will be chili pepper. This is quite a sharp spice, but this sharpness can be adjusted. For example, if you remove the seeds from the pepper, it will not be so sharp. And if you chop it whole – the sharpness will be off the scale! The recipe for hot sauce involves the use of salt. We recommend that you do not skimp on this ingredient and buy himalayan salt or sea salt.
The crystals should be large enough. Do not worry, they will be crushed in the process of grinding, but they will be felt. To slightly balance the taste of the sauce, add sugar, wine vinegar or lemon juice if desired. Ready-made sauce can be stored in jars, but not for long, as it loses its taste. Spicy chili sauce is ideal for steaks from marbled beef – this can be a Tomahawk steak, t-bone, porterhouse or alternative steaks.
How to cook a Denver steak on the grill
. Grilled Denver steak with chili sauce.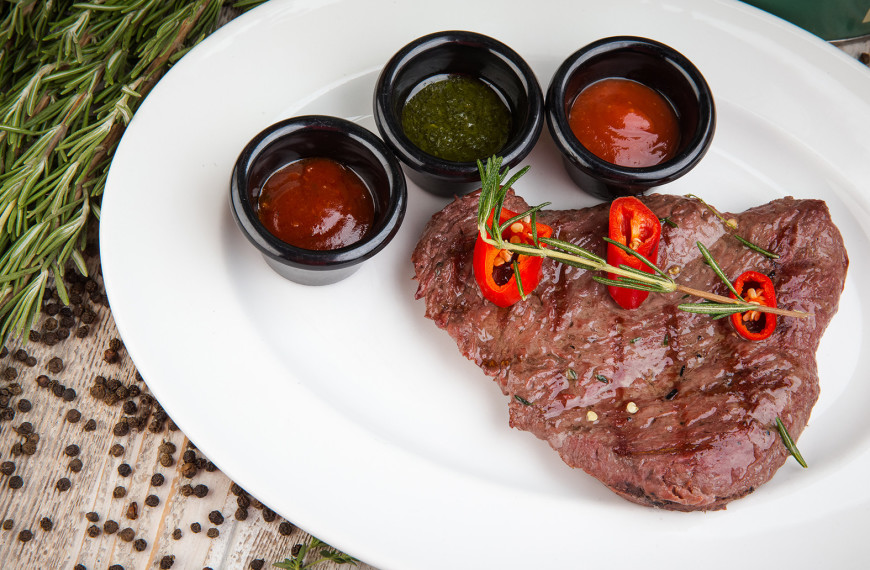 Denver steak is an alternative cut with a bright flavor, try to cook it on the grill — and you will get an amazing, rich beef flavor dish. First of all, it should be marinated. Since we do not recommend beating the meat in this recipe, it should be marinated much longer. Mix the finely chopped onion, chili rings, garlic powder, smoked paprika, salt, ground pepper and brown sugar. Add a little balsamic vinegar, olive oil and tomato juice.
Marinate the Denver steak for at least 6 hours in the refrigerator, then let it heat up to room temperature. At this time, you can prepare the grill and do the sauce. Grill the whole bell peppers until they are burnt, then place them in a bag and leave for a few minutes. Remove the skin from the peppers, add the chopped onion, some chili flakes, tomato paste, worcestershire sauce, salt, pepper, olive oil and mix thoroughly. Leave the sauce for 20 minutes to combine the flavors. Cook the Denver steak for 1-2 minutes on each side in the direct heat zone, then move to the indirect zone and bring to the desired degree of roasting. The temperature inside the meat at Medium should rise to 136.4F degrees . After that, give the steak time to rest and serve with a spicy pepper sauce. Bon Appetit!