Sandwich with meatballs and pesto sauce. A hearty and delicious sandwich with juicy beef, several types of cheese, pepper and pesto sauce. Diversify your working snack! Sandwich with meatballs and Pesto sauce.
Ingredients:
Cooking time 50 minutes
Calculated 4 servings
Minced Beef 35.27 oz
Arugula 1 bunch
Provolone cheese 8.82 oz
Baguette 1 piece
Red pepper 1 teaspoon
Garlic 1 clove
Fresh chopped parsley 2 tablespoons
Eggs 4 PCs
Breadcrumbs 1 tablespoon
Parmesan cheese 2 tablespoons
Ricotta cheese 4.41 oz
Pesto sauce 4 tablespoons
Instruction:
. Sandwich with meatballs and Pesto sauce.
In a large bowl, mix the following ingredients: be sure to ground beef, parmesan, ricotta cheese, four eggs, breadcrumbs, red pepper, chopped fresh parsley, garlic, and add two tablespoons of salt. All this mixture is thoroughly mixed until a homogeneous and uniform color mass is formed.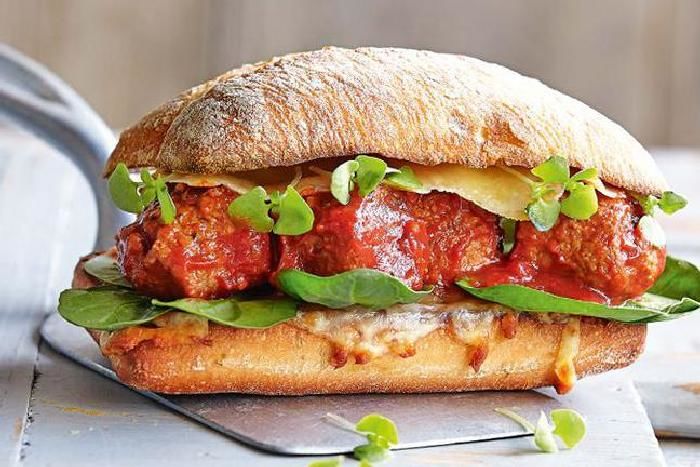 Then proceed to the meatballs. It is best to focus on the well-known small ping-pong ball – this is the size and shape of meat meatballs. This form is more convenient for the formation of this sandwich.
Put the formed balls of meatballs on a baking sheet, pre-greased with oil. Then heat the grill to the maximum temperature. Put on the grill grid balls of meatballs fry for about ten to fifteen minutes. Carefully monitor the meatballs: they should be very ruddy on the outside, but juicy on the inside.
Cut the baguette crosswise into 4 parts. The resulting pieces of baguette are also lightly grilled, then put slices of provolone on the bread. Put three meatballs on each piece of baguette and pour the pesto sauce over it. This dish will be a great lunch snack and will demonstrate the true taste of beef.
The edible parts of parsley-greens and white root-they contain vitamins C, A, B1, B2 and iron. Parsley is used for cooking soups, it is added to meat, fish, salads. Bon Appetit!
Like what you're reading? You can sign up for Medium using my affiliate link. Just $5 a month to read an unlimited number of articles and help me create further. Together we will move mountains!