Microgrins are a new class of specialty crops that can be considered as young and tender edible seedlings derived from the seeds of vegetables, herbs, or cereals, including wild species. Depending on the type and growing conditions, microgreens are usually harvested 7-21 days after germination, when the cotyledon leaves have fully developed and the first true leaves have appeared.[1] 3 healthy recipes with microgreenery.
As a microgreen today, a number of familiar vegetable crops are grown – broccoli, basil, arugula, peas, coriander, coriander. Remember also that each type of micro-green is valuable for its own set of healthy substances. So, miniature watercress is very useful for vision, basil improves digestion, broccoli and wheat help to remove toxins from the body, buckwheat sprouts strengthen capillaries and help blood formation, oats are healthy for the immune system and the nervous system, alfalfa and sunflower contain a record amount of vegetable protein, radish microgreens improve the condition of the skin and hair.
Microgreens can be used to enhance salads or as edible side dishes to decorate a wide range of other dishes. Moreover, Renna et al. [2] developed a new culinary concept, which is to consider self-produced microgreens as the main ingredients for the preparation of sweet and savory dishes that have interesting quality features.
At the same time, it has been reported that microgreens can provide higher amounts of phytonutrients (ascorbic acid, β-carotene, α-tocopherol, and phylloquinone) and minerals (Ca, Mg, Fe, Mn, Zn, Se, and Mo) compared to their mature leafy counterparts. [1] Thanks to their distinctive features, microgreens are a rich source of food for particularly demanding categories of consumers, such as vegetarians and vegans, who can diversify and enrich their diets using the wide variety of available microgreens.
In cooking, the use of microgreens is almost limitless – it is added to any sandwiches, salads, soups, green smoothies, smoothies, other drinks and dishes as a filling or even as a decoration. Such an additive is not only useful, it can give the usual dish a special piquancy and unique taste.
Before you plentifully add microgreens to your diet-try it, as many miniature plants differ in taste from their adult "counterparts".
For example, broccoli has a sharp bitter taste, watercress resembles mustard, and sunflower sprouts really have a hint of the taste of seeds.
Pizza With Pesto, Mozzarella, And Arugula Microgreens

. 3 healthy recipes with microgreenery.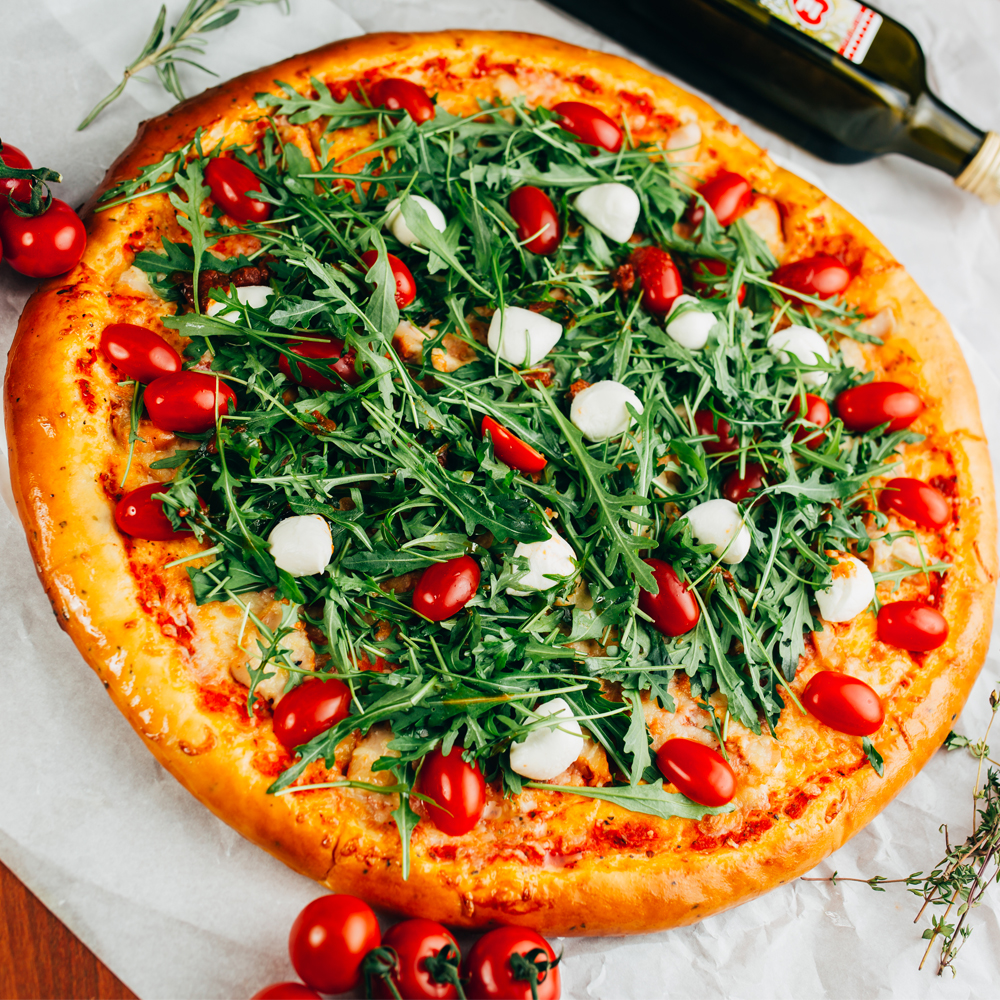 Ingredients for 6 servings
Wheat flour 3 cups
Granulated sugar 1 teaspoon
Dry, fast-acting yeast 1 teaspoon
Salt 1 teaspoon
Extra virgin olive oil 2 tablespoons
Warm water 1 cup
For pesto sauce:
Fresh basil leaves 3 cups
Pine nuts 1/3 cup
Parmesan cheese (minced) 1/4 cup
Romano cheese (crushed) 1/4 cup
Extra virgin olive oil 1/3 cup
Salt and ground black pepper to taste
For the filling:
Tomatoes (cut into slices) 2 pcs.
Mozzarella cheese (crushed) 1 cup
Microgreens 3.53oz
Instruction
Prepare the pesto sauce. In the bowl of a food processor or blender, add the basil leaves, pine nuts, and cheese and pulse until smooth. With the processor running, gradually pour the olive oil through the open hole. Season the sauce with salt and pepper to taste. Put the sauce in the refrigerator.
Prepare the pizza dough. In a large bowl, sift the flour. In the bowl of a food processor or in a large bowl, combine 2 cups of the flour mixture, sugar, yeast, and salt. Set aside. In another small bowl, mix the butter and warm water. Gradually pour this mixture into the flour mixture, mix thoroughly, and stir in another 1 cup of flour.
Knead the dough (at a slow speed, if combined) for about 4-5 minutes, or about 10 minutes by hand, until smooth, and elastic. Form the dough into a ball.
Put the dough ball in a lightly greased bowl, cover it with a paper towel or cling film, and put it in a warm place for 2-3 hours, the dough should increase in volume twice and the fermentation process should stop.
Turn on the oven to preheat to 392F degrees. Knead the pizza dough that comes up and divide it into 3 parts, form balls and roll each one into a circle (disk)
Put one pizza base on a special metal disc or on a baking sheet and grease 1/4 cup of pesto, leaving about 1 cm of the edge empty.
Put 6-8 slices of tomatoes on a greased pizza base and sprinkle with 1/2 cup of mozzarella.
Put the pizza in the oven and bake for about 10-15 minutes. Sprinkle with microgreens.  Do the same with the rest of the pizza basics.
Egg white omelet with goat cheese, micro-greens, tomato, and avocado
. 3 healthy recipes with microgreenery.
Treat yourself for breakfast with a delicious and healthy protein omelet with tomatoes and avocado, goat cheese, and micro-greens, which is prepared in 15 minutes!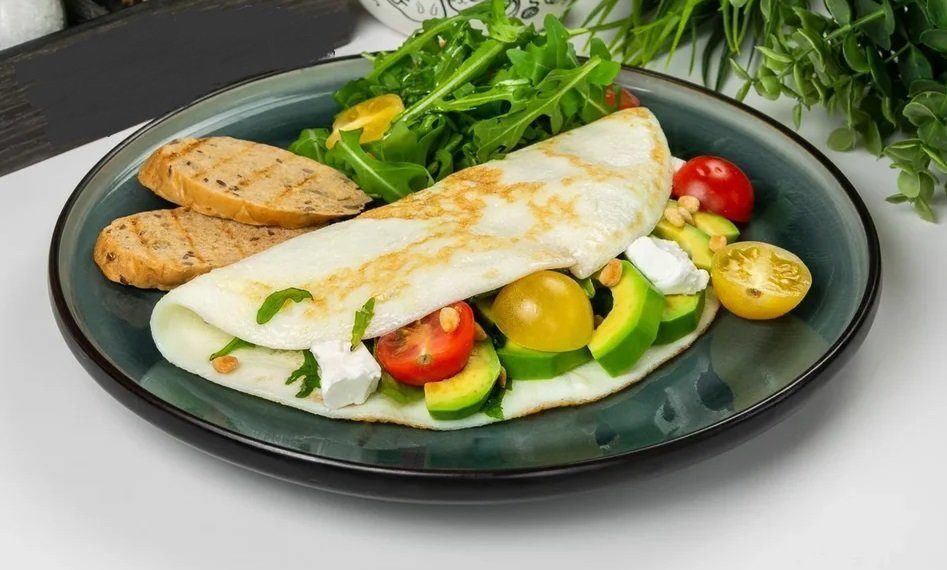 Ingredients
Avocado 1/2 pc.
Tomato 1/2 pc.
Protein 2 pcs.
Milk 1 tablespoon
Salt to taste
Olive oil for frying
Microgreens 1 tablespoon
Instruction
We prepare the products for the omelet.
Break two eggs, separate 2 whites in a deep dish, and salt. Shake with a whisk. Then add the milk and mix until smooth.
Cut the avocado lengthwise into slices. Chop the tomato into small pieces. In a frying pan, fry the tomato with the addition of olive oil. A little salt.
Next, pour in the egg mixture and place the avocado slices on top. We put a frying pan on the stove on a slow fire and cover it with a lid. The omelet is prepared for about 5-10 minutes. Spread the finished omelet on a plate, then crumble the goat cheese on top. Sprinkle with microgreens. This breakfast is not only very tasty but also healthy.
Salad with avocado, strawberries, and microgreens
Adding strawberries to the salad makes it very tender and fragrant, and adds sourness. It is also a healthy and dietary recipe. According to a simple dish with microgreen, you'll delight your family with an unusual taste.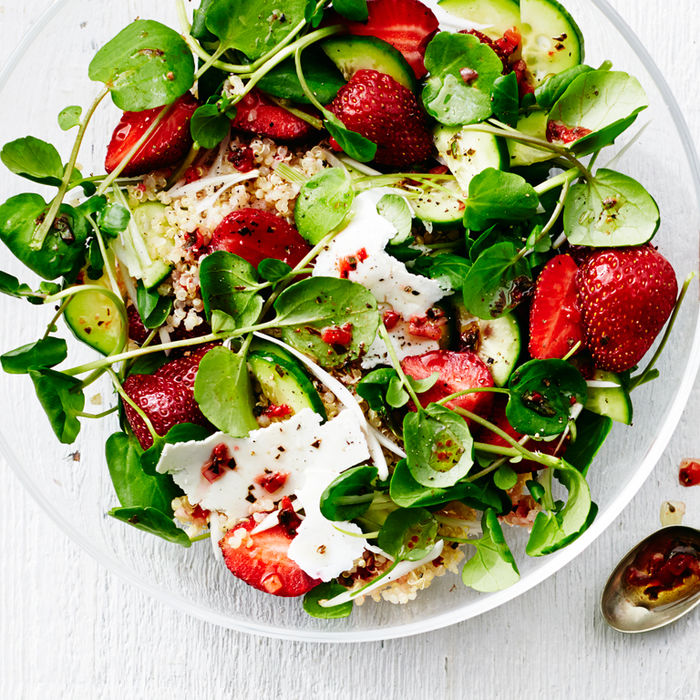 Ingredients:
Iceberg lettuce or leaf lettuce 1/2
avocado 1 piece;
fresh cucumber 1 piece;
strawberry 7.0 oz
microgreens (arugula, watercress) 2 tablespoons
pine nuts 1 tablespoon
chia or sesame seeds 1 tablespoon
lemon juice 1 tablespoon
Method of preparation:
Tear the lettuce leaves into medium-sized pieces and spread them out on the bottom of the salad bowl. Peel and cut the avocado into small cubes, put it in a salad bowl, and sprinkle with lemon juice.
Cut the cucumber into half rings or strips and place in a dish with the next layer. Then cut the strawberries cut into two or four pieces, depending on the size of the berry. Top the salad with pine nuts, chia seeds, sesame seeds, and microgreens.
1. Kyriacou, M.C.; Rouphael, Y.; Di Gioia, F.; Kyratzis, A.; Serio, F.; Renna, M.; De Pascale, S.; Santamaria, P.
Microgreens vegetable production and the rise of microgreens. Trends Food Sci. Technol. 2016, 57, 103–115.
2. Renna, M.; Di Gioia, F.; Leoni, B.; Mininni, C.; Santamaria, P. Culinary Assessment of Self-Produced Microgreens as Basic Ingredients in Sweet and Savory Dishes. J. Culin. Sci. Technol. 2017, 15, 126–142.