Beef and spinach rolls are perfect as an appetizer for a festive table or as a main dish for a family dinner. Sometimes you want to cook something more interesting than the usual steaks or cutlets. Try the new beef roll recipe. It can be used as a portion snack or as a main meat dish. Beef roll with spinach.
This recipe uses Flank steak. It is cut from the flank and has a very smooth texture of meat fibers. Thanks to this and its flat shape, Flank steak is easy to roll. Spinach is used for filling. It gives the finished dish juiciness and fresh taste. If you like spicy, you can safely add chili flakes. The rich flavor of Flank steak will not be lost even against the background of the spicy filling.
Ingredients:
. Beef roll with spinach.
Flank steak 1 PC
Sliced spinach 10.58 oz
Onion (cut into half rings) 2 PCs
Soy sauce 1 tablespoon
Sesame seeds 3 teaspoons
Fresh ginger (crushed) 2 teaspoons
Fried sesame oil 2 teaspoons
Garlic (minced) 2 cloves
Ground pepper 1 teaspoon
Grape seed oil 1 tablespoon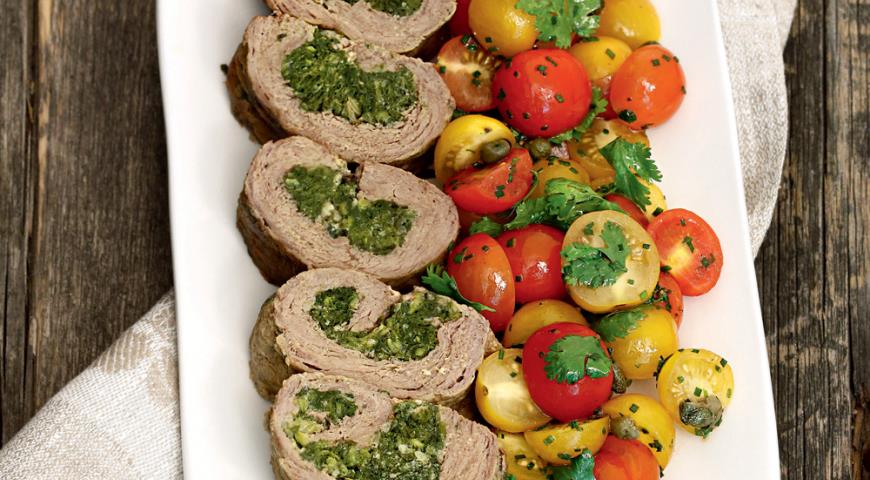 Instruction:
:. Beef roll with spinach.
Preheat the oven to 428F (220C) . Mix the spinach, green onions, soy sauce, 2 teaspoons of sesame, ginger, sesame oil and garlic.
Place the steak on a cutting Board and cover with cling film. Lightly beat off. Then remove the film and spread the spinach mixture over the meat. Roll the steak into a tight roll and tie it with a thread. Season the top with salt and pepper.
Heat the grape seed oil in a large cast-iron skillet over medium-high heat. Lay out the roll and cook, turning, until browned on all sides, just about 3 minutes. Transfer the pan to the oven and bake for about 15 minutes. The internal temperature should be  125.6F (52°C).
Transfer the steak to a cutting Board, cover with foil and leave for 5 minutes. Cut into 8 slices and serve, sprinkled with the remaining sesame seeds.
You can use frozen spinach. But after defrosting, you need to squeeze out excess moisture from it. Bon Appetit!