Burger cod with a sauce of peas and sea kale. Let's make a juicy and homemade burger with crispy cod. This is the most delicious burger. Cutlets turned out so juicy and tender just delicious! Burger cod with a sauce of peas and sea kale.
Cod is used for soups, second courses, salads, appetizers, and pie fillings. Cod carcass is a full-fledged dish that can be steamed or grilled, baked in the oven or on a barbecue. Cod harvesting is widely used for future use, namely drying, drying, salting and smoking fish.
For those who do not like the fishy smell, it is recommended to boil cod in a large amount of water, adding a lot of different spices to the broth, as well as celery and parsley roots, onions.
Almost any white sea fish can replace cod in all recipes. However, in terms of its nutritional properties, cod significantly wins over other relatives.
Ingredients
Calculated 1 serving
Cod fillet 1.41 oz (40 g)
Hamburger bun 1 piece
Lettuce leaves 1 piece
Seaweed 1.41 oz (40 g)
Canned corn 1 teaspoon
Marinated capers 1 teaspoon
Frozen green peas 3.53 oz (100 g)
Butter 1 teaspoon
Chicken broth 2 tablespoons
ENERGY VALUE PER SERVING
Calories 589 kcal
Protein 25.8 grams
Fat 13.3 grams
Carbohydrates 97 grams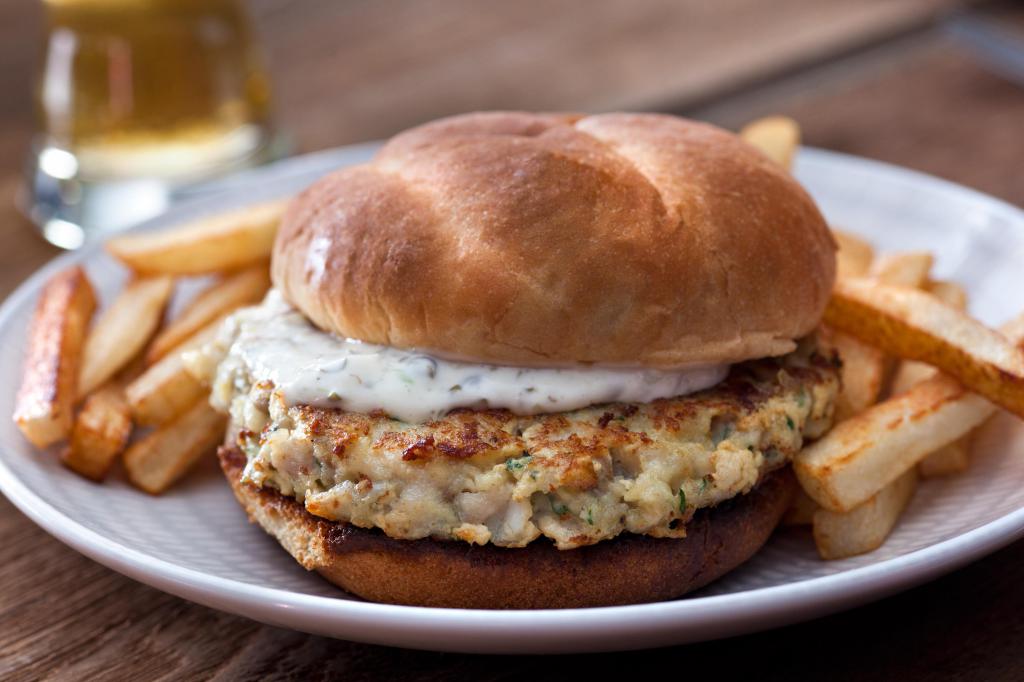 Instruction
. Burger cod with a sauce of peas and sea kale.
Cooking time 30 minutes
Fry a piece of cod in a pan on both sides until golden brown, preserving the texture of the meat.
Put the peas in the bottom of a saucepan with the butter, add a pinch of sugar and a pinch of salt, and stir until the peas thaw and become soft.
Brand peas with the gradual addition of chicken broth. Marinated seaweed should be branded separately.
Put a lettuce leaf on the bottom burger bun. It is served with seaweed sauce, corn and capers.
Put a piece of cod on top. And on it is a sauce made from branded green peas.
Cover with the top bun and pierce with a special skewer, so that the burger does not fall apart.
If the peas are not sweet enough, puree the top with light rice vinegar. Broth in peas is better to add a little bit, to exactly get the desired consistency. The pea sauce should not be too dry, but it should still be thick enough not to spread out from under the bun.
Cod burger with pea and seaweed sauce is a very original dish. Bon Appetit!