A delicious, healthy and balanced breakfast is the key to a great mood and a productive day. The main thing is to choose the right products for him and please yourself with interesting combinations. Various cereals in this sense will be a win-win solution. delicious and balanced recipes.
Breakfast #1
Bruschetta with pickled eggplant and cream cheese
Ingredients:
Designed for 2 servings
Bread 2 slices
Eggplant 3.53 oz
Cream cheese 3 tablespoons
Peeled walnuts 3 pcs.
Tomato 2 pcs.
Schnitt-onion 2 feathers
Vegetable oil for greasing eggplant 1 tablespoon
Chimichurri sauce 1 teaspoon
Marinade:
Teriyaki sauce 3.53 oz
Cilantro 2 tablespoons
Fresh chili pepper 1/2 pod
Lime juice 1 teaspoon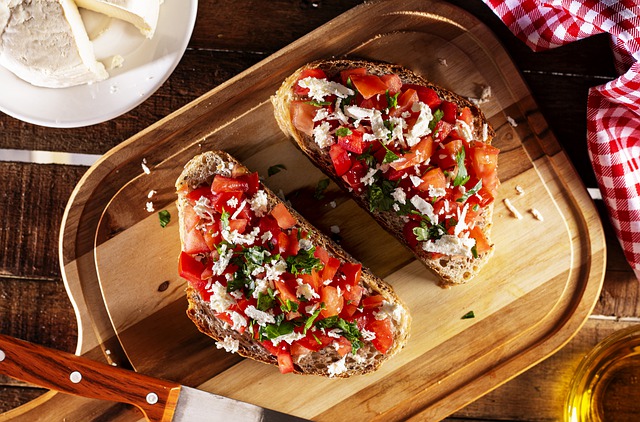 Instructions:
Cooking time 30 minutes
We pierce eggplants with a fork over the entire surface, rub with vegetable oil and put them to bake in a preheated oven until ready at a temperature of 392 F for about 20 minutes. After we take it out, let it cool down and peel it. Cut into large cubes.
Prepare the marinade: chop the chili and cilantro finely, add the teriyaki sauce and lime juice, mix. Mix the chopped eggplant with the marinade, cover with a lid and put it in the refrigerator for 2 hours.
Cut the tomato into cubes and mix with the chimichurri sauce. Bread on one side is fried on the grill or in a dry frying pan. Let it cool down a little. We put cheese on the fried side, spread the eggplant. Put tomatoes with chimichurri on top, sprinkle with crushed nuts and chopped chives.
Sprouted lentils with porcini mushrooms. delicious and balanced recipes.
Lentils are perfectly combined with mushrooms, it turns out a full-fledged protein dish. Mushrooms can be taken fresh.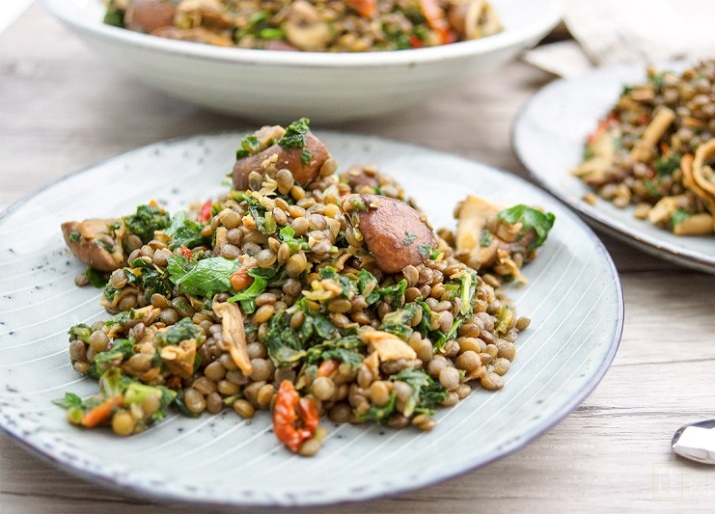 Using sprouted seeds for food, we get the maximum amount of natural vitamins and antioxidants necessary for our body, which protect us from diseases and prolong our life.
Germinating seeds are a product that can be obtained in 2-3 days at home, regardless of the climate and time of year, which does not require special processing and preparation, and most importantly – absolutely natural.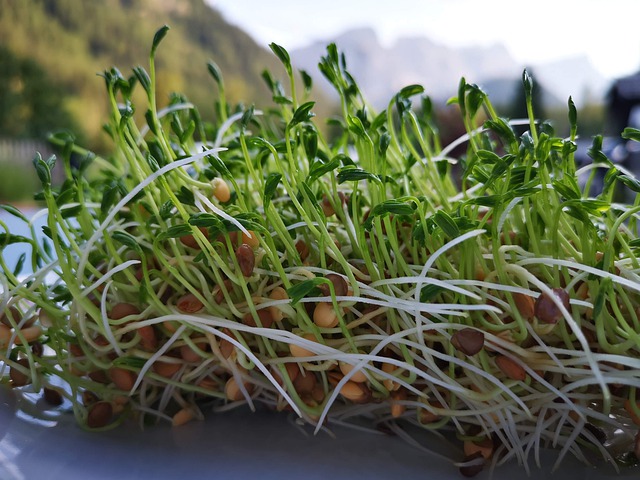 Ingredients:
Designed for 2 servings
Sprouted lentils 1 cup
Onion 1 piece
Dried porcini mushrooms 5.29 oz
Coconut milk 1/2 cup
Soy sauce 1 teaspoon
Arugula micro-greens and parsley leaves 2 tablespoons
Instructions:
Cooking time 35 minutes
Sprout lentils. Soak dry porcini mushrooms for 20 minutes in cold water. Simmer the onion in melted butter until soft. Drain the water from the mushrooms, add to the onion, simmer for 5 minutes.
Pour in coconut milk, simmer for another 5 minutes. 2 minutes before the end, add the sprouts of lentils, 1 tsp soy sauce. Garnish with arugula microgreens or chopped parsley. Serve hot.
Apricot trifle with chia and microgreens
Ingredients:
Designed for 1 servings
Coconut milk 1/2 cup
Chia seeds 4 teaspoons
Dried apricots 10 pcs
Apple 1 pc
Honey to taste
1/2 cup Greek yogurt
Quinoa sprouts 1 tablespoon
Sunflower seedlings 1 tablespoon
Buckwheat sprouts 1 tablespoon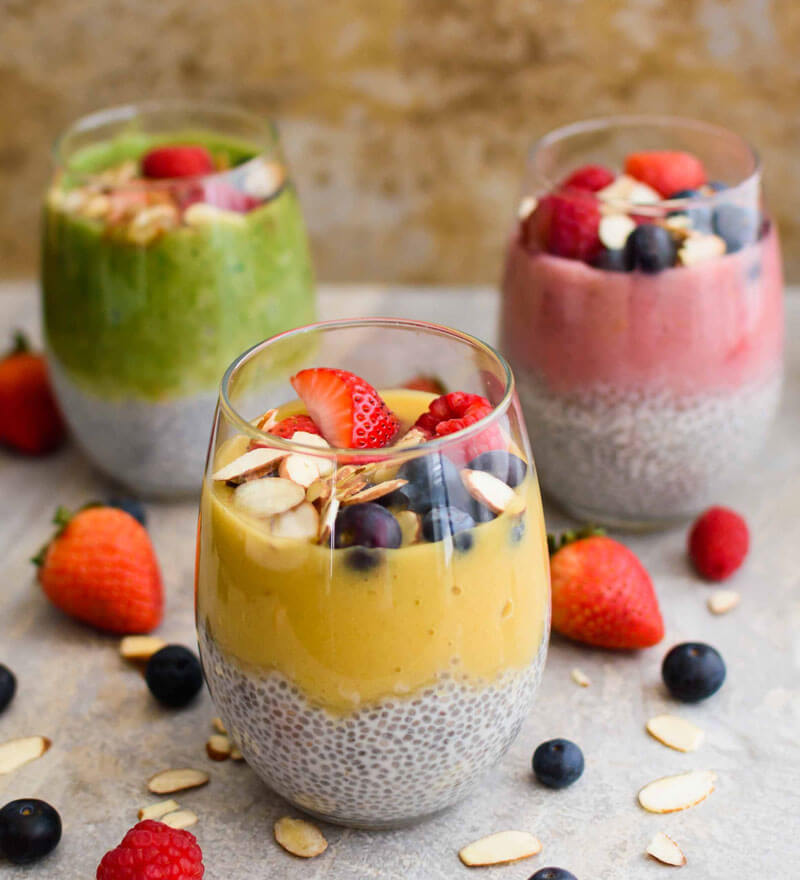 Instruction:
Cooking time 2 hours 10 minutes
Mix coconut milk with chia and refrigerate for 2 hours or better overnight. Rinse dried apricots with warm water, grind in a blender, adding 2 tbsp.l of drinking water. Cut the apple into small pieces. Mix Greek yogurt with honey. Mix the seedlings with each other. In glasses, spread out in layers in any way. You can have sprouts, yogurt, chia, apricot "jam", apple slices.
Dessert. We share a recipe for chia seed pudding, which you can treat yourself to in the morning, as a dessert or snack. Mix the seeds with coconut or almond milk and add the set of healthy ingredients that you find most suitable: dried coconut, blueberries, walnuts, raspberries, crushed almonds, cocoa powder, grated apple, ground Brazil nuts, pomegranate seeds or pistachios.
Then put the mixture in the refrigerator, even if only for 10 minutes. Whatever method of cooking chia seeds you choose, they will in any case be able to perfectly complement your dish.
Breakfast # 2
. delicious and balanced recipes.
Arugula salad with blueberries, seeds and citrus dressing
Arugula greens are spicy, a little sweet, crunchy and terribly useful. Arugula contains iron, vitamin C, vitamin K, folic acid, calcium, potassium, magnesium.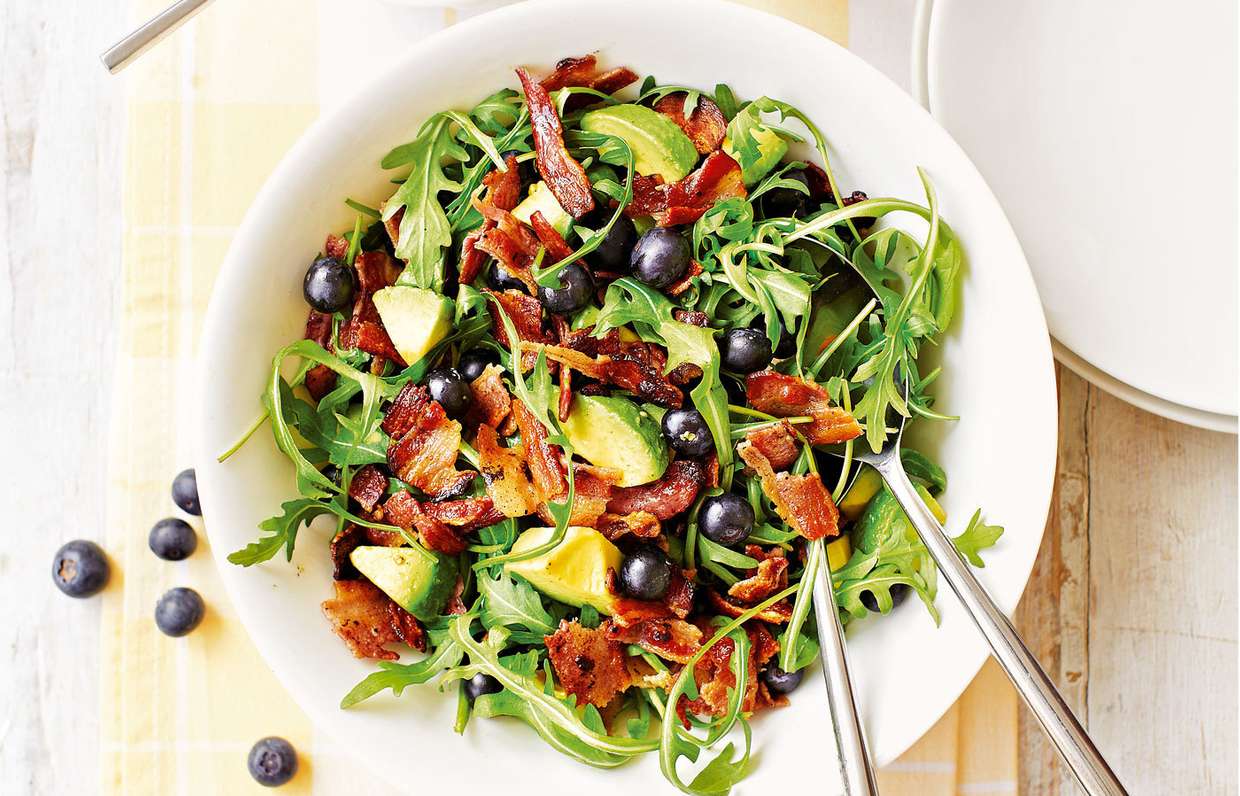 Salad of arugula, blueberries and seeds, which raises the degree of usefulness to a completely different level. Berries? Yes, they go well with arugula. Blueberries contain vitamin C, K, fiber, protects your body from free radicals and lowers blood pressure. Seeds? Pumpkin seeds are rich in protein, omega-3, fiber, minerals and vitamins.
Ingredients:
Designed for 1 servings
Fresh Arugula 3.53 oz
Fresh blueberries 3 tablespoons
Carrots (medium size) 1/2 piece
Almonds 1 tablespoon
Pumpkin seeds 1 tablespoon
For refueling:
Orange juice 2 tablespoons
Olive oil 1 tablespoon
Agave syrup or honey 1/2 teaspoon
Salt and pepper to taste
Instruction:
Cooking time 15 minutes
Mix everything for salad. We dilute the ingredients of the dressing. Connecting. Have a nice and healthy appetite!
Pumpkin breakfast (sugar-free, gluten-free). delicious and balanced recipes.
A new delicious recipe for pumpkin breakfast. This dish is prepared in the evening and served in the morning. It does not contain gluten, sugar and is practically raw. Incredibly tasty, healthy, with a lot of vitamins. This dish is perfect for children of any age and can serve as a wonderful snack for adults.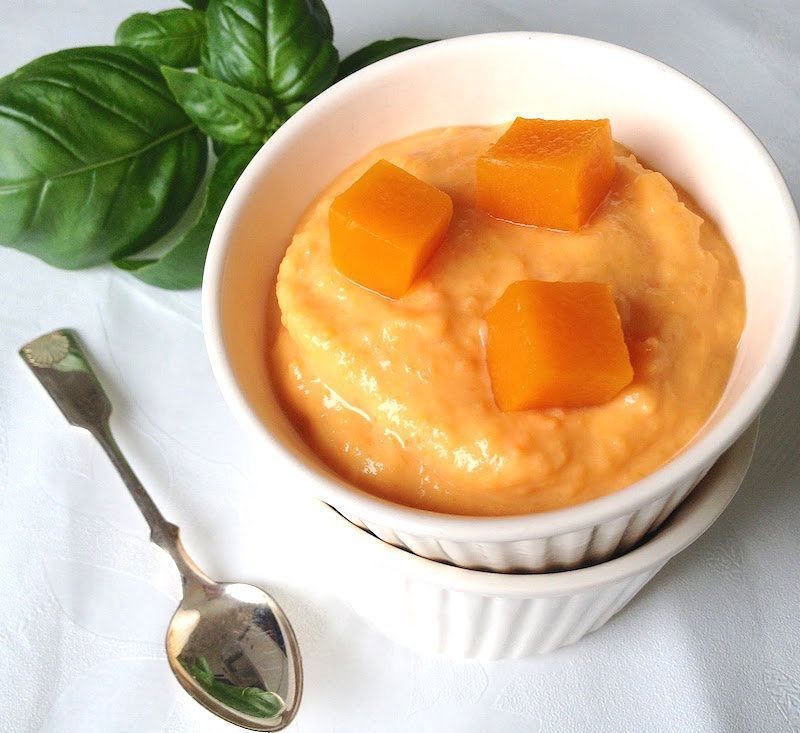 Ingredients for 3 servings:
Pumpkin seeds 2 tablespoons
Pecans 15 nuts
Gluten-free oat flakes (can be replaced with any nut flour) 6 tablespoons
Agave syrup or honey 2 tablespoons
For the berry layer:
Fresh cranberries (you can use frozen, just defrost it and drain the juice) 1/2 cup
Large dates 5 pcs
Coconut oil 2 tablespoons
Honey 4 tablespoons
For the pumpkin layer:
Pumpkins 2 cups
Vegetable milk 1/2 cup
Agave or honey 3 tablespoons
Cinnamon to taste.
Yogurt for serving
Instruction:
Preheat the oven to 165C/325F and bake the pumpkin in it. Chop the seeds, add nuts. We get a soft crumb. We fall asleep with oat flakes. The base is ready and it can already be put into our prepared molds.
Mix cranberries and dates. Cranberries can be taken frozen. Do not forget to defrost it and drain the juice so that there is not too much liquid. I use fresh cranberries.
Scroll it with oil, agave. We get a homogeneous composition. We spread it on top of the base. Scroll separately pumpkin, milk, agave or honey. Don't forget to add cinnamon. We spread it on top of the two previous compositions.
We cover it with a film and put it in the refrigerator overnight or for several hours. This is required so that all the layers are mixed and soaked. We take it out, put yogurt on top and serve. Have a nice and healthy morning!