The barbecue and grilling season is in full swing. Very tasty food is obtained on the grill! How to cook a barbecue in nature. Recipes for cooking shish kebab. 
Barbecue dishes in nature are also important. Side dishes and snacks complement it perfectly. And let all attention be focused not on them, they will make the table varied and satisfying. Therefore, do not limit yourself to slicing vegetables, there are so many delicious dishes that are worth trying.
When planning a menu, think about the ingredients in advance. After all, cooking in the fresh air is not as easy as at home. It is better to choose dishes that require minimal effort and time or take care of homemade preparations. Make an approximate list, which may include the following items: meat; snacks; side dishes; sauce; drinks, bread; snacks, and other small things.
Then think about what to prepare at home, and what you can easily do on the spot. Don't forget about product combinations.
The perfect addition to the barbecue will be a salad. Since meat takes a long time to digest, it is not the best idea to weigh it down with a complex side dish. In nature, you want to move, but with a heavy lunch, it will not work.
Another plus of the salad is the speed of preparation. You can cut it while the meat is languishing on the coals. By the time it is served, it will have time to soak in all the juices and become even tastier.
Why marinate meat?
How to cook a barbecue in nature. Recipes for cooking shish kebab.
If you do not just throw the meat on the grill, but also marinate it in advance, then this way you will reduce the damage to health from cooking at high temperatures. This is the first reason to marinate meat (and not just for grilling!)
When meat is marinated, chemical compounds are formed that prevent the formation of harmful and toxic substances when frying meat. That is, in fact, the marinade makes grilled meat less harmful.
The second advantage of marinating meat and poultry is that the protein contained in these products is easier to digest after marinating, which means that there is more benefit for us from marinating meat/poultry. After all, protein is the main building material for the body, so if your task is to maintain muscle and bone mass, then you need enough protein in your diet. And not just on a plate, but also to ensure its maximum absorption from food.
Marinades break down protein already while the meat is being pickled, which means protein assimilation is facilitated.
Hence, the third plus of pickling follows: by marinating meat, you help your stomach and other digestive organs, thus reducing the load from them. After all, some of the work has already been done by acids from the marinade!
Therefore, if you have a low acidity in the stomach (this is just manifested in the severity after a protein meal), then you need to marinate meat and poultry for at least 2 hours. And it does not matter whether you are going to make a barbecue/grill or not.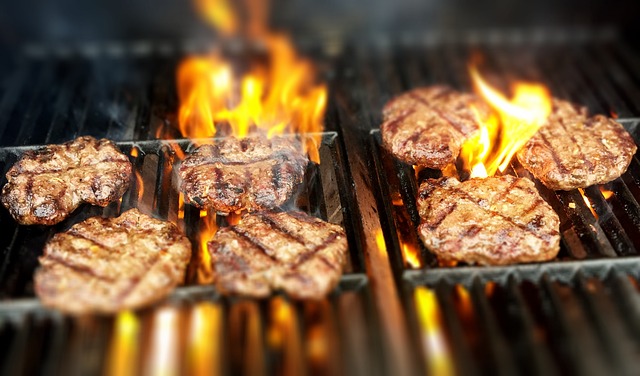 Marinade recipes for meat and poultry
. How to cook a barbecue in nature. Recipes for cooking shish kebab.
Ingredients are indicated at the rate of approximately 35.24 oz of meat /poultry)
#1. Tomato marinade
Crushed tomatoes in their own juice 1 jar
Juice of ½ lemon
Red balsamic vinegar 2 tablespoons
Large onion (cut into thin rings) 1 pc
Dry basil 1 tablespoon
Salt and freshly ground black pepper to taste
#2. Marinade with onion, garlic, and herbs
Large onion (cut into thin rings) 1 pc
Garlic (sliced) 4 cloves
White balsamic vinegar 4 tablespoons
Juice of ½ lemon
Olive oil 2 tablespoons
Dry thyme 1 teaspoon
Dry rosemary 1 teaspoon (or fresh leaves about a handful — without the twigs themselves)
Dry oregano 1 teaspoon (or fresh — 2 teaspoons
Salt and freshly ground black pepper to taste
Preparation of marinades:
Mix all the ingredients and pour them over the meat/poultry. Leave to marinate in the refrigerator.
The marinating time is at least 2 hours. Maximum 24 hours. For example, you can pickle meat for tomorrow's dinner in the evening.
We put the meat cut into portions into special bowls. Pour the marinade and cover with a lid or cling film. It turns out quickly, is tasty, and very convenient. Enjoy your meal!
Recipes for delicious meat and poultry shish kebab
. How to cook a barbecue in nature. Recipes for cooking shish kebab.
#1. Chicken kebab with sweet pepper, in a spicy yogurt-tomato marinade
Chicken fillet for shish kebab is aged for a long time in a marinade of yogurt and tomato paste with spices, lemon juice, and garlic. As a result, the barbecue on the grill is baked quite quickly and pleases with juiciness and tenderness. Together with the chicken, we string sweet pepper on a skewer – it makes the dish brighter and more fragrant.
Ingredients for 4 servings:
Chicken fillet 35.24oz
Bulgarian pepper 1 pc.
Onion 2 pcs.
Garlic 3 cloves
For marinade:
Natural yogurt (unsweetened) 1 cup
Tomato paste 3 tablespoons
Lemon juice 2 tablespoons
Vegetable oil 2 tablespoons
Ground cinnamon to taste
Ground cardamom to taste
Ground allspice to taste
Salt to taste
Ground black pepper to taste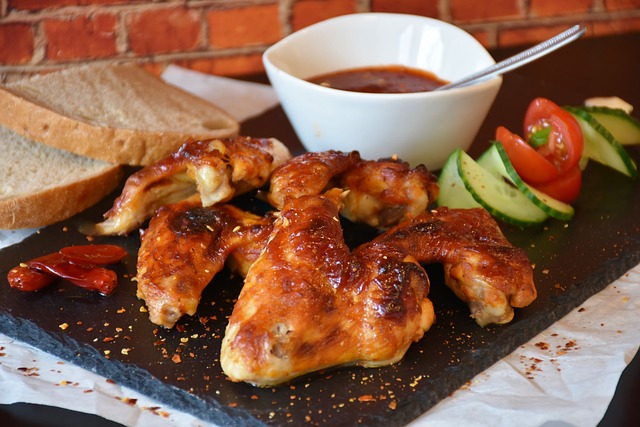 Instruction:
Cooking time 4 hours 20 minutes
Take the products from the list. Wash and dry the chicken fillet. Peel the garlic and pass it through a press.
In a spacious container, combine natural yogurt, tomato paste, lemon juice, vegetable oil, crushed garlic, and spices (black pepper, cinnamon, cardamom, and allspice).
Mix it up. Try and adjust the taste. Cut the chicken fillet into cubes of approximately the same size), immerse in the marinade.
Stir, and let each piece of fillet be completely covered with marinade. Cover the container with a lid or a film and put the semi-finished product in the refrigerator for 4 hours, for pickling.
Wash the pepper, peel, and cut into large pieces.
Peel the onion and cut it into large rings.
After a while, prepare the chicken fillet for baking on the grill. String the fillets on skewers, alternating with bell pepper and onion.
Bake the shish kebab on hot coals without flame for about 10-15 minutes, turn it over periodically.
If the kebabs are ready, the juice will stand out transparent, and the chicken pieces themselves will easily slip off the skewer.
Serve chicken kebab with fresh vegetables and herbs, favorite sauces, and side dishes.
Enjoy your meal!
#2. Pork fillet, pineapple, and bell pepper kebabs
Pork kebab with pineapple and pepper can be cooked both on the street and on the home grill. In any case, this is an excellent dish.
Ingredients for 2 servings:
Pineapple, canned slices 8.82oz
Apple vinegar 2 tablespoons
Brown sugar 2 tablespoons
Ground black pepper to taste
Pork fillet cut into pieces 8.82oz
Red Bulgarian pepper (diced) 1 pc.
Green Bulgarian pepper (diced ) 1 pc.
Boiled rice for garnish
How to cook pork kebab with pineapple and pepper:
Drain the pineapple, reserving the juice. Put the pineapple in a bowl and put it in the refrigerator. In a bowl, mix pineapple juice, vinegar, brown sugar, and ground black pepper. Pour half of the marinade into a large plastic bag with fasteners, and put the cut pork fillet there. Fasten the bag, shake it well, and put it in the refrigerator for 4 hours. Cover the rest of the marinade and refrigerate.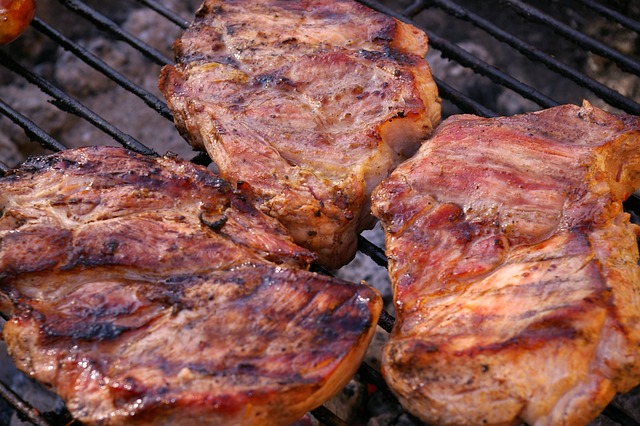 Turn on the grill to preheat to medium temperature. Get the meat out of the marinade. On metal or wooden skewers (soaked in water), string meat, pineapple, and pepper turn. Put the pork kebabs with pineapple and pepper on the grill and cook under a closed lid for 10-15 minutes, greasing with the reserved marinade and turning over.
Serve pork kebabs with pineapple and pepper with boiled rice.
#3. Beef kebab with pomegranate juice and herbs. How to cook a barbecue in nature. Recipes for cooking shish kebab.
This shish kebab is interesting because it is not pre-marinated. Shish kebab in a frying pan will be soft due to good roasting in a frying pan with a thick bottom. And also pomegranate juice makes the meat juicy and softens its fibers.
Ingredients for 2 servings:
Young beef or veal (tenderloin) 17.64oz
Ripe pomegranate 1 pc.
White onion 2 pcs.
Butter 3.53oz
Salt to taste
Ground black pepper 1/2 teaspoon
Parsley greens 1 bunch
Coriander greens to taste
Instruction:
Cooking time 55 minutes
Prepare all the ingredients for the barbecue in a frying pan.
How to cook beef kebab:
Rinse the meat thoroughly under running water, dry it, and cut it into equal-sized pieces. In a frying pan with a thick bottom, melt the butter and put the meat in the pan.
Add coarse salt to each piece of meat. Sprinkle with freshly ground black pepper. Fry the meat in a frying pan over low heat on all sides until cooked, about 40 minutes (the time depends on the hardness of the meat and the size of the pieces).
15 minutes before turning off, add the onion cut into rings to the pan. Fry the onion together with the meat until soft and golden brown.
Prepare the pomegranate juice. I use a blender and a sieve for this. Peel the pomegranate and put the grains in a blender. Set aside a small portion of the grains before serving.
Beat the pomegranate seeds in a blender, then strain the juice through a sieve. Pour the pomegranate juice into the pan with the meat, and mix.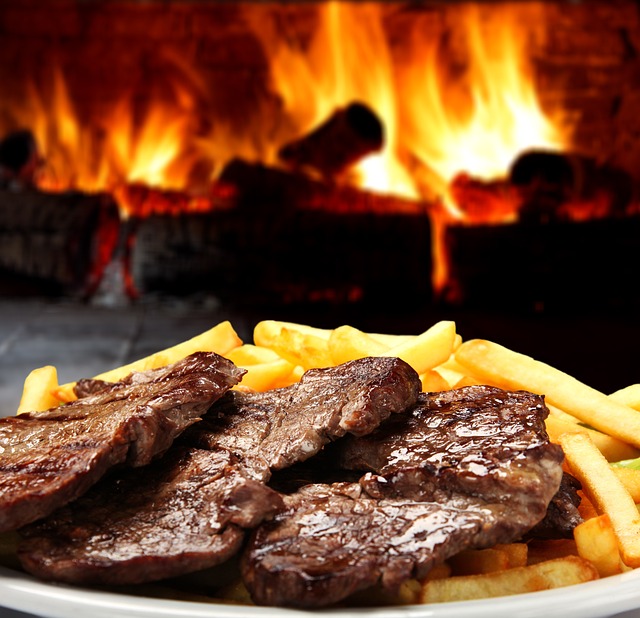 Leave the kebab in the pan for 5-8 minutes so that the meat is soaked in pomegranate juice.
Immediately serve the beef shish kebab on the table, sprinkled with chopped parsley and cilantro, and pomegranate seeds previously laid aside.
To garnish the barbecue, serve baked (including grilled or grilled) vegetables – eggplants, tomatoes, and sweet peppers. Enjoy your meal!
#4. Liver kebab
Liver kebab will rediscover this product for you. The beef liver turns out to be soft, juicy, and very tasty.
Ingredients for 2 servings:
Beef liver 17.64oz
Pork fat 3.53oz
Onion 2 pcs. (5.29oz)
Apple vinegar 2 tablespoons
Bay leaf 3 pcs.
Mustard powder 3 tablespoons
Salt to taste
Black pepper to taste
Instruction:
Cooking time 1 hour 30 minutes
Prepare all the ingredients for the liver kebab. Choose beef liver for shish kebab without films and bile ducts.
How to cook a liver kebab:
Before cooking, rinse the liver thoroughly, dry it with a paper towel, and cut it into large cubes.
Put the liver in a small bowl with a lid, add mustard powder, mix, close, and leave in the refrigerator for 30 minutes. Mustard will make the liver soft.
Cut the fat into thin plates of medium size. Peel the onion from the husk, wash and cut it into large rings.
Combine the lard with the onion, and add salt, pepper, vinegar, and bay leaf. Mix everything well, cover, and leave to marinate in the refrigerator for 30 minutes.
Remove both bowls from the refrigerator. Wash the liver with mustard powder, dry it, and salt it with coarse salt to taste. Place the liver, pickled bacon, and onion alternately on the skewers.
Place the skewers so that the liver does not lie, but hangs over a baking sheet or frying pan. You can fry a shish kebab both in the oven and on coals.
In the oven, preheated to 392F, fry the liver kebab for 20 minutes. Garnish the finished liver kebab with parsley and serve hot. Enjoy your meal!
Salad of seasonal vegetables on the grill
. How to cook a barbecue in nature. Recipes for cooking shish kebab.
The main thing is not to be afraid to bake vegetables until they burn. The peel will still not get into the salad, but some products may not be baked if they are removed from the fire early. And you should not rush to put the vegetables on the grill, let the fire burn out pretty much, leaving a small flame and hot coals.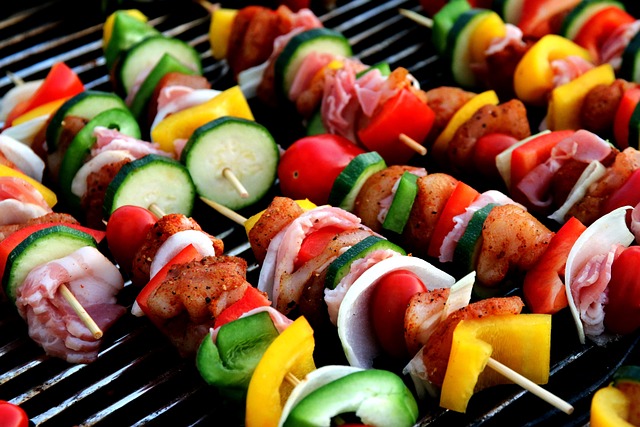 Ingredients:
Eggplant 4 pcs.
Tomatoes 6 pcs.
Bulgarian pepper 4 pcs. (it is better to take colorful fruits)
Hot pepper 2 pcs.
Leek 1 pc.
Red onion 1 pc.
Garlic 1 head
Greens 4 bundles
Vegetable oil 2 tablespoons
Salt to taste
Pepper to taste
Instruction:
Rinse and dry the vegetables. Put them on the grill (everything except herbs and spices) and bake. Remove from heat and allow to cool slightly.
Remove the skin from the still-warm vegetables and cut the flesh into pieces (only the white part will be needed from the leek). Transfer to a bowl.
Chop fresh herbs and put them in a salad.
Add the oil and spices and mix well. Serve immediately when ready, so that the vegetables do not have time to cool completely.
Salad for barbecue
Spicy, juicy, bright — this is how you can briefly describe the dish. Be sure to choose ripe and fleshy tomatoes so that they reveal the whole taste. Let the fruits be proportionate, so it's easier to cut them into identical parts, plus they will evenly absorb the dressing.
Ingredients for 2 servings:
For the salad:
Tomatoes 4 pcs.
Fresh dill 1 bunch
Red onion 2 pcs.
Garlic 4 cloves
For refueling:
Apple cider vinegar (replaced with balsamic vinegar) 1 tablespoon
Olive oil 3 tablespoons
Sea salt 1/2 teaspoon
Pepper 1/2 teaspoon
Sugar 1 teaspoon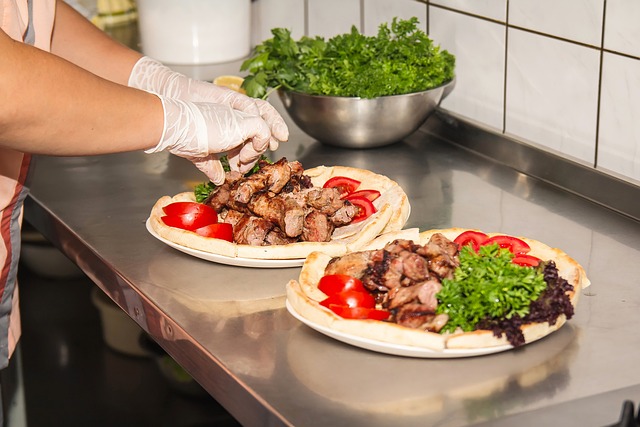 Instruction:
Cooking time 35 minutes
Wash and peel the vegetables. Cut the onion into half rings, and chop the garlic.
Chop the greens. Cut the tomatoes into large slices.
Put the tomatoes in the bottom of the bowl, sprinkle with herbs and garlic. Garnish with onions on top.
Mix the dressing ingredients and spread evenly over the salad. Let it brew for 30 minutes.
Mix gently before serving so as not to damage the tomato slices. Enjoy your meal!