If you purposefully make a diet of certain foods, it is quite possible to improve memory, increase concentration, facilitate and speed up mental work, as well as simply improve well-being. Recipes of dishes for a great mood and mental activity.
Vitamins
To help the brain work actively and get the right energy, you should not forget about vitamins. Here is a list of foods with the most important vitamins for brain function:
1) Vitamin A: melon, papaya, mango, pumpkin and carrot;
2) Vitamin B1: most types of meat, fish, nuts, fruits, vegetables, and grains;
3) vitamin B6: eggs, milk and dairy products, brown rice, potatoes, turkey, meat, seafood, lentils, pepper, bread made from coarse flour, peanuts, hazelnuts, nuts, spinach, carrots, broccoli, salmon, trout, tuna;
4) Vitamin B9: bananas, oranges, melon, avocado, legumes and cereals, spinach, asparagus, brown rice and others;
5) Vitamin B12: chicken, turkey, beef, redfish and seafood, eggs, cereals, dairy products;
6) Vitamin C: orange, grapefruit, melon, pineapple, strawberry, tomatoes, pepper, spinach, cauliflower;
7) Vitamin D: sardines, salmon, tuna, mackerel, champignons and some types of dairy products;
8) Vitamin K: Brussels sprouts, asparagus, parsley, celery, green leafy vegetables, dried fruits and dairy products.
(1 )- JF has expertise in the interaction between physical and mental health, particularly the role of lifestyle and behavioural health factors in mental health promotion. JEG's area of expertise is the study of the relationship between sleep duration, nutrition, psychiatric disorders, and cardiometabolic diseases. AB leads research investigating the molecular mechanisms underlying the effect of stress and inflammation on human hippocampal neurogenesis, and how nutritional components and their metabolites can prevent changes induced by those conditions. REW has expertise in genetic epidemiology approaches to examining casual relations between health behaviours and mental illness. EAM has expertise in brain and gut interactions and microbiome interactions.
#1.Avocado with tuna, egg, and microgreens
The perfect combination of products for your breakfast. Very fast, delicious, gentle and healthy!
Ingredients per 1 serving:
Avocado 1 pc.
Canned tuna 3.53oz
Chicken eggs 1 pc.
Cherry tomatoes 3 pcs.
Extra Virgin Olive oil 2 tablespoons
Microgreens arugula 2 tablespoons
Instruction:
Cooking time 10 minutes
Mash the avocado with a fork, season with salt and pepper, and add lemon juice and a spoonful of oil. Stir and place on a plate through a cooking ring.
On top of the avocado, put tuna, and microgreen arugula, then cut cherry and egg (preferably poached or soft-boiled). Sprinkle with oil.
#2.Squash and spinach waffles
. Recipes of dishes for a great mood and mental activity.
A proper breakfast can make us more attentive, provide strength for the whole day, help us maintain normal weight, and even preserve heart health.
Delicious and healthy breakfast.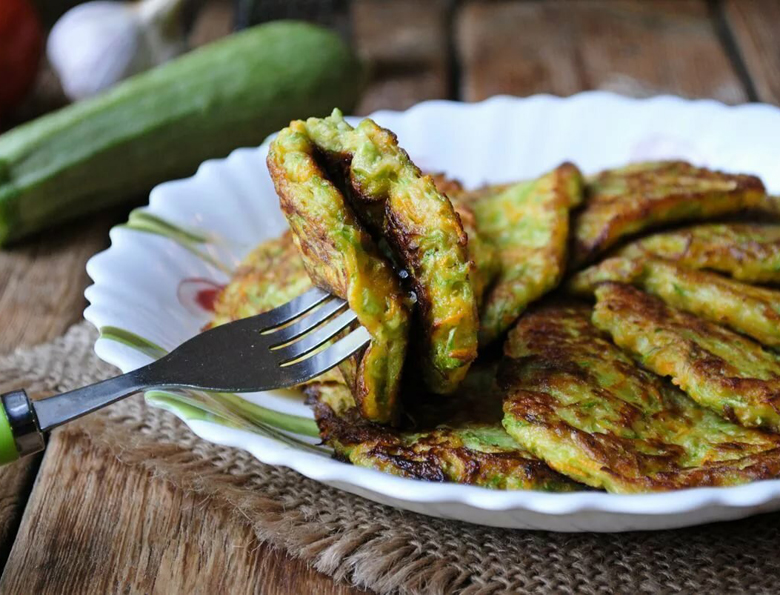 Ingredients for 2 servings:
Zucchini young 2 pcs.
Fresh spinach 3 tablespoons
Wheat flour 5.29oz
Baking powder 1 teaspoon
Salt ½ teaspoon
Milk 5 tablespoons
Butter 1 tablespoon
Chicken eggs 2 pcs.
Instruction:
Cooking time 30 minutes
Rinse the spinach under running water. Pour boiling water over it and punch it with an immersion blender to the state of mush. Cool it down. Grate the zucchini on a coarse grater.
Pour the milk into a bowl, add the yolks of two eggs and melted butter, and mix. In another bowl, combine flour, salt and baking powder. Introduce liquid ingredients into dry ones. Add zucchini and spinach. Mix with a whisk until smooth.
Beat the whites. Add the whipped whites to the dough and mix gently with a spatula. Preheat the waffle iron. Spread the dough 1 tablespoon per waffle. Bake for 2 minutes until tender. Serve with sour cream and a salad of fresh cucumbers, tomatoes, and onions, seasoned with olive oil. Enjoy your meal!
#3.Broccoli with egg and cheese in a frying pan
Vegetables with cheese and egg are not only delicious but also satisfying, healthy, not quite usual. This dish can be served for breakfast or afternoon tea, or as a side dish to meat and poultry.
Ingredients per 1 serving:
Fresh broccoli 8.82oz
Chicken eggs 2 pcs.
Vegetable oil 3 tablespoons
Salt to taste
Cheese 2 tablespoons
Microgreens of parsley 1 tablespoon
Instruction:
Cooking time 15 minutes
Wash the broccoli, and disassemble it into medium-sized inflorescences. Fry a little in a frying pan with the addition of oil. Beat in the eggs. Fry everything together, stirring constantly. Add the grated cheese and mix. Serve immediately.
#4.Eggs in bell pepper
. Recipes of dishes for a great mood and mental activity.
Eggs cooked in this way are a great option for breakfast. Instead of traditional molds, you can use multicolored bell peppers.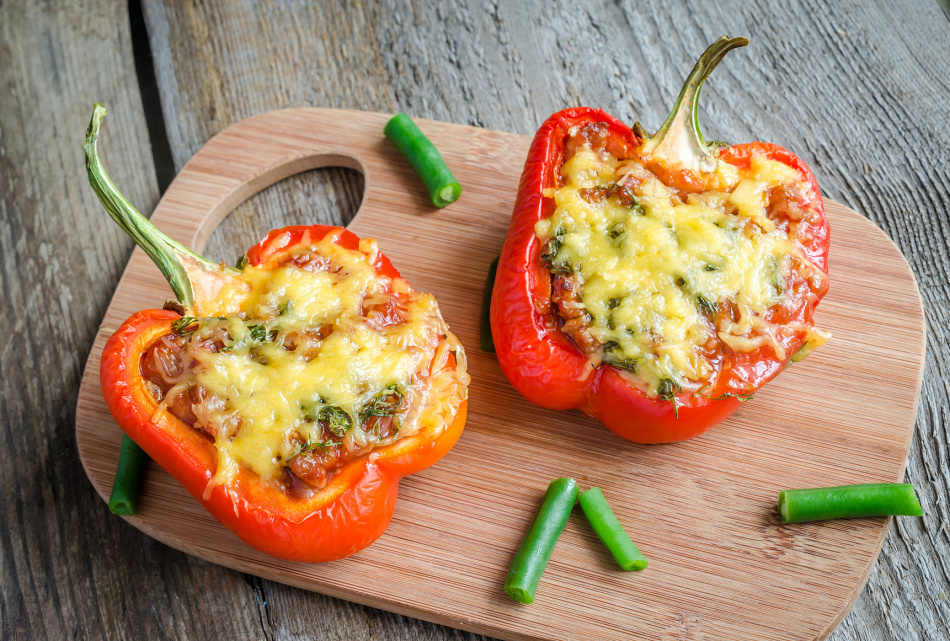 Ingredients for 2 servings:
Yellow bell pepper 1 pc.
Red bell pepper 1 pc.
Chicken eggs 4 pcs.
Ham 3.53oz
Bacon 4 layers
Cheese 1 tablespoon
Butter 2 tablespoons
Olive oil 1 tablespoon
Salt to taste
Ground black pepper to taste
Instruction:
Cooking time 15 minutes
I prepare the products. As additives, you can take any meat or sausage products, cheese, mushrooms, or vegetables. Bacon and ham are cut into cubes and fried in olive oil.
I remove the caps from the pepper, and peel the vegetable from seeds and partitions, if possible without violating the integrity of the walls.
In a bowl, I combine 2 whole eggs and 2 proteins and mix them with a fork. The remaining couple of yolks are separated and put aside. I add salt, pepper, fried ham with bacon, and grated cheese to the eggs.
I place the prepared peppers in a baking dish. I distribute the prepared filling. On top of a tablespoon, I spread the whole yolk carefully. Next to the peppers I put "hats". Bake in the oven at 356F for 10 minutes. When serving, I put a piece of butter on top and sprinkled with chopped herbs.
#5.Vanilla-nut chia breakfast
A beautiful breakfast, for the ingredients of which, most likely, you will have to go to the store in advance. Chia seeds achieve the desired texture thanks to almond milk. The fruits and berries declared here can be changed to any other.
Bekmes is a juice boiled to a syrupy mass from fruits, fruits, or berries without sugar and other additives. A natural sweetener, easily absorbed by the body. Application: Carob syrup is poured over confectionery, pancakes, and cottage cheese, and added to porridge, milk, tea, or coffee.
Almost all types of nuts are very good for the brain. The set of nutrients contained in them promotes clear thinking, the outlook on life changes to a positive one, and all this is thanks to omega-6 and omega-3 fatty acids that act as antidepressants.
Ingredients for 2 servings:
Almond milk 2 cups
Chia seeds 3 teaspoons
Vanilla to taste
Bekmez 2 tablespoons
Almonds 1 tablespoon
Hazelnuts 1 tablespoon
Cashews 1 tablespoon
Fresh berries 1 cup
Fruit 1 cup
Instruction:
Cooking time 5 minutes
Mix chia seeds, almond milk, sweetener, and vanilla.
Mix thoroughly, cover, and leave overnight.
In the morning, add nuts to taste, and finely chop seasonal berries or fruits.
#6. Flaxseed cakes
. Recipes of dishes for a great mood and mental activity.
A delicious and healthy flatbread made of ground flax seeds can be eaten just like that or stuffed with melted cheese.
Ground flax seeds, from which the oil was first squeezed, are valuable in medicine and cooking flaxseed flour. The valuable properties of flaxseed are preserved and at the same time, it is characterized by low-calorie content.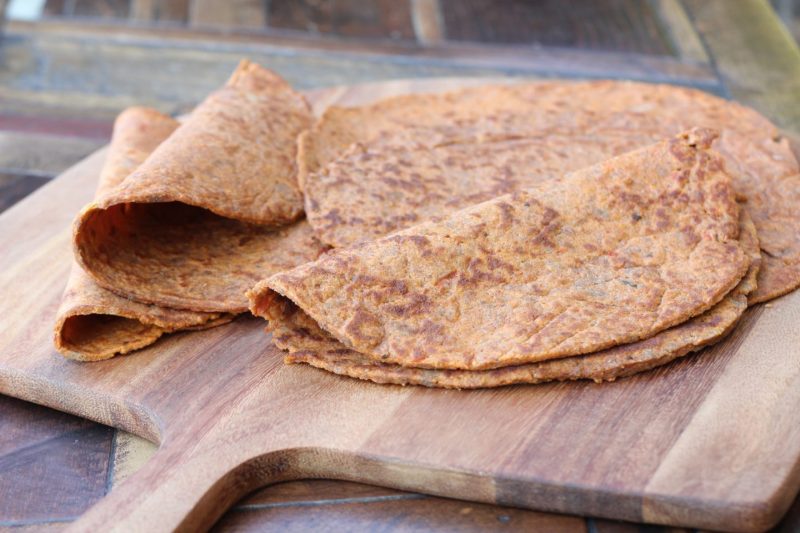 Ingredients for 5 servings:
Flaxseed flour 3.53oz
Water 1/2 cup
Rosemary ½ teaspoon
Smoked paprika ½ teaspoon
Dried garlic to taste
Salt to taste
Instruction:
Cooking time 30 minutes
Mix all the dry ingredients. Add water. Mix with a spatula, then put the dough into a ball with your hands. We transfer it to a hot frying pan or to a saucepan. On medium heat, mix intensively to "steam the dough" a little (about 2 minutes).
Then we transfer it to baking paper. Divide into 4 parts. We take 1 part, cover it with baking paper on top, and roll it out.
We cut out a round-shaped cake using a plate or a sponge cake mold. We collect all the remains of the dough and form 5 tortillas.
Spread the tortillas on a dry frying pan and cook for 20-30 seconds on each side.
We put it in a towel, and after cooling down, if you store it, then in a bag. We serve it to the table with our favorite fillings. Enjoy your meal!
#7.Toast with avocado and quail eggs
Very bright and beautiful toasts in the form of hearts with avocado and fried quail egg.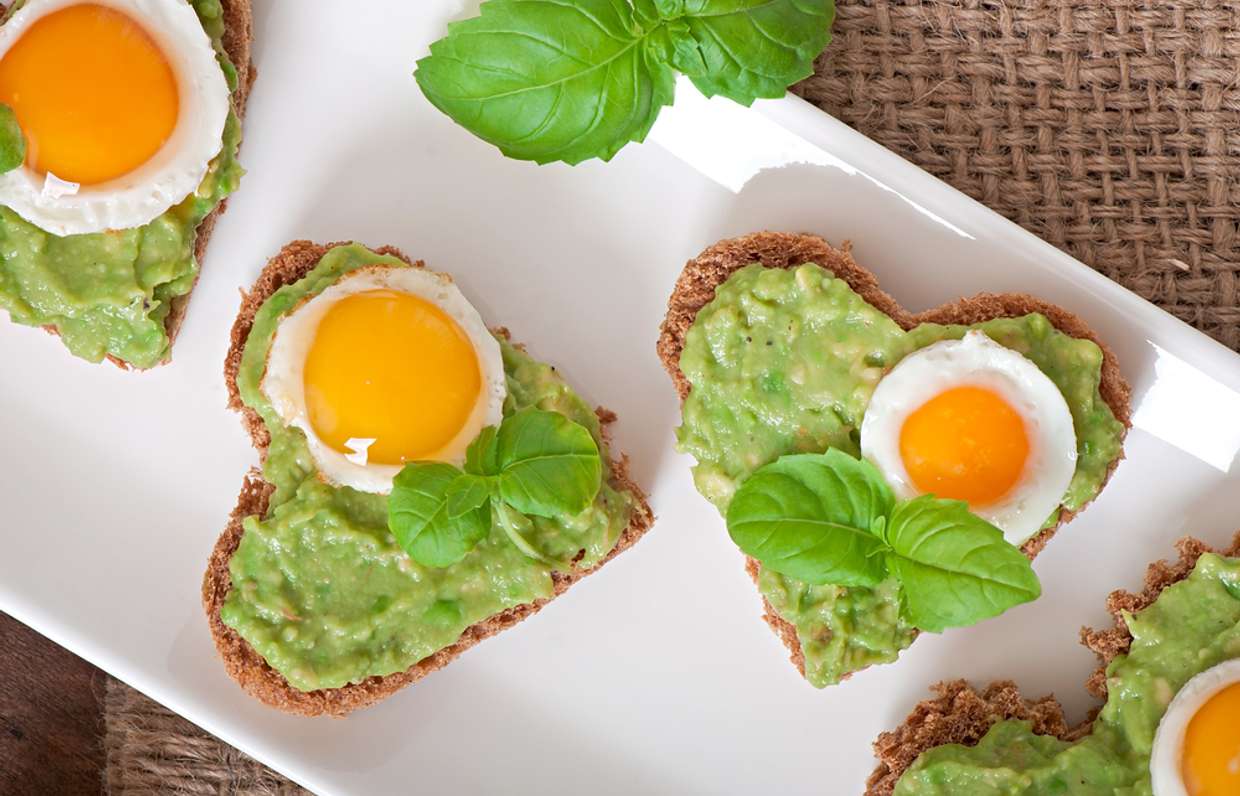 Ingredients for 4 servings:
Wheat-rye bread 4 slices
Quail eggs 8 pcs.
Avocado 2 pcs.
Lemon 2 slices
Vegetable oil 1 tablespoon
Micro-green basil 1 tablespoon
Instruction:
Cooking time 25 minutes
Prepare the products. Cut out hearts from slices of bread using a cookie cutter.
In a dry frying pan, dry the bread hearts on both sides, for about 2 minutes on each side.
Remove the bone from the avocado, spoon the avocado pulp into a plate. Mash the avocado with a fork and add lemon juice (about 1-2 teaspoons).
Heat a small frying pan and grease with vegetable oil. Fry the quail eggs separately from each other, for 2-3 minutes, until the protein sets.
Put the bread hearts on a plate, and grease each with avocado paste.
Put fried quail eggs on the avocado.
Add toasts with basil microgreens. Enjoy your meal!
#8. Cheese souffle with asparagus
. Recipes of dishes for a great mood and mental activity.
A delicate airy souffle with cheese and fresh asparagus is an amazing dish that can be prepared even for a festive table.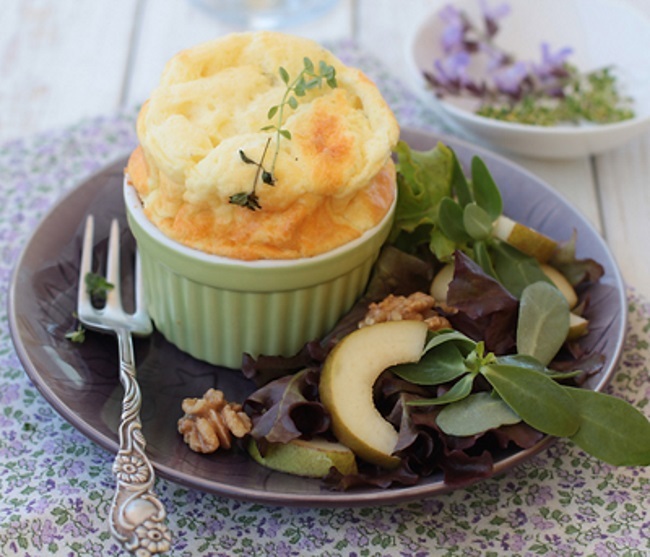 Ingredients for 6 servings:
Asparagus stalks 17.64oz
Hard cheese 5.29oz
Eggs 3 pcs.
Butter 2 tablespoons
Milk 1 cup
Flour 5 tablespoons
Ground black pepper to taste
Salt to taste
Instruction:
Cooking time 55 minutes
Preheat the oven to 392F. Grease the baking pans with butter, and sprinkle the bottom with grated cheese.
Cut the asparagus stalks into pieces (leave 4-6 stalks whole) and boil in salted water until soft. Drain the water, dry the stems with a paper towel, and mash them in a blender.
Melt butter in a saucepan, add flour, and mix well. Continuing to stir, gradually pour in the slightly warmed milk. Cook the mass, stirring, for 5 minutes.
Remove the saucepan from the heat and add the egg yolks, grated cheese (set aside a little for sprinkling), asparagus puree, salt, and pepper, and mix well.
Whisk the whites to sharp peaks and gently add to the yolk mass.
Spread the mass into prepared molds. Place the remaining asparagus stalks on top, sprinkle with the remaining cheese, and bake for 20-25 minutes until golden brown.
#9.Milkshake with berries
The recipe for a milkshake with ice cream and berries is very tasty. It is usually prepared using a blender or mixer. Therefore, the more vigorously the components for the cocktail are whipped, the more lush and homogeneous it will turn out. For taste, along with ice cream, it is better to add berries and fruits with sourness to the drink. The dietary option involves making a cocktail from low-fat milk and without adding ice cream.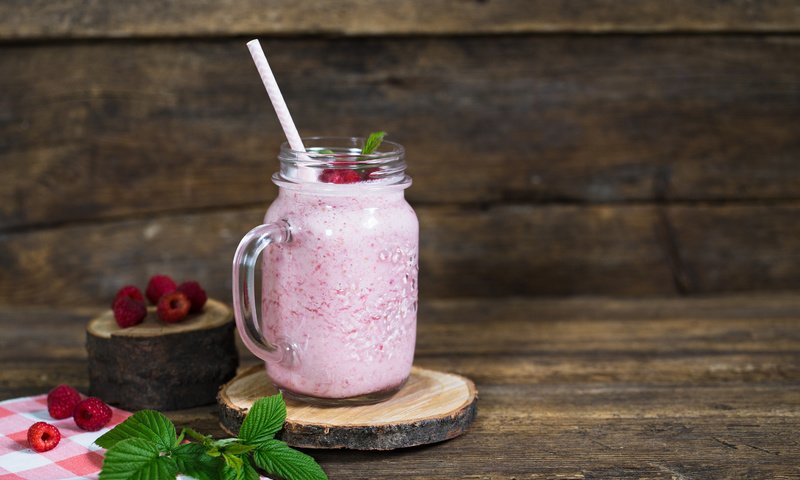 Ingredients for 3 servings:
Milk with a fat content of 2.5% 2 cups
Vanilla ice cream 10.58oz
Berries 7.0oz
Mint microgreen for decoration
Instruction:
Cooking time 15 minutes
Rinse the berries well, then put them in a colander and let the water drain. Dry them a little.
Put ice cream and berries in the bowl of a blender or mixer. Beat on medium speed until smooth.
Pour some of the milk into the bowl and whisk the ingredients again. Repeat the procedure until all the milk is in the bowl. Then beat the cocktail for another minute at high speeds.
Pour the cocktail into the containers in which you will serve it to the table. When serving, garnish with mint microgreens.
#10.Bananas in chocolate
. Recipes of dishes for a great mood and mental activity.
Black chocolate, unlike its "brothers" dark, milky, and white, has a bitter piquant taste and aroma, because it contains a minimum of sugar and a maximum of cocoa.
Why is it useful? Chocolate, or rather cocoa beans, contain a large amount of anti-aging antioxidants flavonoids, which fight free radicals and prevent the appearance of age and facial wrinkles. In addition to flavonoids, the composition contains microelements useful for health (for example, magnesium and fluorine), organic acids, and valuable fats. In addition, chocolate is a well–known antidepressant and even helps to boost immunity.
Of course, chocolate should be natural and of high quality, without cocoa butter and sugar substitutes in the composition and without sweet filling. To minimize the harm and increase the beneficial properties of chocolate, choose chocolate with a cocoa bean content of at least 80%.
Ingredients:
Bananas 2 pcs
Black chocolate 3.53oz
Nuts 3 tablespoons
Instruction:
Cooking time 10 minutes
Cut the washed and peeled banana into several parts. Grind the nuts in a mortar and pour them into a flat plate. Melt the chocolate in a water bath or in the microwave.
Thread each of the pieces on an ice cream stick or skewer, dip each of them in chocolate, and then roll in nuts. Place the skewers with banana slices on a cutting board or a tray lined with foil or baking paper and refrigerate.
If you know about the composition and features of the use of many products, then you can eat in such a way that it will have a very positive effect on mental activity and mood.
A proper daily menu will not only help you to perform any mental work efficiently but will also preserve the sharpness and freshness of thinking for many years, regardless of a person's age. Enjoy your meal!
(1) -Food and mood: how do diet and nutrition affect mental wellbeing?
Joseph Firth, research fellow, James E Gangwisch, assistant professor, Alessandra Borsini, researcher, Robyn E Wootton, researcher, and Emeran A Mayer, professor.