The most important thing is to plan a vegetarian diet correctly. If you do not follow the recommendations on nutrition, fat intake, and weight control, then vegetarianism will bring little benefit. Vegetarian recipes for a great mood.
But for health, it is important to make sure that the daily diet consists of a wide selection of vegetables, a variety of fruits, and whole grains. It is also important to replace saturated fats and trans fats with good fats, such as nuts, olives, and canola oil. And you should always keep in mind that eating too many calories, even from nutritious, low-fat, vegetable products, still leads to weight gain.
#1.Unsweetened tofi pancakes
A recipe for pancakes that taste like falafel. Without liters of oil, without soaking chickpeas. Protein breakfast, lunch, or even dinner.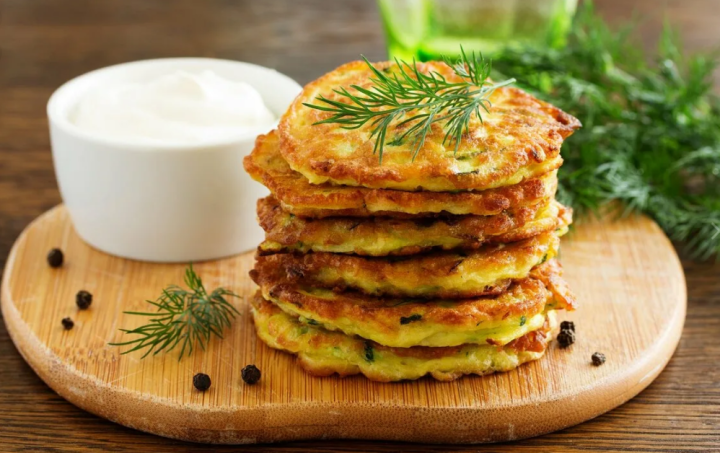 Ingredients for 20 servings:
Solid tofu without additives 17.64oz
Fresh herbs (chopped) 4 tablespoons
Pink Himalayan salt to taste
Ground flax seeds 1 tablespoon, mixed with 3 tablespoons of warm water
Gluten-free flour (you can mix: oatmeal, chickpeas, green buckwheat) 3 tablespoons
Coconut oil for greasing the frying pan
Instruction:
Cooking time 20 minutes
Mix the ground flax seeds with warm water. Mix all the ingredients in a blender so that you can make pancakes. Fry for several minutes on both sides under a lid over moderate heat and in a preheated frying pan. You can try baking in the oven, but then there will be no tender crust.
#2.Pasta with kale and basil sauce
. Vegetarian recipes for a great mood. 
Easy-to-prepare vegan pasta with kale cabbage, pine nuts, and basil sauce.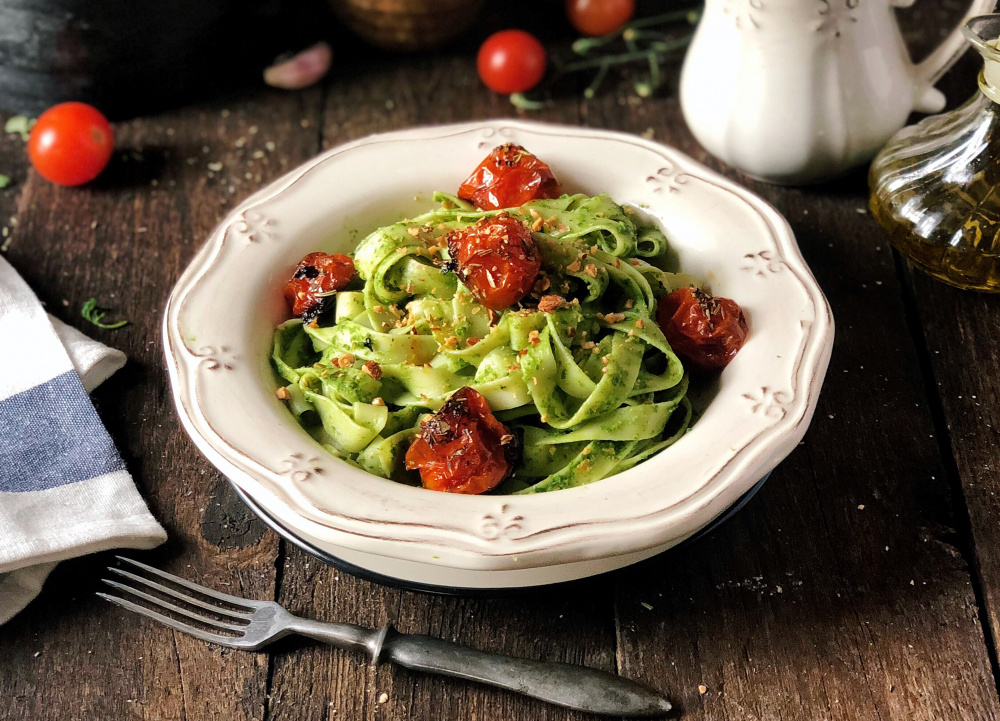 Ingredients for 2 servings:
Cabbage kale 7.0oz
Pine nuts 2 tablespoons
Basil leaves 3 tablespoons
Food yeast 4 tablespoons
Macaron 14.11oz
Vegan Parmesan 5.29oz
Olive Oil to serve
Salt, and pepper to taste
Instruction:
Cooking time 40 minutes
In a large saucepan with water, cook the cabbage for 5 minutes, then drain the water, saving 1 cup of vegetable broth.
Fry the pine nuts over medium heat for 3-4 minutes.
Using a blender, mix cabbage, basil, pine nuts, edible yeast, spices, and 1 cup of vegetable broth until smooth. Pour the resulting sauce into the pan.
Boil the pasta in salted water until "al dente". Heat the sauce in a frying pan, then add the pasta and stir. Serve with olive oil, freshly ground pepper, and vegan parmesan.
#3.Buckwheat pancakes with mushrooms and hummus
We often look for the perfect ratio of fast and delicious. Let's just say the deliciousness of this dish rivals the speed of cooking!
Fried mushrooms rich in umami flavor are mixed with hummus for the most delicious filling! Then the filling is wrapped in a thin and crispy buckwheat pancake. These gluten—free pancakes are light, filled with flavor flavors, and are so easy to cook!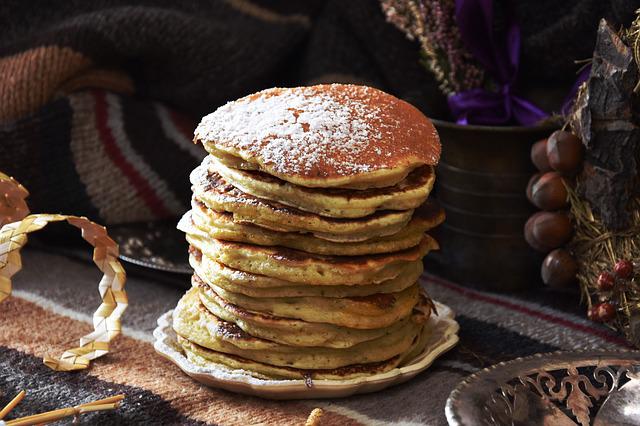 Ingredients per 1 serving:
Buckwheat pancakes
Buckwheat flour 3.53oz
1/2 cup water
Salt to taste
Mushroom filling
Vegetable oil 1 tablespoon
Chopped shallots 1 piece
Garlic 1 clove
Chopped mushrooms (champignons)
Soy sauce 1 teaspoon
Food yeast 2 teaspoons
Dried rosemary ¼ teaspoon
Ground black pepper to taste
Hummus or cashew cream 2 tablespoons
Instruction:
Cooking time 40 minutes
Buckwheat pancakes
In a large bowl, whisk the buckwheat flour, water, and salt. Cover the dough with a lid and let it stand for at least 30 minutes at room temperature. You can also prepare the dough the day before and leave it overnight in the refrigerator. Meanwhile, prepare the mushroom filling.
Mushroom filling
Heat the oil in a non-stick frying pan over medium heat. After the pan is heated, add the chopped shallots and garlic, and fry for about 2 minutes.
Then add the mushrooms and cook for another 3-5 minutes. Add the soy sauce and cook for another minute.
Then stir in the food yeast, rosemary, ground black pepper, and hummus. Stir to distribute the hummus. Remove from heat and cover with a lid to keep warm.
Assembling
Heat a non-stick frying pan over medium heat. After heating, add about one tablespoon of oil and use a kitchen paper towel to spread it evenly.
Make sure that the dough has the right consistency, it should be quite liquid. Pour 1/3 to 1/2 cup of dough (depending on the size of the pan) and tilt the pan to distribute the dough evenly and as thinly as possible.
Fry the pancake over medium heat for 2-3 minutes or until golden brown. Place about 1/3 of the mushroom filling in the center of the pancake and cook for another 2-3 minutes or until the edges of the pancake are crispy. Note: You can add a teaspoon of oil to the pan and spread it over the pancake to get crisper edges.
Finally, fold the edges of the pancakes over the filling to make a square pocket. Transfer the pancakes to a plate and serve immediately. Repeat with the remaining pancakes and the remaining filling.
If you prepare the dough the day before, you will have to add a little extra water the next day to get the batter, as it will be thickened.
#4. Cream cheese with baked garlic and fresh herbs
. Vegetarian recipes for a great mood. 
This homemade vegan cream cheese is easy to make and impossible not to spread on crackers or toasted bagels! The cashew base gives an incredibly creamy texture.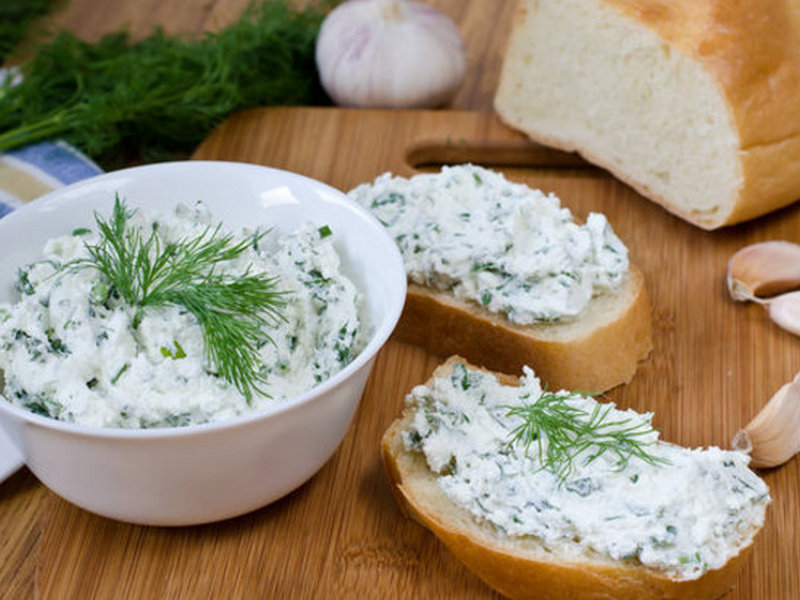 Ingredients (for 2 small molds):
Fresh chopped herbs such as thyme, rosemary, green onion, and/or oregano 4 tablespoons
Raw cashew nuts soaked in water for 8-10 hours, washed and dried 2 cups Coconut oil or unsweetened coconut chips soaked in water for about 15 minutes, drained 1/2 cup
Salt to taste
Garlic powder 1/2 teaspoon
Lemon juice 3 tablespoons
Instruction:
Cover two molds with gauze. Sprinkle the bottom of the molds with one tablespoon of each of the herbs, preserving the rest of the greens.
Meanwhile, in a food processor or blender, whisk the cashews, coconut oil, or coconut chips, and salt until smooth. Add garlic powder and lemon juice and whisk until completely mixed.
Divide the mixture between the prepared molds, pressing the cheese into the herbs and cheesecloth. Tap the molds on the table several times and level the upper part. Divide the remaining greens between the two molds, gently press the herbs into the cheese and cover with the ends of the gauze. Put one mold on top of the other, fill the third mold with water, and put it on top of both molds (you will get a "tower" of 3 molds). Put them in the refrigerator and leave overnight.
The next day, remove the mold with water. Gently pull the cheesecloth to remove the cream cheese from the other molds and serve with bread or crackers or place them in an airtight container for up to one week.
Notes
If you use coconut oil rather than coconut chips, you may need to add a little water when whipping. A fairly large amount of garlic powder is added. Because it gives a pretty strong taste. As the cheese hardens, the flavor opens up, so add less garlic powder (or don't add at all) if you're not a big fan of this flavor.
#5. Lentils in coconut milk with lime
. Vegetarian recipes for a great mood. 
A delicate dish of lentils with ingredients to your taste!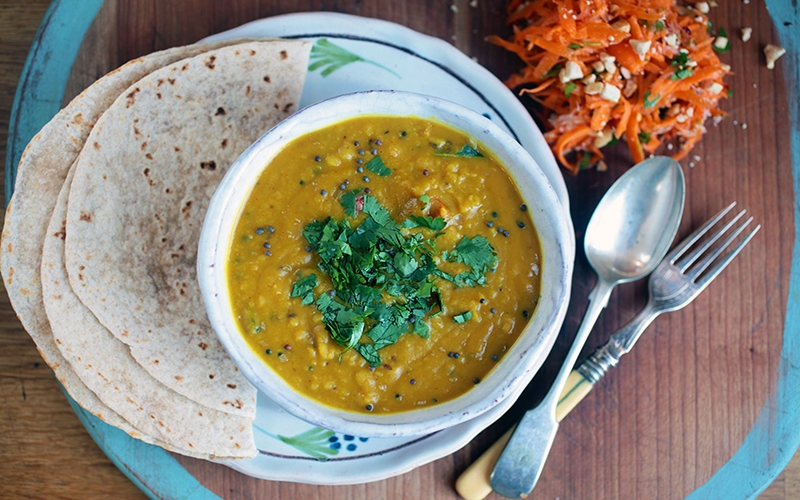 Ingredients for 2 servings:
Canned coconut milk 2 cups
Water 1 cup
Salt to taste
Red curry paste 2 tablespoons
Chopped fresh lemongrass 2 tablespoons
Red lentils 1 cup
Zest and juice of 2 large limes
Fried vegetables to your taste (for example, sweet potatoes and cauliflower)
Recipe:
Cooking time 30 minutes
In a small saucepan, bring coconut milk, water, and salt to a boil. Add curry paste, lemongrass (optional) and lentils. Stir, cover, and reduce the heat. Cook for 15-17 minutes, until the lentils are boiled and the dish becomes creamy. Remove from heat and immediately add lime juice.
Before serving, add the fried vegetables and garnish with lime zest. Enjoy your meal!