Ripe persimmon is good in itself, and in salads, and even in homemade liqueurs! 3 healthy recipes with persimmon.
Salad with fried chicken and persimmon
Chicken with nuts is always delicious. And if you add a little pickled onion, persimmon and lettuce leaves to this win-win combination, you will get a spectacular salad that will decorate any feast!
Ingredients:
Calculated 4 servings
Chicken breast 7.05oz
Persimmon 10.58oz
Walnut 3 tablespoons
Balsamic cream 1 tablespoon
Sesame seeds 2 tablespoons
Coriander 1 bunch
Sesame oil 3 tablespoons
Oyster sauce 1 tablespoon
Cornstarch 2 teaspoons
Vegetable oil
Lemon juice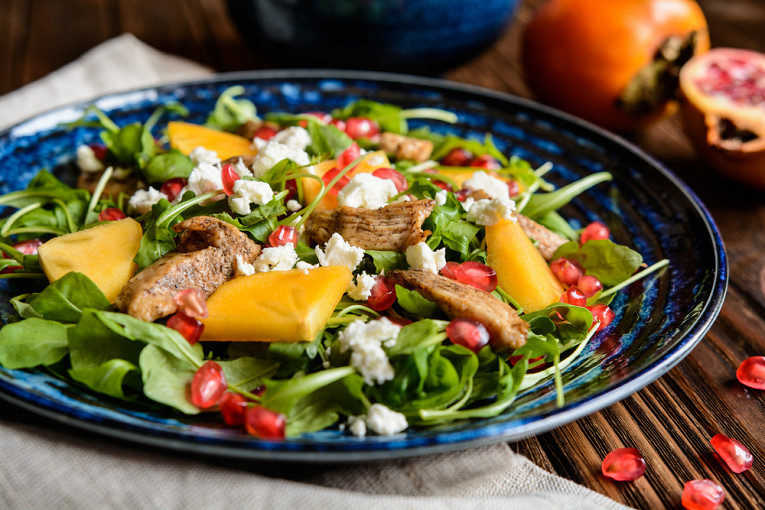 Instruction:
Cooking time 50 minutes
Method of preparation:
Cut the chicken fillet into small slices across the fibers, add the oyster sauce and starch, marinate for 1 hour, then fry in oil in a hot pan on both sides.
Wash the persimmon, remove the dry stalks and cut crosswise on both sides. Then blanch in boiling salted water for 2 minutes, put in ice water.
After peeling, remove the white part of the core and bones, cut into large slices (1 piece – into 8 parts).
Put the prepared persimmon in a vacuum bag, add sugar syrup and lemon juice, close the bag tightly, put it in hot, but not boiling water and cook for 20 minutes, then cool the bag in ice water and throw the contents on a sieve.
Chop the walnuts into small pieces.
Put the persimmon slices on a plate, fried chicken on them, pour balsamic, sprinkle with chopped nuts, sesame seeds, garnish with coriander leaves, sprinkle with sesame oil, and sprinkle with green onions. Bon Appetit!
Persimmon salsa
. 3 healthy recipes with persimmon.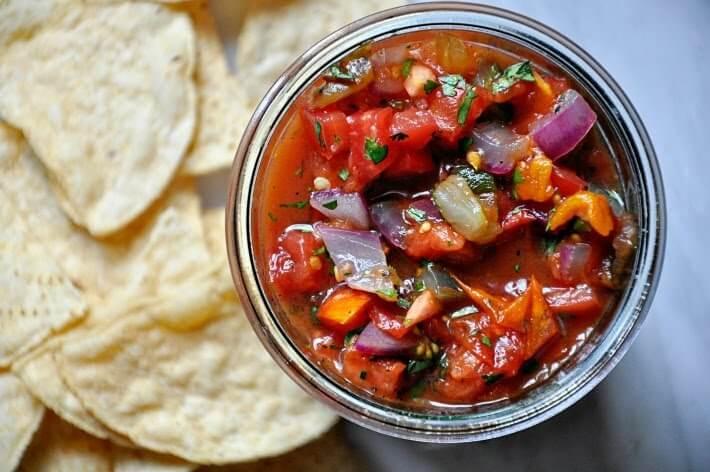 During the persimmon ripening season, make sure to prepare salsa according to this recipe and serve it with a meat or fish dish, giving it an amazing aroma and taste.
Ingredients:
For 2 servings
Persimmon 5.29oz (1 large or 2 small)
Onion 1 piece
Ground ginger 1/2 teaspoon
Ground chili pepper 1/3 teaspoon
Parsley or coriander 1 teaspoon
Lemon or lime juice 1 tablespoon
Salt to taste
Ground black pepper to taste
Vegetable oil  1 tablespoon
Instruction:
Cooking time 15 minutes
We will prepare all the products for making salsa from persimmon. For this dish, it is better to choose fruits that are ripe, without the astringency that is inherent in this fruit. How to make persimmon salsa: Cut the onion into thin rings, and then cut the rings smaller.
Wash the parsley or coriander under running water, dry it and chop it finely. Wash the persimmon, remove the tail and leaves, and cut the persimmon into small cubes. Mix all the chopped ingredients in a bowl. Add ground chili pepper and ginger. Add ground black pepper and salt.
Squeeze the juice out of the lemon or lime and season with the salsa juice. Add olive oil or any vegetable oil as desired. Mix all the salsa ingredients well and let it stand in the refrigerator for 10 minutes. Persimmon salsa can be served as an independent vegetable salad or as a sauce for a meat or fish dish. Bon Appetit!
Appetizer turkey with mushrooms and persimmons
. 3 healthy recipes with persimmon.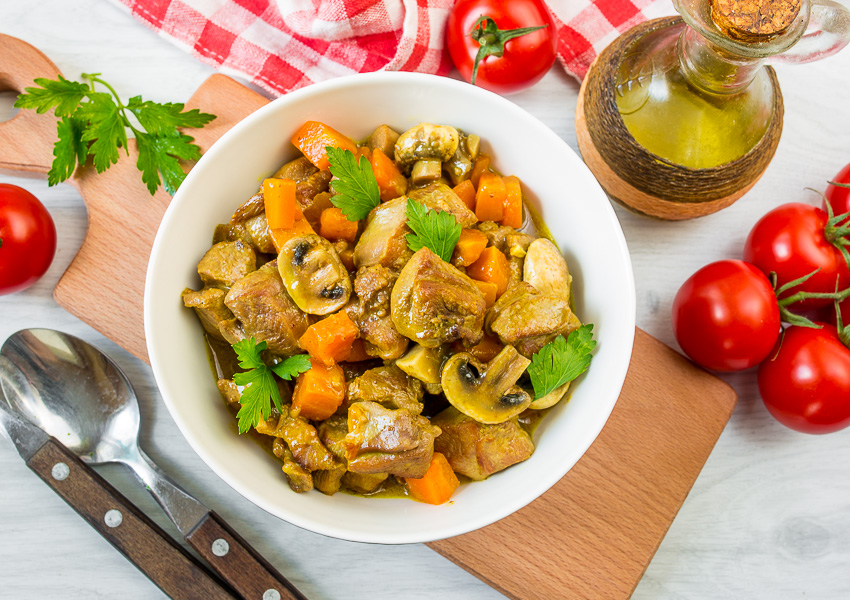 Ingredients:
Calculated 4 servings
Boiled turkey meat 8.82oz
Mushrooms 8.82oz
Persimmon 2 pieces
Eggs 2 PCs
Cashew nuts 2 tablespoons
Green salad 1puchok
Parsley 3 sprigs
Sesame oil 2 tablespoons
Pepper to taste
Instruction:
Cooking time 55 minutes
Cut the turkey meat into small pieces. Wash the mushrooms, chop them coarsely, fry them in oil, add salt and pepper, and cool them. Hard-boiled eggs, cool, peel, cut into slices. Wash the persimmon, cut one in half along a zigzag line, and cut the other into slices. Wash the parsley.
Wash the lettuce leaves, dry them, and put them on 2 flat plates. Mix the turkey meat with mushrooms, persimmon slices and egg slices, and place on lettuce leaves. Garnish with persimmon halves, herbs and cashews. Dishes are usually served on the table in small portions, beautifully laid out on a plate. It is considered a good tone if there is enough free space on the plate at the same time. Bon Appetit!