The main custom of Hanukkah is Hinukh, education — (the word "Hanukkah" is the same root as the word "Hanukkah" in Hebrew) — education of both children and the whole people. His task is to ensure that the Jews do not forget about the mercy shown to them by the Almighty, glorify Him and fulfill His commandments. 6 Recipes for delicious Hanukkah dishes.
Although it is not necessary to have a festive meal on Hanukkah, most Jews still try these days to sit down at the table in a festive atmosphere, talk about the Torah and talk about the wonders of Hanukkah.
On the days of Hanukkah, it is customary to eat dishes seasoned with butter or fried on it, in memory of the jug of olive oil, thanks to which a miracle was performed.
#1.Donuts with strawberry vanilla filling
. 6 Recipes for delicious Hanukkah dishes.
I offer a recipe for very tasty donuts, Donuts can be cooked with or without filling. Fillings can be very different: from classic plum jam and strawberry or raspberry jam to custard, boiled condensed milk, or chocolate ganache – everything according to your taste and desire. Donuts turn out to be stunningly delicious and very airy. If you have some free time, be sure to cook these donuts!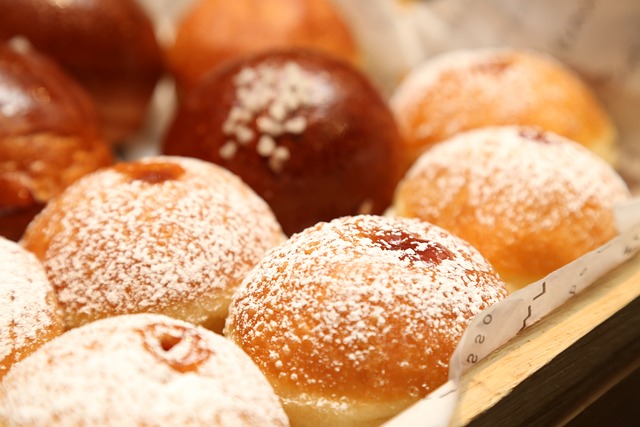 Ingredients for 6 servings:
Milk 1/2 cup
Butter 5 tablespoons
Vanilla pod 1 piece
Wheat flour 3.53oz
Chicken egg 1 piece
Strawberry 7.0oz
Pectin 2 tablespoons
The gelatin in plates 1 piece
Instructions:
Cooking time 25 minutes
The day before, peel the strawberries and cut them into small cubes. Cook strawberries with sugar for 10 minutes in a saucepan over low heat, add fruit pectin, and cook for another 15 minutes. At the end of cooking, add the gelatin previously soaked in cold water and squeezed out. Put it in the refrigerator overnight so that the mixture cools down well.
The next day, bring the milk with butter and vanilla beans scraped out of the pod to a low boil in a saucepan. Let it boil for 10 seconds, remove the pan from the heat, and, stirring vigorously, pour in the flour. Enter a lightly beaten egg. Put a little dough in each of the semicircular molds. Press with a teaspoon so that the dough covers the walls of the molds.
Spread the strawberry filling into the recess of each dough mold. Close the filling with the remaining doughnut dough and freeze.
Preheat the vegetable oil to 356F. To make sure that the oil is hot enough, put 1 donut in it: it should start frying immediately. Remove the frozen donuts from the molds and fry them in oil. Get it out, let the oil drain, and sprinkle it with powdered sugar.
#2.Latkes
Latkes  — deep-fried potato pancakes. If you want latkes thin and crispy, with an openwork crust — you need to grate the potatoes on a coarse grater. And squeeze it well. Latkes are served hot, usually with sour cream and applesauce. and for breakfast, fry fried potatoes with them: fried potatoes and the yolk enveloping them.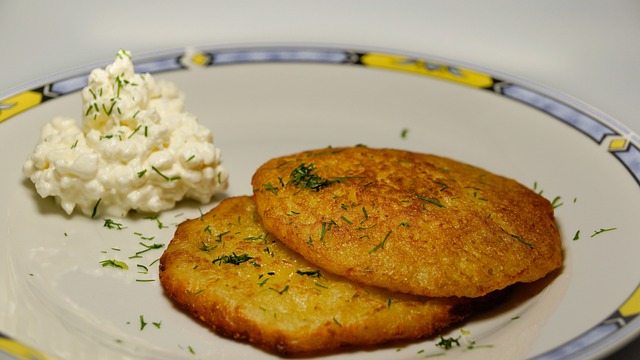 Ingredients for 4 servings:
Potatoes 21.16oz
Parsnip 10.58oz
Chives 2 tablespoons
Egg white 4 pieces
Corn starch 2 tablespoons
Butter 2.82oz
Sunflower oil 1/2 cup
Salt to taste
Freshly ground black pepper to taste
Sour cream to taste
Instructions:
Cooking time 40 minutes
Peel and grate the potatoes. Wash it in a bowl of cold water. Transfer to a colander, drain the excess water, and spread on a clean napkin so that the potatoes are completely dry.
In a large bowl, mix the grated potatoes, grated parsnips, chopped chives, proteins, corn starch, 1 teaspoon of salt, and black pepper.
Put half of the butter in a frying pan, and pour half of the sunflower oil. Heat over medium heat. Take about 2 tablespoons of latkes mixture in your hand, and squeeze to remove excess liquid. Make a thin patty. Lower the latkes into the oil, press down and level with a spoon and fry for 3 minutes on each side. Latkes should be completely fried on the outside.
Remove the latkes from the oil, put them on paper towels, and then keep warm while the rest of the pancakes are fried. If necessary, add oil. Serve immediately with sour cream.
#3. Pumpkin and cheese pie
. 6 Recipes for delicious Hanukkah dishes.
An appetizing and very tasty pie with pumpkin and cheese, the cooking process of which will not tire you. The dough perfectly harmonizes with a delicate filling of fragrant pumpkin fried with onions and several types of cheese. So that when cutting the pie, it retains its shape well, we will also add eggs to the filling.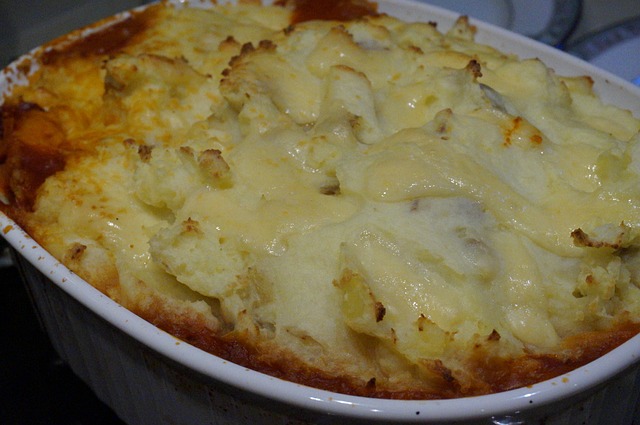 Ingredients for 8 servings:
Wheat flour 7.0oz
Butter 4.23oz
Pumpkin seeds 2 tablespoons
Salt to taste
Pumpkin 10.58oz
Gorgonzola cheese 3 tablespoons
Conte cheese 2 tablespoons
Mozzarella cheese 3.53oz
Instructions:
Cooking time one hour 10 minutes
Chop the pumpkin seeds a little (so that each seed is chopped once or twice). Sift flour into a bowl, and put chopped seeds and a small pinch of salt in the same place. Add butter — and knead the chopped dough. Put it in the refrigerator for 1 hour.
Cut the pumpkin into large slices, and peel off the skins and seeds.
Roll out the dough into a layer, put it in a mold, and pierce it in several places with a fork. Spread the pumpkin on the dough in one layer, brush it with soft butter and send it to the oven preheated to 392F for 30 minutes. The pumpkin should become soft — depending on the variety and ripeness.
Grate all the cheese on a coarse grater, and cut or break it into small pieces. Put it on the pumpkin, a variety for each quarter, and put it back in the oven for 10 minutes so that the cheeses melt.
Pumpkin is good with any cheese — from gorgonzola to mozzarella. We made an option for the whole family by dividing the pie into four cheese parts.
#4. Lentil soup with mint yogurt
This light, but at the same time rich and very tasty soup can be prepared in just one hour 40 minutes.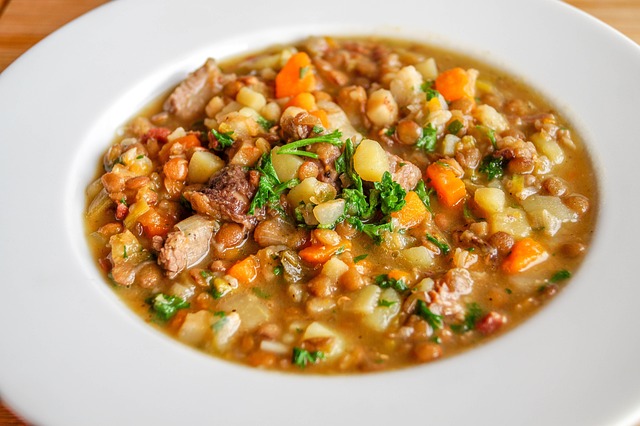 Ingredients for 10 servings:
Lentils 17.64oz
Olive oil 2 tablespoons
Carrots 2 pieces
Cilantro 1 bunch
Onion 2 pieces
Garlic 3 cloves
Curry powder 4 tablespoons
Chicken broth 8 cups
Yogurt 2 cups
Mint 3 tablespoons
Basil 2 tablespoons
Instructions:
Cooking time one hour 40 minutes
Heat the oil in a deep saucepan and toss the finely chopped onions, garlic and carrots into it. Fry for ten minutes on medium heat until the vegetables are soft.
Add the curry, stir and pour in the dry lentils. Hold it on the fire for a couple of minutes and pour over the broth. Close the lid and, stirring occasionally, cook for one hour and 15 minutes. The lentils should become tender, and all together — not too thick. You can add more broth. In the end, add salt and pepper to taste.
In a blender, mix yogurt with chopped mint, cilantro, and basil. Fill a bowl of soup with a spoonful of yogurt with herbs.
#5.Falafel
. 6 Recipes for delicious Hanukkah dishes.
Falafel is a dish consisting of deep—fried balls of chopped chickpeas, seasoned with spices. Fiber not only adds benefits to the word but also gives the crust an appetizing brown shade. As a result, you will get a fragrant, delicious, and very satisfying dish!
Ingredients for 4 servings:
Chickpeas 17.64oz
Onion 8.82oz
Garlic 1 head
Cilantro 3.53oz
Parsley 7.0oz
Fresh mint 3 tablespoons
Lemon 1 piece
Natural yogurt 7.0oz
Tahini 1 tablespoon
Olive oil 2 tablespoons
Vegetable oil 2 cups
Paprika 1 teaspoon
Ground cumin (cumin) 1 teaspoon
Cinnamon to taste
Sugar 2 teaspoons
Wheat flour 2 tablespoons
Ground black pepper to taste
Salt to taste
Instructions:
Cooking time one hour 45 minutes
Soak chickpeas in cold water overnight. Cut the onion into large pieces. Turn chickpeas and onions through a meat grinder twice.
Add finely chopped garlic, parsley, and cilantro to the minced chickpeas. Add flour, juice of half a lemon, salt, and spices, and mix. If necessary, add a little water. Put it in the refrigerator for 30 minutes.
Meanwhile, mix yogurt with thin, mint, remaining cilantro, juice of half a lemon, garlic, olive oil, salt, pepper, and sugar.
Heat the vegetable oil, shape the falafel and fry until brown. Ready-made falafel is served with yogurt sauce.
#6. Noodle kugel with ricotta, raisins, and apples
. 6 Recipes for delicious Hanukkah dishes.
Kugel is a cross between a casserole and a pudding, and sometimes, in a festive performance, layered with cottage cheese cream, it approaches the cake. Kugel can be vermicelli, potato, with dried fruits, stale bread with apples, sweet or spicy. We chose one of the options — noodles, which even cold or heated in the microwave the next day will not lose their taste at all.
Ingredients for 8 servings:
Egg noodles 8.11oz
Sour cream 7.0oz
Ricotta cheese 15.87oz
Butter 3.53oz
Sugar ½ cup
Chicken egg 2 pieces
Green apples 2 pieces
Salt to taste
Light raisins 8.82oz
Ground cinnamon to taste
Vanilla extract 1 teaspoon
Fresh berries to taste
Instructions:
Cooking time one hour 20 minutes
Preheat the oven to 352F. Cook the noodles in boiling water until tender, and drain. In a large bowl, mix noodles, ricotta, softened butter, sugar, lightly beaten eggs, and raisins. And thinly sliced peeled apples, salt, cinnamon, and vanilla extract. Mix well.
Transfer the mass to a rectangular greased with butter form and bake for 40 minutes. Then cover with foil and bake for another 20 minutes until cooked.
Cool slightly and cut into squares. Serve warm with sour cream and fresh berries.
Like what you're reading? You can sign up for Medium using my affiliate link. Just $5 a month to read an unlimited number of articles and help me create further. Together we will move mountains!