That's what weekends are for, to get enough sleep, relax and not spend a lot of time on routine. But no one canceled delicious family dinners. Therefore, fresh ideas for easy-to-prepare dishes will be most welcome. A quick hassle-free lunch in 30 minutes.
#1.Fried salmon with potato slices and salad
. A quick hassle-free lunch in 30 minutes.
Any dense fish without bones will do, walleye or cod will also work well here. Potatoes like salt, so salt to your taste, the main thing is not to overdo it! We won't need egg yolk, it's good to make delicious homemade mayonnaise from it. Instead of sesame seeds, you can add crushed sunflower or pumpkin seeds, pine nuts, or almond crumbs.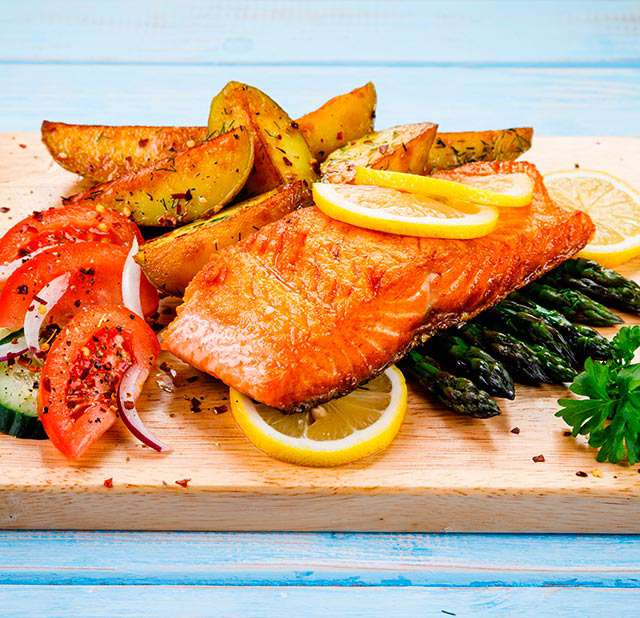 Ingredients for 2 servings:
Large potatoes 2 pcs.
Salmon fillet without skin 1 pc.
Salad mix 1 cup
Lemons 1 pc.
Chicken eggs 1 pc.
Black sesame 1 teaspoon
White sesame 1 teaspoon
Olive oil 2 tablespoons
Extra Virgin Olive oil 2 tablespoons
Paprika to taste
Freshly ground black pepper to taste
Sea salt to taste
The nutritional value of a serving is 529 kCal
Instructions:
Cooking time 35 minutes
Wash the potatoes and, without peeling, cut them into slices, then put them in a baking dish lined with baking paper, lightly season with salt and pepper, sprinkle with paprika, and pour in olive oil.
Bake the potatoes in a preheated oven for 15 minutes, then reduce the temperature to 356F and bake for another 10 minutes.
Separate the yolk from the protein, add a little salt, and pepper, and whisk into a foam. Lightly sprinkle the fish on all sides with Extra Virgin olive oil, then dip in the whipped protein. Preheat the grill pan, lay out the fish, sprinkle with black and white sesame seeds and fry for 3-4 minutes on each side.
Cut the lemon in half, cut one half into quarters, squeeze the juice from the second half, and grate the zest on a fine grater. Season the salad mix with the remaining Extra Virgin olive oil, add the zest and lemon juice, season with salt, and pepper, and mix.
#2.Turkey with vegetables
Turkey meat is famous for its health benefits: it is recommended for allergies and low-calorie diets. Due to the fact that meat contains almost no fat, but is rich in protein, it is quickly digested and easily digested. Compared to pork or beef, turkey meat has excellent taste and dietary properties.
Turkey meat is ideal for weight loss. Due to the small number of calories and fat digestibility, it is recommended for people who are on a diet. In order for the food to be easily digestible, do not forget to get rid of the skin, which contains most of the calories.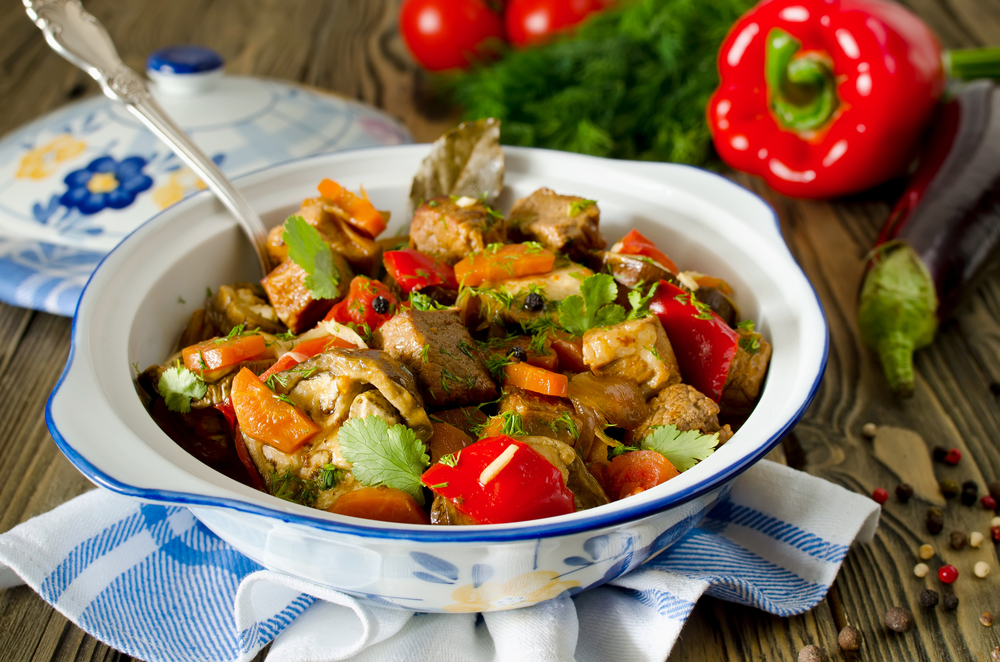 Ingredients for 3 servings:
Turkey fillet 14.6oz
White onion 1 pc.
Garlic 2 cloves
Carrot 1 pc.
Bulgarian pepper 1 pc.
Zucchini 1 pc.
Salt to taste
Freshly ground pepper mixture to taste
Soy sauce 3 tablespoons
Sesame oil 2 tablespoons
Vegetable oil 2 tablespoons
Butter 1 tablespoon
Green onion to taste
Sesame seeds to taste
The nutritional value of a serving is 442 kCal
Instructions:
Cooking time 30 minutes
Fry onion and garlic in a mixture of vegetables and butter until soft. Add a little salt and pepper. Next, send carrots, cut into cubes, to the onion, and a little later — thinly sliced pepper.
After 7 minutes, add zucchini to the vegetables, and cut them into strips, as for Korean carrots. Simmer for literally 3 minutes and then put all the ready-made vegetables on a plate.
In the same pan, add a little more butter and fry the turkey, sliced like beef stroganoff – cubes. When the turkey is ready, add the vegetables to it, mix everything, pour in soy sauce and sesame oil, and put out for a couple more minutes. Sprinkle with green onions and sesame seeds before serving.
#3.Baked shrimp in marinade
. A quick hassle-free lunch in 30 minutes.
The composition of shrimp is able to have a beneficial effect on the human body as a whole, improving the functioning of internal organs.
Regular consumption of this seafood helps prevent the development of diseases in the cardiovascular system and significantly reduces the risk of stroke, heart attack, and hypertension. Shrimp meat shows its unique properties only when it is regularly consumed.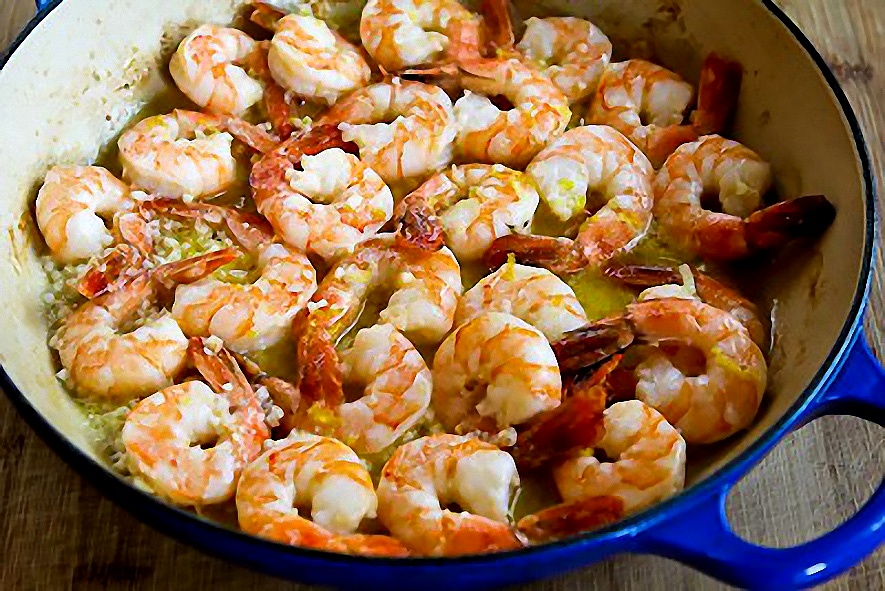 Low-calorie content, a minimal amount of fat and huge benefits from eating allow you to include shrimp meat in the diet menu. It will help prevent exhaustion of the body during a diet and will contribute to weight loss. In addition, seafood is able to speed up metabolism and contains a minimum amount of fats and carbohydrates, which also helps to reduce body weight.
Ingredients for 4 servings:
White wine 2 tablespoons
Lemon juice 2 tablespoons
Breadcrumbs 3 tablespoons
Butter 3 tablespoons
Shrimp 33.92oz
Olive oil 2 tablespoons
Garlic 3 cloves
Salt to taste
The nutritional value of a serving is 469 kCal
Instructions:
Cooking time 30 minutes
In a bowl, mix the wine, olive oil, and garlic. Add salt and pepper to taste. Mix the marinade with the peeled shrimp.
In a small bowl, mix the butter and breadcrumbs. Put the shrimp in a baking dish in one layer. Sprinkle with lemon juice.
Sprinkle the mixture of butter and breadcrumbs evenly on top. Bake in a preheated 392F oven for 10-20 minutes, until golden brown. Serve with rice. You can decorate the top with lemon slices.
#4.Chicken liver beef stroganoff with champignons
Chicken liver is another wonderful product that is prepared in half an hour. Add mushrooms, onions, and garlic to it, put everything out in sour cream sauce, and you will get a delicious interpretation of the popular beef stroganoff dish.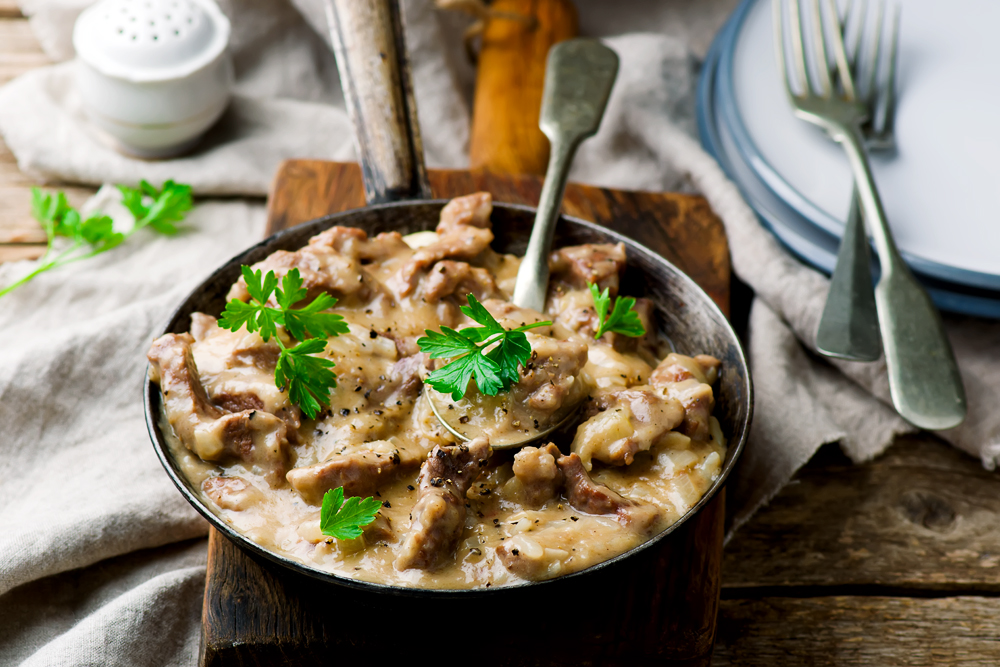 Thick sour cream sauce, mushrooms, and chicken liver. Add garlic and pepper mixture — and in 25 minutes lunch or dinner is ready. Help yourself!
Ingredients for 4 servings:
Chicken liver 15.87oz
Onion 1 pc.
Garlic 2 cloves
Sour cream 7.0oz
Salt to taste
Freshly ground pepper mixture to taste
Vegetable oil 3 tablespoons
Butter 2 tablespoons
Champignons 5 pcs.
Flour 1 tablespoon
The nutritional value of a serving is 481k Cal
Instructions:
Cooking time 30 minutes
Preheat both types of oil, add onion and garlic, and dice. Peel the champignons and cut them into plates. Add the onion to the pan. Fry, stirring, for 5 minutes. Add salt and pepper. Wash the chicken liver well and cut it into pieces. Add to the pan, and sprinkle with flour. Cook for 5 minutes.
Pour sour cream, and add salt. If the mixture is too thick, add 3 tablespoons of water. Simmer under the lid for 10 minutes. Pour in any greens (dill, parsley), and mix. Serve the most delicious with mashed potatoes. Bon Appetit!
#5. Casserole with trout and broccoli
. A quick hassle-free lunch in 30 minutes.
This dish is a good way to interest your pets in healthy broccoli. Add potatoes and redfish to the cabbage, pour the cream with the nutmeg, and bake in the oven. 5 minutes before cooking, sprinkle the dish with grated cheese, and you will get a fragrant crust. It will be very tasty! I suggest you try a simple, easy-to-prepare, and absorb casserole!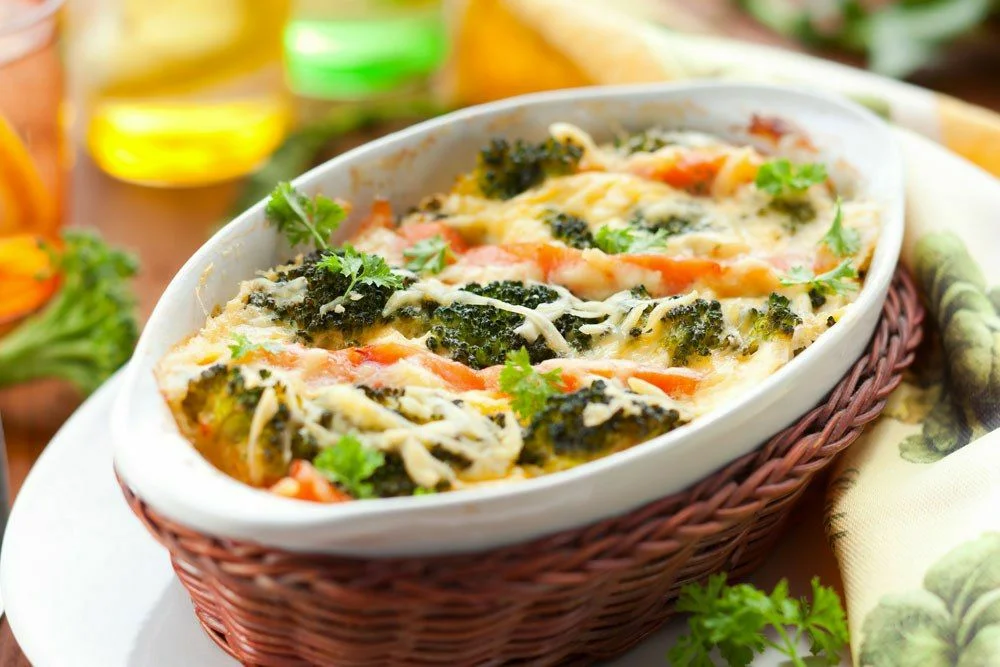 Ingredients for 4 servings:
Trout 10.58oz
Fresh broccoli 10.58oz
Potatoes 4 pcs.
Cream 1/2 cup
Chicken eggs 3 pcs.
Hard cheese 3.53oz
Ground nutmeg to taste
The nutritional value of a serving is 420 kCal
Instructions:
Cooking time 40 minutes
Cook the broccoli in salted water for 3 minutes. Cook potatoes for 15 minutes, cut them into slices, and put them on a baking sheet. Cut the fish fillets into large pieces, and put them on potatoes.
Beat the eggs with a whisk with cream. Add salt, pepper, and nutmeg. Put the broccoli in a mold, and pour the cream mixture.
Bake in the oven at 356F for about 20-25 minutes. 5 minutes before readiness, sprinkle with grated cheese. Bon Appetit!