How to make a delicious turkey kebab? Usually use breast fillet. This is a homogeneous meat that consists of smooth muscles, so each piece will be baked properly. There are no fat inclusions in it, so be careful when choosing the temperature. Delicious turkey and apricot shish kebab.
Meat turkey  is quite lean, so it needs to be cooked properly. Then it will be juicy and reveal its natural taste. Roasting on the grill is one of the best ways to cook this product. Shish kebab from turkey fillet is prepared from medium-sized pieces In this case they are juicy. Marinades should contain not only acid, but also ingredients that affect the juiciness of the dish.
The key to any delicious dish is quality products. So choose fresh meat. It should not be frozen. For shish kebab, this is very undesirable, because it will turn out dry and hard. The meat should be refrigerated and stored in a sealed vacuum package.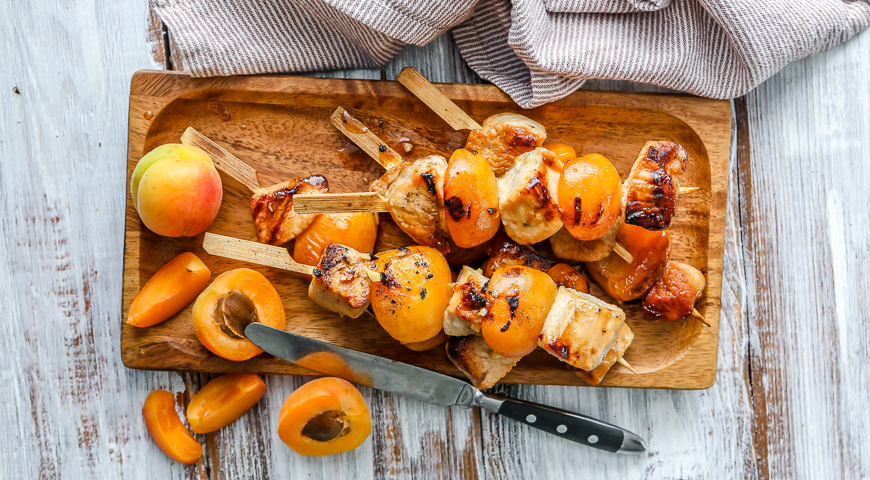 Ingredients
Designed for four servings
Apricots 7.05 oz (200 g)
Garlic 3 cloves
Port wine 6.76 fl oz (200 ml)
Brown sugar 4 tablespoons
Lemon juice 3 tablespoons
Soy sauce 1 tablespoon
Turkey breast 2 pieces
ENERGY VALUE PER SERVING
Calories 812 kcal
Proteins and 99.4 grams
Fat 3.7 grams
Carbohydrates 67.9 grams
Instruction
. Delicious turkey and apricot shish kebab.
Cooking time 1 hour
Heat the meat from the turkey breast after cold to room temperature, cut it into cubes and marinate. Peel and chop the garlic.
For the marinade, mix the garlic, soy sauce, lemon juice and sugar. Pour the prepared marinade over the meat and put it in the refrigerator for 3 hours.
Wash the apricots, cut in half, remove the seeds and pour the port wine. Put in the refrigerator for 1 hour. Then remove the meat, heat and salt. Thread the pieces on skewers. Roast the meat on the grill for 7-8 minutes on each side.
Alternately thread the meat and apricots on wooden sticks.
Fry the kebab in vegetable oil on both sides for 5 minutes, watering with marinade.
Cooking a turkey kebab is definitely worth it. You will definitely like its delicate taste and lightness. Bon Appetit!