A spicy smoothie with a spicy note of ginger has an original taste, but also an unusual way of cooking. Healthy Breakfast: Lesson 1,  Lesson 2.
Ginger is known for its beneficial properties for the body, especially appreciated by those who follow any diet to reduce weight. After all, ginger, speeding up metabolic processes, helps to lose weight. Healthy Breakfast Smoothies with candied ginger. 
I suggest trying a smoothie with candied ginger, the base for which is prepared (flavored) by slow heating with the addition of spices. Thus, all the flavors and taste pass into an infusion of apple juice, and the green apple is responsible for the fresh note in the finished drink.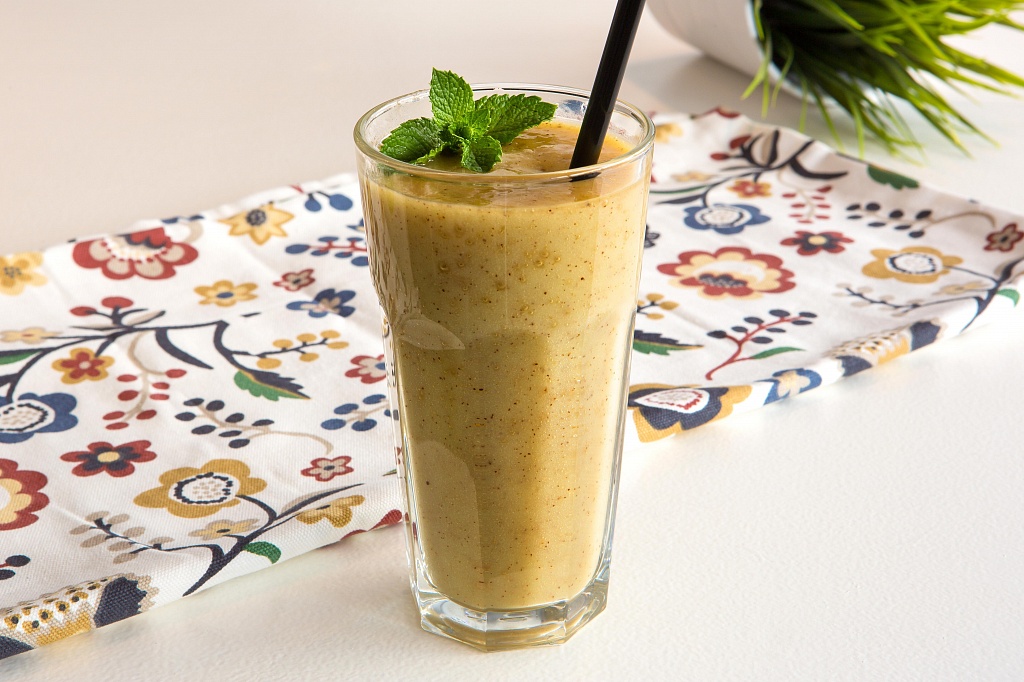 I want to immediately note that the smoothie is obtained with a strongly pronounced taste and characteristic sharpness of ginger. Therefore, you can reduce the amount of ginger to taste, or use only flavored apple juice, and add the density, for example, with another apple.
Candied ginger can be purchased in the store, in the department with dried fruits and nuts. This ginger is stored for a long time, without losing its taste and healthy qualities, and very helpful if you do not have a fresh root of ginger at hand. Healthy Breakfast Smoothies with candied ginger. Lesson 3.
Ingredients
Candied ginger 2 tablespoons
Apple juice 1 Cup
Apple (green) 1 PC.
Orange zest 2 teaspoons
Nutmeg 1/2 teaspoon
Cinnamon (stick) 1 PC.
Star anise (star) 1 PC.
Honey to taste
Instruction
. Healthy Breakfast Smoothies with candied ginger. Lesson 3.
Cooking time 35 minutes
Prepare the ingredients. Candied ginger is about 4 slices. Apple juice can be used ready-made from the store or freshly squeezed at home. If the juice is purchased, it is desirable that it was without adding sugar, otherwise the smoothie will be too sugary. Well, if it is a homemade freshly squeezed juice made from sour apples, then the sweetness can be added with honey.
We will remove the zest from the orange, without affecting the bitter white part, the fruit itself will not be needed in the smoothie.
In a small saucepan, put the ginger, cinnamon stick, star of star anise, orange zest. On a small grater, rub a little nutmeg and pour all the apple juice. Put on a small fire and slowly warm the mixture until the first signs of boiling. As soon as the first bubbles appear on the walls of the saucepan, turn off the heat, cover the saucepan with a lid and let the mixture brew for 10-15 minutes. During this time, the ginger will steam, and it will be easier to grind it in a blender.
The next step is to get rid of ginger fibers. To do this, transfer the ginger from the apple juice to a blender. We filter the apple juice to get rid of the spices and zest, they have already done their job. A small amount of liquid is poured into a blender to speed up the process of grinding ginger. Whisk at high speed of the blender to a porridge-like state.
The resulting mass is rubbed through a sieve, and then returned to the bowl of the blender. Add the peeled and sliced apple, top up with the remaining strained liquid,and whisk the smoothies at high speed with a blender until smooth.
Try the drink to taste – if the sweetness is not enough, add honey and whisk again.
Since the smoothie is still warm, you can cool it before serving by putting it in the refrigerator for 1 hour. Then pour the smoothies with candied ginger into serving jars or glasses and serve.
Ready-made smoothies with candied ginger. A tart, spicy, slightly spicy, very ginger smoothie. Its taste is probably autumn, because all the spices are with the warm aroma of autumn. Bon Appetit!
If you like articles subscribe to our newsletter and you will learn more. https://elenasunshinemagazine.substack.com/
Like what you're reading? You can sign up for Medium using my affiliate link. Just $5 a month to read an unlimited number of articles and help me create further. Together we will move mountains!
https://elenasunshinemagazine.medium.com/membership
Healthy Breakfast Smoothies with candied ginger. Lesson 3.